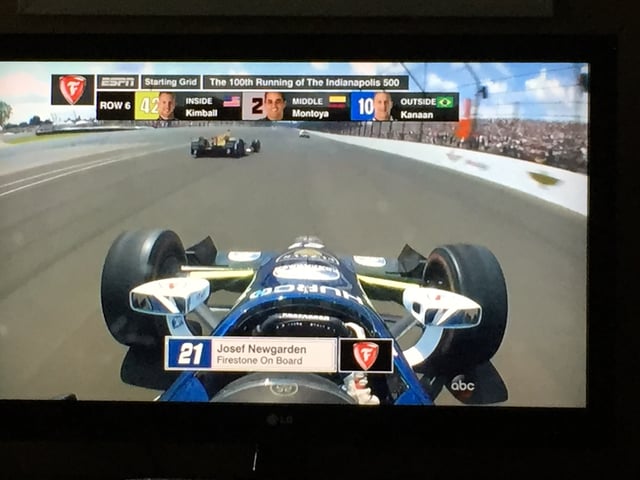 I heard from so many friends, both in the industry and outside of the industry, during Sunday's race. "I see the Hurco car" "The Hurco car is on ABC. Great TV coverage." Maybe it's silly, but it was exciting for us, our loyal customers, our distributors, and our families and friends, to see Hurco getting some coverage on the big screen. Thanks to all of you who emailed and texted. Below, is the Race Recap press release from Ed Carpenter Racing.
ED CARPENTER RACING BRINGS HOME INDY 500 BEST FINISHES IN TEAM HISTORY
Josef Newgarden Finishes 3rd, J.R. Hildebrand Comes Home 6th; Electrical Issue Sidelines Ed Carpenter
(SPEEDWAY, Ind.) May 29, 2016 - Race Recap
A spectacular and dramatic 100th Running of the Indianapolis 500 came down to a fuel strategy game that even the fast Ed Carpenter Racing cars could not overcome. Both Josef Newgarden and J.R. Hildebrand led multiple laps in the closing stages of the race, only to be foiled at the end. Despite not taking the checkered flag first, both drivers better the team's previous best finish at the Indy 500.
Ed Carpenter started in his 13th Indianapolis 500 today, rolling off the grid from the 20th position. He had advanced eight positions and was heading for the Top 10 not even 50 laps into the race. Carpenter radioed back to the crew that something was wrong with the No. 20 Fuzzy's Vodka Chevrolet. Despite the crew's best efforts to solve the electrical issue on pit lane, they had to take the car back to the garage. Eventually, the issue was resolved and Carpenter returned to the track long enough to gain one more position. Carpenter would be credited with a 31st place finish.
J.R. Hildebrand returned to Ed Carpenter Racing for the 3rd consecutive Month of May. He started 15th in his 6th Indianapolis 500 start and consistently moved forward during each stint. On Lap 117, a routine pit stop for the No. 6 Preferred Freezer Services Chevrolet under caution went wrong when the airjack failed. Hildebrand dropped from 9th all the way back to 23rd but was not deterred. It took Hildebrand less than 30 laps to regain all the positions he had lost and continued his march to the front. He had moved all the way up to 3rd on Lap 163 before taking the lead the following lap when the rest of the field made pit stops under caution.
Josef Newgarden led the qualifying charge for Ed Carpenter Racing on last Sunday's Pole Day, laying down a four-lap average that earned him a starting position in the middle of the front row. Over the course of 500 miles today, Newgarden never let his No. 21 Preferred Freezer Services Chevrolet drop lower than the 9th position. He stayed with the leaders the entire duration of the race and became the leader multiple times in the waning laps of the race. He traded the lead back and forth with Tony Kanaan, Carlos Munoz and even his own teammate Hildebrand.
Hildebrand had to come in for a splash of fuel on Lap 185 after not getting a hoped-for late-race caution where everyone would have to pit together. To Hildebrand's benefit, almost all of the rest of the field had to pit as well. Through that and a combination of skillful driving, Hildebrand vaulted back into the Top 10. On Lap 199, he moved into the 6th position, where he would finish the race. Hildebrand's finish was his fourth Top 10 finish in only six Indianapolis 500 starts.
Nervous energy brewed in Newgarden's pit box as he came in for a final splash of fuel with five laps to go. The team held it's collective breath to see how Newgarden would cycle back out. He came back out behind Munoz and chased him all the way to the checkered flag. The No. 98 of Alexander Rossi gambled at the end and elected not to come in for a pit stop. The gamble paid off as he ran out of fuel coming out of Turn 4 but carried enough speed to cross the iconic Yard of Bricks first. Newgarden was forced to settle for 3rd place, still his best finish in five Indianapolis 500 starts.
The Speedway, Ind.-based team will return to the race shop tomorrow to begin preparations for the Chevrolet Dual in Detroit, featuring two full races. Newgarden will race the No. 21 on both June 4 and June 5, while Carpenter will return to the No. 20 on the oval at Texas Motor Speedway on June 11.
JOSEF NEWGARDEN, NO. 21 PREFERRED FREEZER SERVICES CHEVROLET, FINISHED 3RD: "It's really heartbreaking, to be honest. The reason is, to be honest, because we had a car to win. I'm not saying we should have won the race, I think we had a car that could have won. What I wanted was an opportunity to race those guys at the end. We didn't get that, it's no fault of my guys, that's just how the race fell. Sometimes it doesn't fall your way, today was a day that didn't go our way. The cards didn't fall the way we needed them to. Congratulations to (Alexander) Rossi, it's a huge achievement to win around here. I just wish we had the opportunity to race those guys straight up at the end. I really think we could have had something for them. I'm proud to be here. Having the opportunity to be here with as good of a car as I did, not many people have experienced that. Thank you to my team, Ed Carpenter Racing, all our partners, Preferred Freezer Services, Direct Supply, Fuzzy's Vodka. We've just have amazing support and partners within our team. There's really the people that enable us to do this and build as fast of racecars as we did. I think JR had just as good of a car as we did and Ed would have to if he didn't have his electrical issue. Tough day. Man, I was really feeling it at the end! I was like 'If we get a race going, we're going to be really good and we're going to beat these guys.' The way the fuel played out, we just didn't have an opportunity to get to do that."
JR HILDEBRAND, NO. 6 PREFERRED FREEZER SERVICES CHEVROLET, FINISHED 6TH: "It was a long day. We were close at the end. We were legitimately running top three for a minute there, then strategies got all mixed up at the end of the race. The car was good and we were able to race our way up through the field a couple of times, which was really what we set out to be able to do. In hindsight, if we had known that we would be running in the Top 5 towards the end, we might have prepared for that a little bit differently, but it is hard to know how all of that is going to shake out. Ultimately, we had a car that raced really well all through the race, so it was a good day for the Preferred Freezer car."
ED CARPENTER, NO. 20 FUZZY'S ULTRA PREMIUM VODKA CHEVROLET, FINISHED 31ST: "It was a long, disappointing day for the 20 car having an issue really early in the race, but it happens. Sometimes things happen outside of your control, but I am thankful that I had a great handling car today, just as my teammates did. I'm really proud of the team. Josef finishing third, a career best here, really happy and proud of him. He had the bottle of milk in his grasp for a second. I'm equally proud of JR as well. He gave the 6 car a great run. I think our team really represented for Chevrolet this month and that's what we'll try to do for the rest of the year and try to win a bunch of races."
About Ed Carpenter Racing
Ed Carpenter Racing (ECR) first entered the Verizon IndyCar Series in 2012. The team is led by IndyCar's only owner/driver, Ed Carpenter, winner of back-to-back pole positions for the Indianapolis 500 in 2013 and 2014. ECR has amassed six victories and 15 top five finishes in the past five years. In 2016, Carpenter will compete in all oval events in the No. 20 Fuzzy's Ultra Premium Vodka Chevrolet. Josef Newgarden will race the No. 21 Chevrolet throughout the entire season, carrying the Preferred Freezer Services colors throughout the Month of May. J.R. Hildebrand will be returning to ECR in the No. 6 Preferred Freezer Services Chevrolet for the two Indianapolis Motor Speedway events.