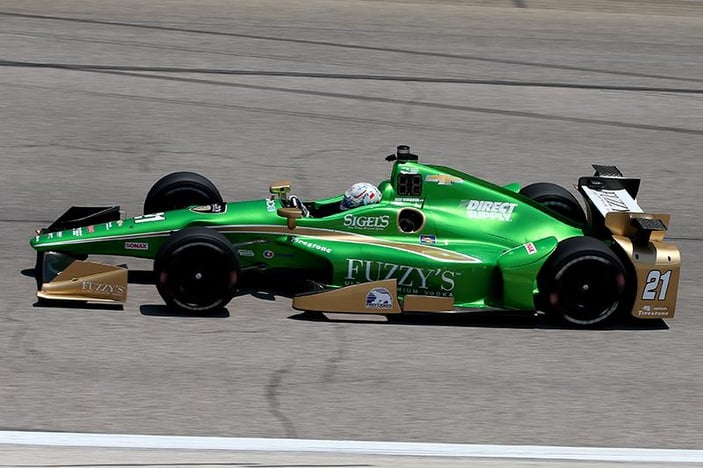 JOSEF NEWGARDEN WILL START 5TH UNDER THE LIGHTS AT TEXAS MOTOR SPEEDWAY
Ed Carpenter Bounces Back After Tough Practice Session to Qualify 14th For The Firestone 600
(FORT WORTH, Texas) June 10, 2016 - Qualifying Notes
The two Fuzzy's Ultra Premium Vodka cars of Ed Carpenter and Josef Newgarden have completed qualifications for tomorrow's 248-lap race at Texas Motor Speedway. Newgarden earned his 6th Top 10 starting position in nine races and will start 5th in tomorrow night's Firestone 600. Carpenter will start 14th in his third of five oval races this year.
Newgarden ran a qualification simulation that had him sitting at the top of the leaderboard for the majority of the 75 minute practice session earlier in the day. He would eventually drop to 3rd, while teammate Carpenter battled grip issues for much of the session. Carpenter would climb up to 18th on the pylon and focus his attention on setting up the car for the race.
Carpenter was the first of the 21 cars to qualify under the hot Texas sun. His two lap average of 215.757 mph (48.5560 seconds) would land him on the outside of Row 7 in the 14th position.
Newgarden followed in suit, rolling off 4th. He turned two laps in 48.347 seconds at an average speed of 216.684 mph. He ended up on inside of the 3rd row, starting 5th in tomorrow night's race.
Another half an hour practice session will take place tonight, beginning at 6:45 p.m. CT.
The 2015 Firestone 600 was a difficult one for ECR as both Carpenter and Newgarden fell out of the race within one lap of each other due to separate mechanical failures.
Carpenter had the car to beat during the 2014 race, leading 66 of the final 67 laps. At one point, he had stretched his lead to over 14 seconds. His victory that night was his was his third career win in the Verizon IndyCar Series.
The most recent oval race for ECR was the 100th Running of the Indianapolis 500, held less than two weeks ago on May 29. Carpenter had gained eight positions in the first 50 laps when an electrical issue sidelined the No. 20. Newgarden led 14 laps and was in the hunt for the win, but fell short when rookie Alexander Rossi managed to complete a 36-lap run without having to pit for fuel. Newgarden would finish 3rd, matching his best finsh of the year.
Last weekend, the Verizon IndyCar Series ran a doubleheader in Detroit with one race on Saturday and one race on Sunday. Newgarden was able to make the most of a tough weekend and finish 4th in Dual 2, landing him firmly in the 4th position of the championship standings. He is only 18 points out of second place.
The Firestone 600 broadcast will begin at 7 p.m. CT Saturday night on NBC Sports Network with the green flag set to fall at 7:50 p.m.
JOSEF NEWGARDEN, NO. 21 FUZZY'S ULTRA PREMIUM VODKA CHEVROLET, QUALIFIED 5TH: "We did a good first lap, for some reason the car just dropped off on Lap 2. The car was great, no dramas from my end. The car handled really well, we just lost some speed there on the second lap. We're starting within the Top 5 so we're pretty happy with that. We should have a good car tomorrow night; we've worked hard on the Fuzzy's special."

ED CARPENTER, NO. 20 FUZZY'S ULTRA PREMIUM VODKA CHEVROLET, QUALIFIED 14TH: "It's been a frustrating day, I really didn't know what I had going into qualifying so I can't say I am disappointed with that. I was hoping to be able to run something in that range. The day hadn't gone as we wanted, even in the qualifying line the car didn't want to start. The first practice for us was just a nightmare. We had issues the whole time, both self-inflicted and out of our control."
About Ed Carpenter Racing
Ed Carpenter Racing (ECR) first entered the Verizon IndyCar Series in 2012. The team is led by IndyCar's only owner/driver, Ed Carpenter, winner of back-to-back pole positions for the Indianapolis 500 in 2013 and 2014. ECR has amassed six victories and 15 top five finishes in the past five years. In 2016, Carpenter will compete in all oval events in the No. 20 Fuzzy's Ultra Premium Vodka Chevrolet while Spencer Pigot will take over at road and street courses. Josef Newgarden will compete for the Verizon IndyCar Series Championship as he races the full season in the No. 21 Chevrolet. More information on Ed Carpenter Racing may be found at www.edcarpenterracing.com.