­
POMONA, Calif. (Feb. 8) – Auto Club of Southern California Chevrolet Camaro SS Funny Car driver Robert Hight has had a stellar career, winning the 2009 championship and piling up 37 victories along the way.
But Hight is ready for a fresh start for the 2017 NHRA Mello Yello Drag Racing Series – which begins with the Circle K NHRA Winternationals this weekend at Auto Club Raceway at Pomona – after a un-Hight-like 2016 that saw him win once race and finish eighth in the points standings.
"Cannot wait to get going again," Hight said. "2016 wasn't my best year, and this Auto Club team needs to go out and redeem themselves. We're a better team than No. 8 – which is what's on the side of our car. We have a lot to prove this year.
"We have a great team: Jon Schaffer and Jason McCullough over here helping Mike Neff, and we've got some new guys who are gung-ho. The attitudes are just unbelievable. Everybody together so well in testing, and it was just so much fun to be with a team like this. When we start running well and winning races, it's only going to get better. We can go win Pomona. We've done it several times, and I believe we've got the car to do it."
Hight has four victories at Pomona, including three in the season-opening race. Hight lives and works in Southern California in nearby Yorba Linda.
"Pomona is probably one of my favorite races," Hight said. "Everything is new. You get to go out there and see everybody's new paint jobs. A lot of fans come out to see what everyone has new for the year. It's just exciting, and everybody can't wait to get going. It's been too long of a winter, and this time of the year, we've got good weather. You know Pomona is fast, and you can go out there and set records.
"For me, it's special because it's Auto Club Raceway at Pomona. We're going to show off for our sponsors. We've got a new program with Auto Club that all the fans need to come out and see at the midway. Joey Logano and I did some filming, and it's going to be a lot of fun. The fans are going to be in for quite a treat."
Hight has won at least two races per season in 11 of the 12 years he's driven the Auto Club Funny Car. He begins 2017 with co-crew chiefs Schaffer and McCollough joining crew chief Neff.
"I cannot wait for Sunday morning of the Winternationals," Hight said. "It's race day – it's finally here. Everybody starts with the same points, and with any luck, you win that race and you're the new points leader. That's the goal."
The season-opening and 58th annual Circle K Winternationals at Auto Club Speedway begins Friday, with the first two rounds of qualifications. Qualifying continues Saturday, while elimination rounds take place Sunday. FOX will televise three hours of live eliminations coverage at 1 p.m. Pacific.
4-Second Reads:
Robert Hight has competed in the Winternationals 12 times, and every year since 2005.
Hight has advanced to the final round of the Winternationals four times, most recently in 2011.
Hight has three victories in the Winternationals, the first in 2006 and most recent in 2011. His record in elimination round races is 22-9.
Hight has four victories at Pomona.
Hight has been the No. 1 qualifier for the Winternationals three times, the most recent time coming in 2012.
Hight has only qualified outside the top eight three times in 12 Winternationals. His worst qualifications effort was 12th (2006 and 2013).
Hight has won his first-round Winternationals matchup eight times.
Hight won his most recent first-round matchup, last season at Pomona, and was 18-6 in first-round matchups last year.
Other members of Hight's team from California include:
In his career, Hight has 37 victories and 373 round wins.
Hight has won at least one race in all 12 of his seasons.
A special Auto Club of Southern California paint scheme for Hight's car will be unveiled for this weekend's race on Wednesday.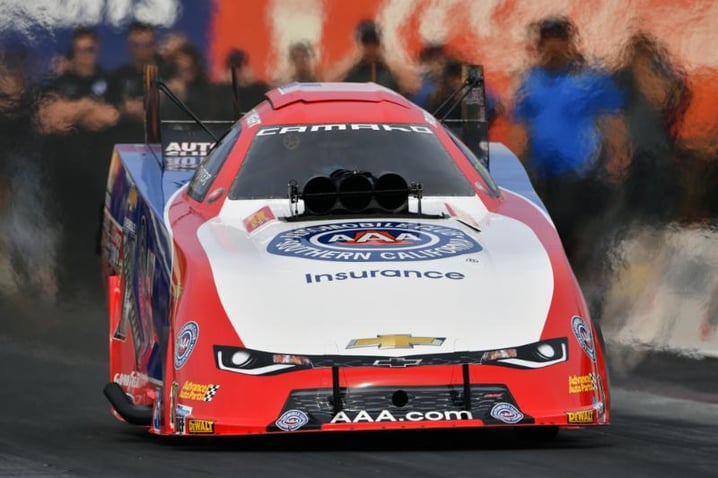 Photo credit: Gary Nastase Photography
About John Force Racing
John Force Racing, Inc., based in Yorba Linda, Calif., and Brownsburg, Ind., is a professional sports dynasty, one that has earned 18 NHRA championships and claimed 250 professional victories in Funny Car (247) and Top Fuel (3). Led by team owner and driver John Force, a 16-time Funny Car Champion, 1996 Driver of the Year for all of American motor racing, 2011 International Motorsports Hall of Fame inductee, and driver of the PEAK Coolant and Motor Oil Chevrolet Camaro SS Funny Car, JFR is additionally comprised of Auto Club of Southern California Chevrolet Camaro SS driver Robert Hight, 2009 Funny Car champion and 2005 NHRA Rookie of the Year; Advance Auto Parts Chevrolet Camaro SS driver Courtney Force, 2012 NHRA Rookie of the Year; and Monster Energy Top Fuel Dragster driver Brittany Force, 2013 NHRA Rookie of the Year. For more information, please visit johnforceracing.com.