Bristol race report: JFR puts all four drivers
in second round for first time in 2017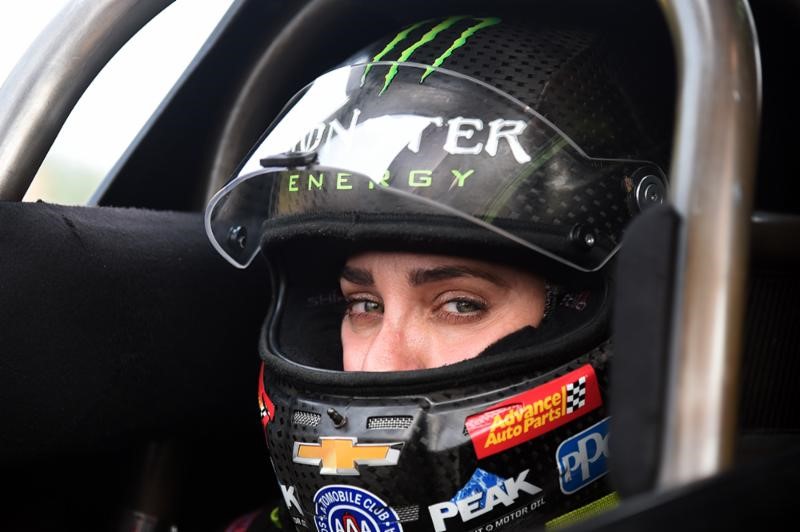 John Force (Photo credit: Gary Nastase and Auto Imagery)
BRISTOL, Tenn. – John Force Racing faced hot and tricky conditions Sunday at the NHRA Thunder Valley Nationals at Bristol Dragway, but still advanced all four cars to the second round for the first time in 2017:
John Force snapped a three-race, first-round losing streak with the PEAK Coolant and Motor Oil Chevrolet Camaro SS.
Robert Hight won from the No. 2 spot with the Auto Club of Southern California Camaro.
Courtney Force won her first-round matchup for the fifth consecutive race with the Advance Auto Parts Chevy.
Brittany Force continued her resurgence with the Monster Energy Top Fuel dragster, running her record to 8-3 over the last four races.
John Force's victory came from the No. 6 qualifying position, as he dispatched veteran Del Worsham after a tight race. Force made a run of 4.136 seconds at 312.42 mph, outrunning Worsham's 4.211-second pass at 303.43 mph.
Force's car put a cylinder out at top end and drifted left, and he crossed the finish line before crossing the centerline, solidifying a good run.
Force then lost in the second round after losing a cylinder in his engine, which caused the PEAK car to slide over the centerline – a disqualification.
Hight made one of the best passes of race day and the quickest run of the first round with a 3.985-second pass at 322.58 mph to Jeff Diehl's slowing run of 6.461 at 105.19 mph.
Hight slowed a tick in the second round, 4.124 seconds at 310.55 mph, and lost by 0.045 seconds.
Courtney Force, who Saturday extended her streak of qualifying in the top half to 35 consecutive races, took out J.R. Todd in the first round. Force made a run of 4.132 seconds at 255.43 mph to hold off Todd's pass of 4.305 seconds at 240.89 mph.
"It's a hot an interesting race day here in Bristol," Force said. "Our Advance Auto Parts Chevy Camaro team was hoping for a better end to our weekend. We qualified in in the No. 4 position, which was a great start. But I think we lacked a little consistency out here, and most importantly, a lot of cars struggled to get down the track. It is just the case of a hot and slimy track, and we have to figure it out before we get to Norwalk because it might be exactly the same."
Force's second-round match was a battle of attrition, as she struggled across the line with a run of 4.343 seconds at 221.42 mph, and she came up 0.041 seconds short.
"We had a good run at it but it started spinning," Force said. "I went to pedal it and blew the burst panel off, so I couldn't really come back from that and he went around me for the win. It was a close race, but no one is running killer times out here.
"We just have to get this fixed because we were on a good run, and I think we can learn something from it and head into Norwalk feeling a little more positive."
Brittany Force won in the first round for the fourth consecutive race. She made a solid run of 3.897 seconds at 310.55 mph to best Terry McMillen. She then ran into eventual race winner Clay Millican in the second round, and though neither driver made a terrific pass, Millican got the win with a run of 4.011 at 294.18 mph to her 4.060-second pass at 267.85 mph.
"(In the first round) we ran an 89, and that was more than decent in the heat," Force said. "Second round we had a (cylinder out) so we were already in trouble. It's tough going out early in the day, especially when all your teammates go out. We're all going to pack up as one and go to the next one and hopefully we can win there."
The JFR cars will race at the Summit Racing Equipment NHRA Nationals next weekend at Summit Motorsports Park in Norwalk, Ohio.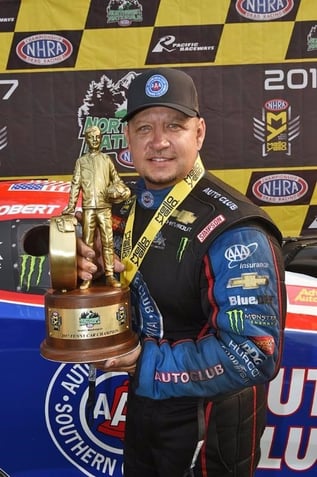 Robert Hight (Photo credit: Gary Nastase and Auto Imagery)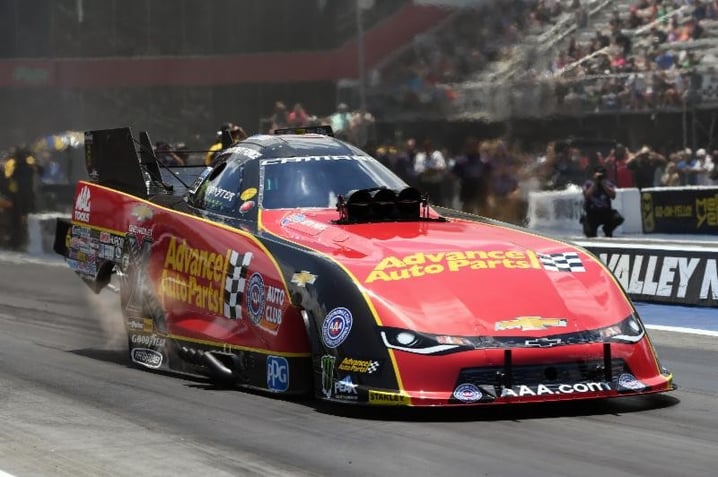 Courtney Force (Photo credit: Gary Nastase and Auto Imagery)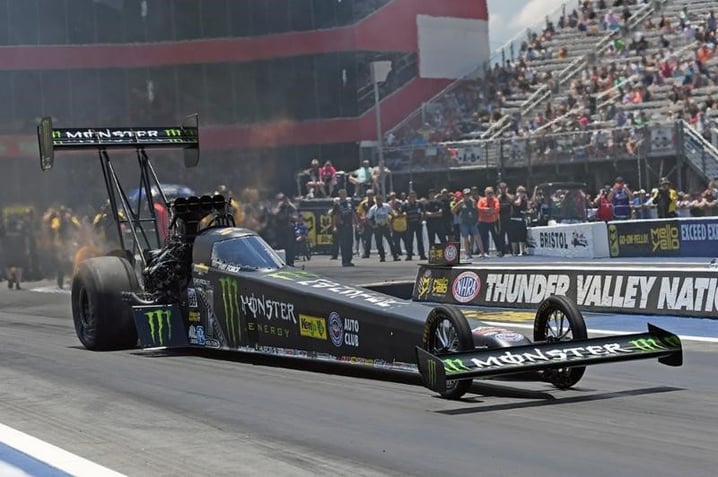 Brittany Force (Photo credit: Gary Nastase and Auto Imagery)
About John Force Racing
John Force Racing, Inc., based in Yorba Linda, Calif., and Brownsburg, Ind., is a professional sports dynasty, one that has earned 18 NHRA championships and claimed 252 professional victories in Funny Car (248) and Top Fuel (4). Led by team owner and driver John Force, a 16-time Funny Car Champion, 1996 Driver of the Year for all of American motor racing, 2011 International Motorsports Hall of Fame inductee, and driver of the PEAK Coolant and Motor Oil Chevrolet Camaro SS Funny Car, JFR is additionally comprised of Auto Club of Southern California Chevrolet Camaro SS driver Robert Hight, 2009 Funny Car champion and 2005 NHRA Rookie of the Year; Advance Auto Parts Chevrolet Camaro SS driver Courtney Force, 2012 NHRA Rookie of the Year; and Monster Energy Top Fuel Dragster driver Brittany Force, 2013 NHRA Rookie of the Year. For more information, please visit johnforceracing.com.