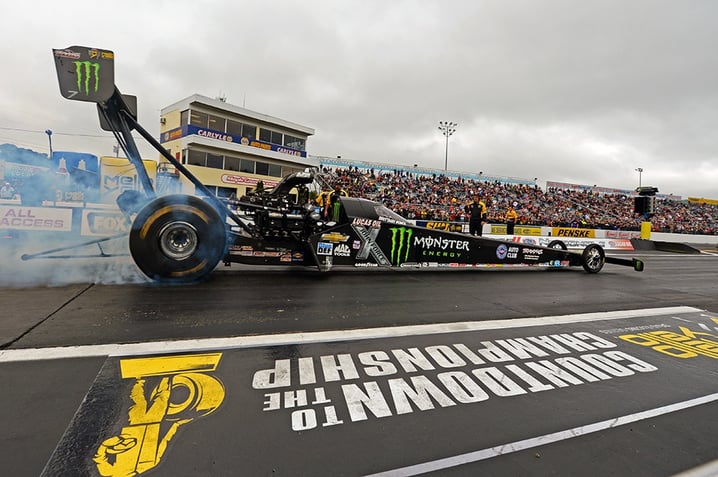 READING, PA --- For the second time in three years Brittany Force raced to the final round at the Dodge NHRA Nationals. Today she was facing the two-time world champion Antron Brown in a rematch of the Lucas Oil NHRA Nationals. It was one of the closest final rounds so far in the Countdown as both dragsters ran identical elapsed times of 3.721 seconds. Force came up .003 of a second short to Brown after both drivers had nearly equal reaction times with Brown slightly edging Force, a three-time winner this season at the stripe.
"It was definitely a crazy challenging weekend. Everyone only got one qualifying pass, we blew up in the second round and that just makes it tough on everyone. I have a strong team behind me. They pulled through today and we made it to the finals. I have the greatest group of guys on this Monster Energy team. When I saw the time slip I couldn't believe how close that race was," said Force.
"This was still a great weekend for us. We would have obviously have liked to be in the winner's circle but we still have a lot of positives. We moved from 5th to 3rd in the points. The tough part is we have to keep this momentum and keep moving up. The No. 4 and No. 5 drivers are right on our tail. We are going to have to stay on our game. Hopefully at the next race we will get all four of our qualifying passes and do exactly what we did this weekend to get the win," added Force.
It was a big first round for Brittany Force and Monster Energy team as the fourth year pro picked up her first career win over three-time world champion Larry Dixon in the first round. It was a close race with Force's 3.728 second run prevailing over Dixon's 3.760. Force got the win by a wing at the finish line. This was Force's first win over Dixon in five previous races. Force ran the same elapsed time as her second round opponent Doug Kalitta but he got lane choice on speed.
Force pulled up beside Mac Tools teammate Doug Kalitta in the second round and she was racing for her third consecutive semifinal appearance at the Dodge NHRA Nationals. When the Christmas Tree activated Kalitta was already in motion earning a disqualification and handing Force's Monster Energy Top Fuel dragster the win. Force was so focused on her run that when her dragster shook she pedaled her race car leading to a massive motor explosion. It was a costly win but for Force but she moved up to the No. 4 position in the Mello Yello point standings.
"When you are further down the track and you blow the tires off it is easier to handle. You know where you are at on the race track and you know what is happening. When it happens instantly it just rattles your head and it is just hard to focus on what is going on," explained Force. "I didn't notice that he red-lit beside me because I am trying to get this Monster Energy dragster to hook back up and get down the track. When I felt it blow up and there was nothing happening I saw him out the window and I thought he was going to get the win. At the same time I saw our win light and all that was happening in two seconds. There was a lot going on and that was a lot to wrap your head around. I wish I would have seen my win light sooner and maybe I wouldn't have blown it up but hey it was a show for the fans watching on Fox."
In the semifinals Force was paired up fellow Countdown competitor and No. 1 qualifier Leah Pritchett. Both drivers launched simultaneously but Pritchett went up in smoke while Force made the strongest Top Fuel run of the semifinals. Force's winning time of 3.731 seconds at 325.06 mph was the quickest and fastest of all four Top Fuel dragsters. The win set up a replay of the Brainerd Lucas Oil NHRA Nationals against Antron Brown where Force got her third win of the season.
"I was trying to do what I did first round and second round which was stay positive. I went up there thinking we are going to get this win. I said it with Dixon. I said it with Kalitta and I said it before the semifinal race. I used that positive energy to really drive myself. That is what I using to make sure I did my job every round today," concluded Force.
John Force lost a close pedaling battle to Del Worsham when his Advance Auto Parts PEAK Funny Car overpowered track in the first round. Both drivers launched and shook the tires. While Force was trying to pedal his Funny Car the reigning Funny Car champion was beside him doing the same thing. Unfortunately, for the seven-time Dodge Nationals winner Worsham was able to get out in front and make it to the finish line in front Force. After the run his team looked at the data and realized that the track condition was considerable better than anticipated based on the available data.
"Now we have to turn that corner. We came out and won at Charlotte, the opening race of the Countdown. I thought we were going to be OK. Things were high but got picked off at St. Louis and got picked off here. I'm not happy, but I don't panic. I'm going to listen to my crew chiefs and they are going to lead me down this road," said John Force during the FS1 broadcast.
Two pairs after John Force was eliminated Courtney Force pulled up with her Traxxas Chevrolet Camaro SS Funny Car against John Bojec. This was the first meeting for the duo and Bojec was able to pick up the win over the 2012 Rookie of the Year. It was almost a duplicate run for the JFR Funny Car with the exception that Force made it further down the track before she experienced violent tire shake. Force was unable to maintain momentum and had to watch Bojec pull away for the round win.
"We tried to look at what our teammates were doing and make some adjustments. We weren't trying to go out there and run a killer run. We were trying to just be conservative and play it smart. It surprised all of us that it didn't go down the track. It shook pretty hard and I tried to pedal it," said Force. "There was a pretty bad vibration underneath the race car and we found out in the pits and saw that it broke the drive shaft because the shake was so hard. We have had a great season and we are getting hit with a lot of bad luck in the Countdown. We have to turn it around and we are going to start in Dallas. It hurt everyone out here to only get one qualifying run. You saw that in the first round with the number of Funny Cars that made good runs."
As the last JFR Chevrolet Camaro Funny Car in the field Robert Hight was eager to race to the second round. His Auto Club Camaro suffered the same fate as his two teammates striking the tires as he passed the starting line. Both Hight and Tim Wilkerson overpowered the track and attempted to regain control of their 10,000 hp nitro coupes. Hight was first off the starting line by a substantial margin but Wilkerson was able to get out in front and stay out in front down the track. His winning elapsed time of 5.367 seconds bested Hight's 8.245.
"We just missed it today. Everybody only got the one qualifying run and we just didn't make a good run in the first round. We'll focus on Dallas and the next two Countdown races. We aren't out of it but we have a tough road in front of us," summed up Hight.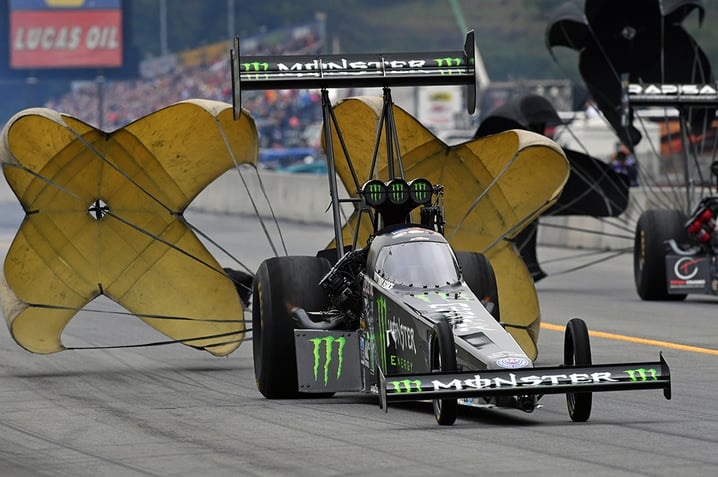 COUNTDOWN TO THE CHAMPIONSHIP POINT STANDINGS
Funny Car - 1. Ron Capps, 2368; 2. Tommy Johnson Jr, 2344; 3. Jack Beckman, 2275; 4. Matt Hagan, 2258; 5. Del Worsham, 2246; 6. John Force, PEAK Chevrolet Camaro SS, 2230; 7. Tim Wilkerson, 2196; 8. Robert Hight, Auto Club Chevrolet Camaro SS, 2193; 9. Courtney Force, Traxxas Chevrolet Camaro SS, 2182; 10. Alexis DeJoria, 2099
Top Fuel - 1. Antron Brown, 2377; 2. Doug Kalitta, 2300; 3. Brittany Force, Monster Energy dragster, 2259; 4. Shawn Langdon, 2258; 5. Tony Schumacher, 2236; 6. Steve Torrence, 2214; 7. Leah Pritchett, 2188; 8. JR Todd, 2183; 9. Richie Crampton, 2159; 10. Clay Millican, 2136
Pro Stock - 1. Jason Line, 2389; 2. Greg Anderson, 2344; 3. Vincent Nobile, 2306; 4. Bo Butner, 2256; 5. Shane Gray, 2242; 6. Chris McGaha, 2189; 7. Allen Johnson, 2160; 8. Drew Skillman, 2157; 9. Jeg Coughlin Jr, 2115; 10. Erica Enders Stevens, 2104
Pro Stock Motorcycle - 1. Andrew Hines, 2341; 2. Eddie Krawiec, 2303; 3. Angelle Sampey, 2289; 4. Chip Ellis, 2274; 5. Jerry Savoie, 2271; 6. LE Tonglet, 2215; 7. Cory Reed, 2196; 8. Hector Arana, 2159; 9. Matt Smith, 2150; 10. Hector Arana Jr, 2149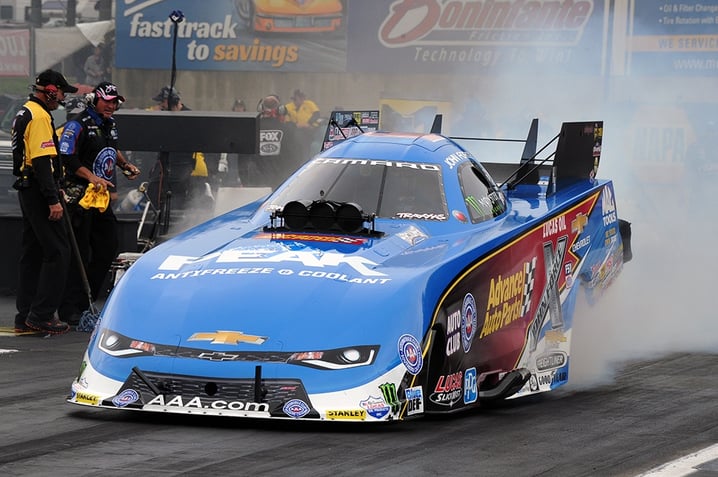 THE DRIVERS
JOHN FORCE, 67, Advance Auto Parts PEAK Antifreeze 2016 Chevrolet Camaro SS
Final Qualifying: 14th at 12.185, 78.24 mph
Bonus Qualifying Points: 0
Race results: Lost to Del Worsham.
ROBERT HIGHT, 47, Auto Club 2016 Chevrolet Camaro SS
Final Qualifying: 5th at 4.690, 243.24 mph
Bonus Qualifying Points: 0
Race results: Lost to Tim Wilkerson.
COURTNEY FORCE, 28, Traxxas 2016 Chevrolet Camaro SS
Final Qualifying: 8th at 8.041, 81.55 mph
Bonus Qualifying Points: 0
Race results: Lost to John Bojec.
BRITTANY FORCE, 30, Monster Energy Top Fuel Dragster
Final Qualifying: 12th at 4.676, 299.80 mph
Bonus Qualifying Points: 0
Race results: Beat Larry Dixon, Doug Kalitta, Leah Pritchett; Lost to Antron Brown