Newgarden Earns 2nd Place At Watkins Glen International Following Accident on Saturday; Pigot Finishes 15th
WATKINS GLEN, N.Y. (September 4, 2016) – Race Notes
Josef Newgarden mounted a tremendous comeback to finish second today at Watkins Glen International. Newgarden's fourth podium finish of the year came after a Saturday morning accident in practice, not advancing to the Firestone Fast 6 during qualifying hours later and dropping back to 18th on the first lap of the INDYCAR Grand Prix at The Glen presented by Hitachi. Teammate and Verizon IndyCar Series rookie Spencer Pigot ran in the Top 10 for the majority of the race before being forced to save fuel caused him to drop back to a 15th place finish.
Newgarden led the team's qualifying effort, advancing to the second round of qualifications and earning himself a 12th place position on the starting grid. Spencer Pigot started the 60-lap race from the 21st spot.
At the drop of the green flag, Newgarden watched the cars in front of him attempt to go four-wide. All made contact and Newgarden was forced to take his No. 21 Fuzzy's Ultra Premium Vodka Chevrolet wide in Turn 1 to avoid the spinning cars. By the time he was able to re-enter the 3.37-mile, 11-turn permanent road course, he had dropped to 18th. Pigot avoided the melee and picked up two positions from the incident, moving up to 19th.
Because they were so far back in the field, both drivers elected to make their first pit stops early. Newgarden came in on Lap 10 and Pigot followed on Lap 11, both switching from the softer red Firestone Firehawk tires to the harder black tires. Luck was on their side when the caution came out on Lap 15. As other drivers made their first pit stops, Newgarden cycled up to 6th and Pigot to 10th.
Green flag racing resumed on Lap 19 but was immediately followed by another full-course caution. After the green came back out on Lap 23, Newgarden was able to work his way around Alexander Rossi for 5th. Pigot moved his No. 20 Samsung Chevrolet around Ryan Hunter-Reay for 9th before making his second stop on Lap 29. Newgarden also came in on the same lap and both drivers again stayed on black tires.
Newgarden left the pit lane in 13th and Pigot in 14th, but as the rest of the field began to make their stops, both moved back up. Once the field had cycled through, Newgarden found himself all the way up in the 3rd position while Pigot was 11th.
The caution flag flew again on Lap 39, giving drivers the opportunity to make their final pit stops under yellow. All but three cars took advantage, causing Newgarden to fall to 7th while Pigot was 12th. At the green flag on Lap 42, Newgarden began to make his way forward and was up to 4th before being instructed to work on fuel conservation. Pigot found himself in a three-way battle for 11th before being given the same message.
In the closing laps of the race, other drivers began to gamble and tried to push their cars to the end. Two cars passed Newgarden with five laps to go, dropping him to 6th. The following lap, three cars ahead of Newgarden were forced to pit for fuel. Newgarden, who had successfully hit his target fuel number was able to set his sights on James Hinchcliffe. Newgarden passed Hinchcliffe on the final lap, moving him to the second position.
Pigot worked diligently on his own fuel conservation and was able to make it the final 19 laps of the race without stopping again. As a consequence, he was unable to hold off the cars around him and dropped to 15th by the end of the race. After taking the checkered flag, he coasted to a stop in Turn 1, out of fuel.
Newgarden's second place finish is sixth Top 5 of the year. Heading into the final race of 2016, he is now locked in a battle for third place in the championship. Newgarden currently sits 5th, with the 3rd and 4th place drivers tied with an advantage over Newgarden of five points.
Ed Carpenter Racing will head straight from New York to California to test at Sonoma Raceway on Thursday, September 8th. Pigot will use rookie test while Newgarden will share his No. 21 with Zach Veach as part of an Indy Lights incentive test day.
The GoPro Grand Prix of Sonoma, worth double points, will take place on Sunday, September 18th. It will be broadcast live on NBC Sports Network live at 6:30 p.m. ET.
JOSEF NEWGARDEN, NO. 21 FUZZY'S ULTRA PREMIUM VODKA CHEVROLET, FINISHED 2ND: "Well, there's a little discrepancy there with the timing stand of the driver. They give you a number to hit for fuel, and if you beat it a couple of laps in a row, you think 'Okay they're going to raise the number and give me more fuel.' And they weren't giving me more fuel! So, I was screaming at them. I was like, 'Guys, I'm hitting this number, you give me more fuel now!' They finally gave it to me in the end. We were kind of in a different race compared to (Scott) Dixon. The right guy won it this weekend. There was really no stopping this guy. Congratulations to him and all of Chip Ganassi Racing. For us, I think we can't be too displeased with second place. It's been a tough weekend. It's not been our smoothest. I think we came back really strong. We had a phenomenal race with great pit stops and we got on the podium. So, it's a pretty good day. Hopefully we can go to Sonoma now and get even better results to finish off the year right."
SPENCER PIGOT, NO. 20 SAMSUNG CHEVROLET, FINISHED 15TH: "The race was going pretty well. We were battling inside the Top 10 for the majority of the race, especially through the middle stints. We were looking good to get a Top 10 finish but after we had to start saving fuel we fell back. It was a bit of a shame we had to start saving so much. We couldn't keep the pace up and save fuel, so we fell back to 15th. It was a lot of fun, I had some great battles out there. The car was really good and the guys gave me excellent pit stops. It was great to have Samsung come on board this weekend and also thanks to Fuzzy's Vodka, Rising Star Racing, Mockett and everyone else that makes this happen."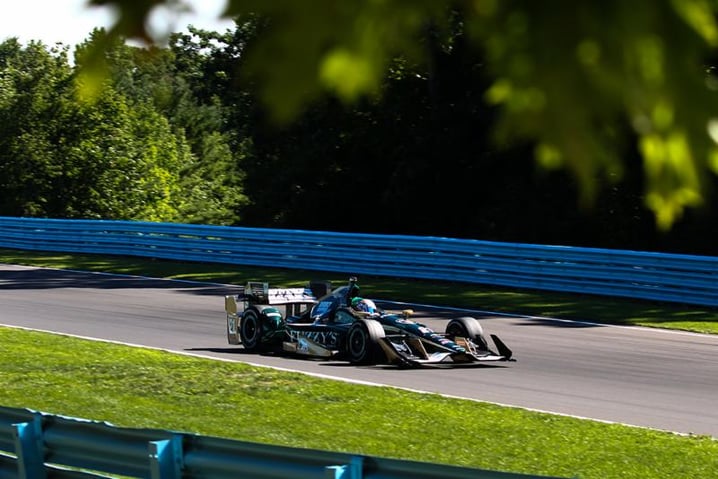 Josef Newgarden bounced back after a tough start to the weekend to land on the podium at Watkins Glen International. His second place finish was his fourth podium of the year.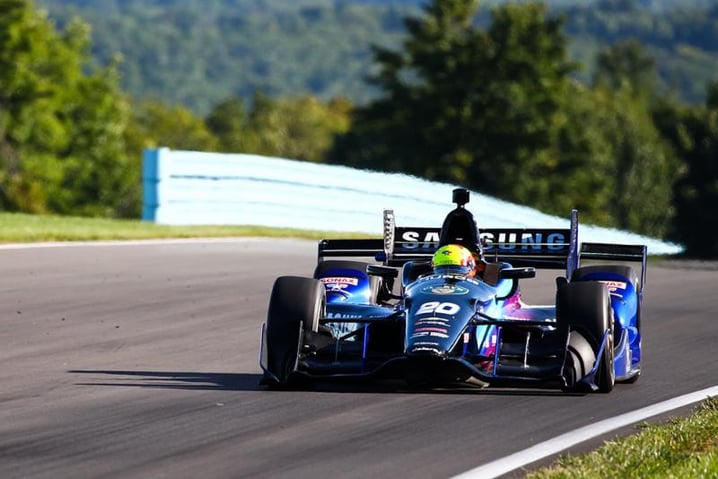 Spencer Pigot ran in the Top 10 for the majority of today's race before fuel conservation caused him to drop back in the closing laps. He ended the day with a 15th place finish.
About Ed Carpenter Racing
Ed Carpenter Racing (ECR) first entered the Verizon IndyCar Series in 2012. The team is led by IndyCar's only owner/driver, Ed Carpenter, winner of back-to-back pole positions for the Indianapolis 500 in 2013 and 2014. ECR has amassed seven victories and 21 top five finishes in the past five years. In 2016, Carpenter will compete in all oval events in the No. 20 Fuzzy's Ultra Premium Vodka Chevrolet while Spencer Pigot will take over at road and street courses. Josef Newgarden will compete for the Verizon IndyCar Series Championship as he races the full season in the No. 21 Chevrolet. More information on Ed Carpenter Racing may be found at www.edcarpenterracing.com.