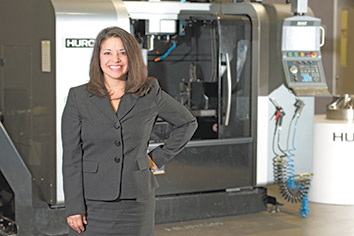 2015 WOMEN OF INFLUENCE: Sonja McClelland | 2015-10-29 | Indianapolis Business Journal | IBJ.com
Sonja McClelland, CFO, Vice President, Secretary and Treasurer of Hurco Companies, Inc.
Each year, the Indianapolis Business Journal (IBJ) recognize women who exemplify leadership in the state of Indiana (the state where Hurco has been headquartered since it was founded in 1968) to receive the Women of Influence Award. We're so pleased that Sonja McClelland was selected this year. She wears many hats at Hurco and is one of the many employees who has worked here nearly 20 years. Below is an excerpt from the article that appeared in the IBJ. Click this link to read the entire article.

"When McClelland came to Hurco in 1996, the company had less than $100 million in revenue. It was trying to repay $30 million in debt and had accumulated losses for the previous four fiscal years of almost $32 million. By 2008, the company broke the $200 million revenue mark and recorded record net income of $23 million. "Today," she said, "the company is stronger than it has ever been." Read more