GAINESVILLE, Fla. (March 14) – Courtney Force and her Advance Auto Parts Chevrolet Camaro SS team are looking to carry the speed they achieved in the opening two races of the season to the NHRA Gatornationals this weekend at Gainesville Raceway.
Force has qualified No. 2 and No. 3 in the first two NHRA Mello Yello Drag Racing Series races of 2017, reaching the final round in the season-opener at Pomona, Calif.
The fast start to the season came after a successful test session in Phoenix where Force made a pass of 3.804 seconds – under the current national elapsed time record for Funny Car.
Now, Force would love to add a victory to her 2017 resume.
"Coming off of testing and running the great numbers we did with our Advance Auto Parts Chevy, having the team that I have, the crew chiefs we have in Dan Hood and Ronnie Thompson, being able to get all the way to the final round and coming so close to winning that first race is awesome," Force said. "And even though we were taken out early in the second race, we showed through qualifying that we had a good race car. We got a little bit unlucky there and had some tire shake, but that's racing.
"You can't win every time, but knowing we have a quick race car makes you feel more confident. I know we've got a good car through two races; we just didn't show it in the first round in Phoenix. But I definitely think we've got a good setup."
Force qualified No. 2 in Phoenix but experienced tire shake in the first round and fell to Jim Campbell. She knows that happens in the world of 10,000-horsepower, nitro-burning engines. But as Force continues her sixth season driving a Funny Car for John Force Racing, she also knows winning a championship is about continuing to fight through tough times.
"Really, it's about not giving up," Force said. "It's going to be a long year, but I think we have a championship-winning team. To be in the seat in that car, knowing the consistency we've built makes me feel good. My focus is definitely for that championship, and I feel confident in saying that because of the team, the crew chiefs and the car we currently have."
Part of chasing the championship means Force wants to "continue to grow with my team," she said.
"For myself as a driver, I'll keep pushing myself harder to get better at driving, to get better at reaction times," Force said. "Every pass we make out there, you learn something new. I still don't consider myself a veteran, but I definitely have fun and love what I do. Having the confidence and knowing that we have a great race car, we're putting it toward feeling positive going into the season."
The first two rounds of qualifying will be televised Friday on tape delay by Fox Sports 1 at midnight Eastern. Qualifying continues Saturday (tape delay on FS1 at 11 p.m.). FS1 will televise elimination rounds Sunday beginning at 1 p.m. ET.
4-Second Reads:
Courtney Force has competed in the NHRA Gatornationals five times, and every year since 2012, the first year she competed in the event.
Force is seeking her first finals in the NHRA Gatornationals. Her best showing came in 2014, when she made it to the semifinals before losing to her father, John Force.
Force's record in elimination round races at Gainesville Raceway is 4-5.
Force's best qualifying position at the NHRA Gatornationals was No. 2 last season. She made it to the quarterfinals.
Force is 3-2 in first-round NHRA Gatornationals matchups.
In her career, Force has eight race victories and 134 round wins.
Force is currently third in the Funny Car points standings, down one spot from second from the previous race.
Force's best time/speed at Gainesville – 3.893 seconds (2016 Q4); 322.96 mph (2016 Q4)
Force's best time/speed of career – 3.838 seconds (2017 Phoenix); 332.67 mph (2017 Phoenix)
Force's co-crew chief, Ronnie Thompson, celebrated his birthday on Monday, March 13.
Crew member Narciso "Nacho" Bravo celebrates his birthday on Saturday, March 18.
Force will attend a media day Tuesday in Charlotte to promote the upcoming 4-Wide Nationals, scheduled in late April at Zmax Dragway in Concord, N.C.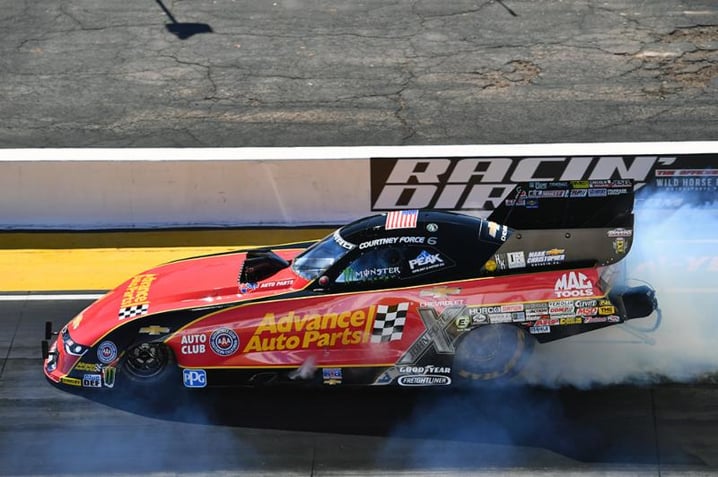 Photo credit: Gary Nastase and Auto Imagery
About John Force Racing
John Force Racing, Inc., based in Yorba Linda, Calif., and Brownsburg, Ind., is a professional sports dynasty, one that has earned 18 NHRA championships and claimed 250 professional victories in Funny Car (247) and Top Fuel (3). Led by team owner and driver John Force, a 16-time Funny Car Champion, 1996 Driver of the Year for all of American motor racing, 2011 International Motorsports Hall of Fame inductee, and driver of the PEAK Coolant and Motor Oil Chevrolet Camaro SS Funny Car, JFR is additionally comprised of Auto Club of Southern California Chevrolet Camaro SS driver Robert Hight, 2009 Funny Car champion and 2005 NHRA Rookie of the Year; Advance Auto Parts Chevrolet Camaro SS driver Courtney Force, 2012 NHRA Rookie of the Year; and Monster Energy Top Fuel Dragster driver Brittany Force, 2013 NHRA Rookie of the Year. For more information, please visit johnforceracing.com.