CHANDLER, Ariz. (Feb. 3) – Advance Auto Parts driver Courtney Force blistered Wild Horse Pass Motorsports Park during the second day of NHRA Nitro Spring training Friday, posting the three-quickest passes of the week – including an incredible run under the Funny Car national record.
Force's best run in her Chevrolet Camaro SS Funny Car was 3.804 seconds at 333.33 mph, quicker than Matt Hagan's national-record run of 3.822 seconds set last year in Brainerd, Minn. Because Force's pass came during testing, it is not a national record.
"It was a pretty unbelievable run," Force said. "It's all thanks to these guys; I'm just the one piloting the car down to the other end. But it was really exciting hearing them come on the radio and be so excited about it.
"It's great being out here at Phoenix testing. We're going to try some new things tomorrow and just see what the car does. So far, we're definitely happy with it."
In addition to the 3.804 run, Force also had quick passes of 3.847 seconds at 329.26 mph and 3.847 seconds at 331.28 mph to snare the three quickest runs of the day.
"I feel good every run," Force said. "It's crazy. You take two months off during the offseason and then you hop back in a car – just smashing on the throttle – it takes some getting used to and time to get back into your routine. When you get a couple months off, it changes things. It's been a lot of fun getting back in the car and back into the groove of things. I feel like I've had to really quickly, as my guys are ready for the season. They've really shown that with how the Advance Auto Parts Chevrolet Camaro has run so far.
"I feel like I had my hands full on multiple runs, but it's really great being able to make so many great passes just in testing – the 3.84s and then the 3.80 unofficially. It's a great feeling. I'm proud of my guys; it's all because of them."
Robert Hight's Auto Club of Southern California Chevrolet Camaro SS Funny Car made the fifth-best run of the day, 3.859 seconds at 330.63 mph.
And John Force's Peak Coolant and Motor Oil Chevrolet Camaro SS Funny Car was quick, too, with a top run of 3.884 seconds at 324.75 mph.
Brittany Force's Monster Energy Top Fuel dragster made a top pass of 3.704 at 321.65 mph but also made two other identical 3.739-second runs.
Testing continues Saturday, with the final day slated for Sunday.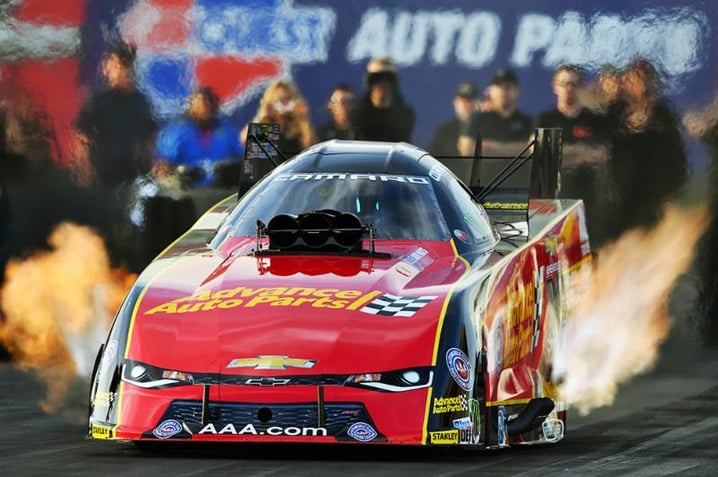 Courtney Force was under the national record with a 3.804-second pass.
(Photo credit: Auto Imagery)
About John Force Racing
John Force Racing, Inc., based in Yorba Linda, Calif., and Brownsburg, Ind., is a professional sports dynasty, one that has earned 18 NHRA championships and claimed 250 professional victories in Funny Car (247) and Top Fuel (3). Led by team owner and driver John Force, a 16-time Funny Car Champion, 1996 Driver of the Year for all of American motor racing, 2011 International Motorsports Hall of Fame inductee, and driver of the PEAK Coolant and Motor Oil Chevrolet Camaro SS Funny Car, JFR is additionally comprised of Auto Club of Southern California Chevrolet Camaro SS driver Robert Hight, 2009 Funny Car champion and 2005 NHRA Rookie of the Year; Advance Auto Parts Chevrolet Camaro SS driver Courtney Force, 2012 NHRA Rookie of the Year; and Monster Energy Top Fuel Dragster driver Brittany Force, 2013 NHRA Rookie of the Year. For more information, please visit johnforceracing.com.