DAYTONA BEACH, Fla. (Feb. 14) – Fresh off a final-round appearance at one famed race track, Advance Auto Parts Chevrolet Camaro SS Funny Car driver Courtney Force will lead the field at yet another.
Force, who raced to a runner-up finish at the Circle K NHRA Winternationals at Auto Club Raceway at Pomona last weekend, will serve as the Honorary Pace Car Driver for the Advance Auto Parts Clash on Saturday night at Daytona International Speedway.
The Advance Auto Parts Clash is NASCAR's annual non-points special event and features the top drivers from the Monster Energy NASCAR Cup Series.
"I'm so thrilled to be the honorary pace car driver for the Advance Auto Parts Clash!" Force said. "I'm extremely nervous but honored at the same time to be driving that Chevy pace car before the veterans and young up-and-comers take on the track. Being a girl that races the NHRA in a straight line for a living at over 330 mph, I hope I can keep the pace in front of the pack and keep turning left!
"Can't wait to get back on a track to help NASCAR kick off their race season and help represent Advance Auto Parts. I look forward to the event and to help lead the way before their race begins. Huge thanks to Daytona International Speedway, Advance Auto Parts and NASCAR for the opportunity to be on a track full of racing legends."
The field for the Advance Auto Parts Clash, which debuted in 1979, will consist of 2016 pole winners, past Clash champions, past Daytona 500 pole winners who competed full-time in 2016 and Chase drivers from last season.
The race will be broadcast live on Fox Sports 1, MRN and SiriusXM NASCAR Radio at 8 p.m. Eastern.
Force, the daughter of NHRA legend John Force, drives the Advance Auto Parts Chevrolet Camaro SS for John Force Racing in Funny Car. She has eight career NHRA national event victories, with career-best runs of 3.849 seconds (set in Pomona last weekend) and 331.45 mph.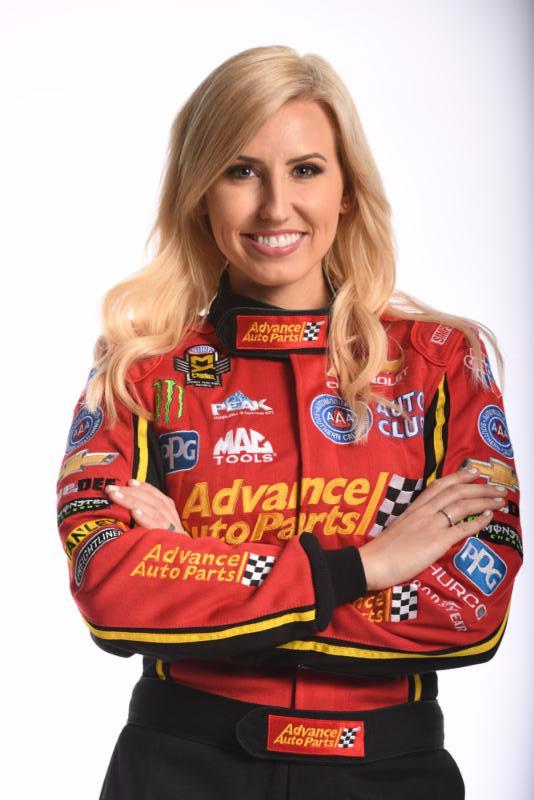 Photo credit: Gary Nastase Photography
About John Force Racing
John Force Racing, Inc., based in Yorba Linda, Calif., and Brownsburg, Ind., is a professional sports dynasty, one that has earned 18 NHRA championships and claimed 250 professional victories in Funny Car (247) and Top Fuel (3). Led by team owner and driver John Force, a 16-time Funny Car Champion, 1996 Driver of the Year for all of American motor racing, 2011 International Motorsports Hall of Fame inductee, and driver of the PEAK Coolant and Motor Oil Chevrolet Camaro SS Funny Car, JFR is additionally comprised of Auto Club of Southern California Chevrolet Camaro SS driver Robert Hight, 2009 Funny Car champion and 2005 NHRA Rookie of the Year; Advance Auto Parts Chevrolet Camaro SS driver Courtney Force, 2012 NHRA Rookie of the Year; and Monster Energy Top Fuel Dragster driver Brittany Force, 2013 NHRA Rookie of the Year. For more information, please visit johnforceracing.com.