GAINESVILLE, Fla. (March 14) – John Force Racing driver Robert Hight and crew chief Jimmy Prock hope to achieve the same results they had for nearly a decade and recreate some of their previous magic together starting with the third round of the NHRA Mello Yello Drag Racing Series, this weekend's NHRA Gatornationals at Gainesville Raceway.
The two, who won several races and the 2009 Funny Car title together, have reunited. They look to overcome a slow start to the season and put the Auto Club of Southern California Chevrolet Camaro SS back in winner's circle. Hight is the defending Gatornationals winner in the Funny Car class.
"Going into a race as the defending champion always gives you a little bit of confidence because you've won before," said Hight, who has three victories in Gainesville. "We're going in with kind of a new team and changes at John Force Racing. I think change is always good.
"I'm a big baseball fan, and I remember back in the day when Tommy Lasorda was the manager of the (Los Angeles) Dodgers, and you'd see him out there coaching third base. He said, 'Sometimes, you just have to change things up. When things aren't working, you change them up.' So I think that's what we're going to do at John Force Racing, and looking to go there and defend this title."
Prock started the season with JFR team owner John Force and the PEAK Coolant & Motor Oil Chevrolet Camaro SS. The team made strides and reached the semifinals of the season-opening Circle K NHRA Winternationals in Pomona, Calif. But following meetings and discussions between Force, Hight, and all of JFR's crew chiefs and leadership last week in the Brownsburg, Ind., shop, Prock was tabbed to head Hight's crew, while crew chief Mike Neff was reassigned to lead Force's stable.
Banking on their previous success together is reason for optimism. Hight believes Gainesville is an excellent opportunity for his first race victory of 2017.
"Jimmy and I, I think I was with him for nine seasons, and we were best friends," Hight said. "There wasn't a day that went by where we didn't talk about the race car and what we were going to do, and it was a lot of fun. He really included me in things, and I'm excited to be back with him; (he's a) very smart guy. I was really excited when we get him over the winter, got him back in here, because I knew he was going to make all of our teams stronger. When I called the Auto Club and told them we had made the swap, their words were, 'Hey, this is pretty cool. It's a reunion.'"
The Alturas, Calif., driver has always been strong at Gainesville. He qualified No. 1 for the first time in his career in 2005, only his third Funny Car race, and scored his second career round victory that weekend. He broke through in 2012 by winning overall, and has won three of the last five Gainesville races. Last year's race also marked JFR's first nitro-class sweep, with Brittany Force winning in the Top Fuel class.
Hight steps into John Force's car, which went to the semifinals at Pomona and made four runs in the 3.8-second range during a test following the race at Wild Horse Pass Motorsports Park in Chandler, Ariz.
"We build our own stuff, so the cars are basically the same," Hight said. "The setups are different, and how the crew chief tunes it and runs it."
With that said, Hight hopes the recent changes put him back in a familiar place – winner's circle – and the site of his only victory in 2016.
"I'm just going to have to do my job – leave on time and keep it in the groove, and hopefully do that four times on Sunday," Hight said.
The first two rounds of qualifying will be televised Friday on tape delay by Fox Sports 1 at midnight Eastern. Qualifying continues Saturday (tape delay on FS1 at 11 p.m.). FS1 will televise elimination rounds Sunday beginning at 1 p.m. ET.

4-Second Reads:
Robert Hight has competed in the NHRA Gatornationals 12 times, and every year since 2005, the first year he competed in the event.
Hight has advanced to the final round of the Gatornationals three times, winning all three of his appearances. His record in elimination rounds at Gainesville Raceway is 20-9.
Hight has been the No. 1 qualifier for the NHRA Gatornationals twice, in 2005 and 2007. The No. 1 qualifying spot in 2005 was the first of his NHRA career, in only his third career race.
Two of Hight's three NHRA Gatornationals wins have come from the No. 3 qualifying position.
Hight has qualified in the top eight of the NHRA Gatornationals in seven of 12 attempts.
Hight has won his first-round NHRA Gatornationals matchup nine times in 12 attempts, including six out of the last seven.
Hight has advanced to the semifinals of the NHRA Gatornationals five times. He is 5-4 in his second-round matchups, winning his last four quarterfinals appearances.
In his career, Hight has 37 victories and 374 round wins.
Hight still seeks his 50th No. 1 qualifying position. He is tied for 13th (with Angelle Sampey) all-time in NHRA No. 1 qualifying positions, with 49. His last No. 1 qualifying position was at Dallas in 2016.
Hight is 10th in Funny Car points standings, down one spot from ninth from the previous race.
Hight's best time/speed at Gainesville – 3.921 seconds (2016 Q3); 327.43 mph (2016 Q3)
Hight's best time/speed of career – 3.839 seconds (2016 Dallas); 332.84 mph (2016 Topeka)
Crew member Sam Fabiano celebrates his birthday Wednesday, March 15.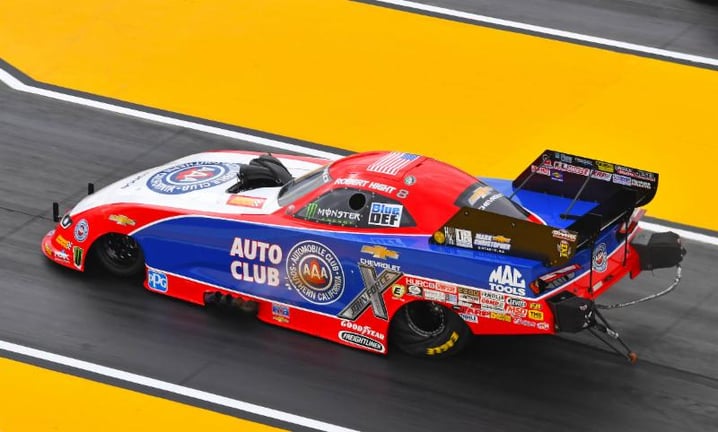 Photo credit: Ron Lewis Photography