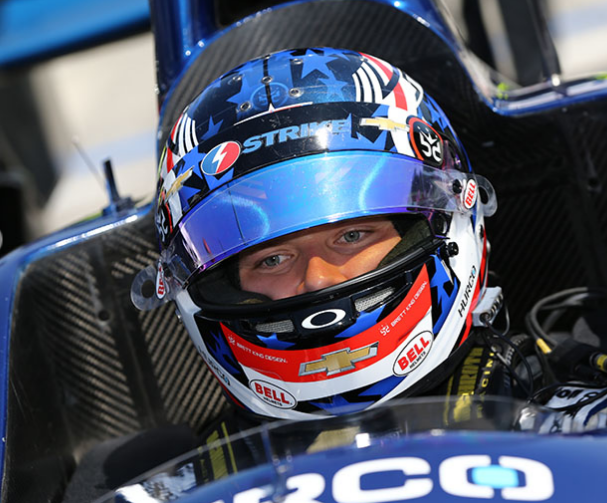 ED CARPENTER RACING LOOKS TO RETURN TO THE PODIUM AT IOWA SPEEDWAY
A pair of twin Fuzzy's Ultra Premium Vodka Chevrolets from Ed Carpenter Racing will take to the shortest track the Verizon IndyCar Series faces this weekend at Iowa Speedway. Drivers Ed Carpenter and Josef Newgarden are both hoping their first win of 2016 will come at the conclusion of Sunday's Iowa Corn Indy 300 at the .875-mile oval in Newton, Iowa.


After finishing second in the past two Iowa Speedway races, Newgarden is hoping to reach one step higher on the podium. Newgarden was at the front of the pack for over a third of last year's race, leading 111 of 300 laps. In both 2014 and 2015, Ryan Hunter-Reay beat Newgarden to the line by just over a half of a second.
In his last four starts at Iowa Speedway, Carpenter has finished no lower than 8th, including a 6th place in 2015. When he gets behind the wheel of his No. 20 Fuzzy's Vodka Chevrolet this weekend, he will be looking to top his best Iowa Speedway finish of 4th, which came in 2013.


He may have had a surgically-repaired clavicle and a broken bone in his hand, but there was no stopping Newgarden two weeks ago at Road America. He qualified 20th, but drove all the way up an 8th place finishing position. His impressive drive was two weeks two the day after he was injured in an accident during the suspended Firestone 600 at Texas Motor Speedway.


Carpenter is the only owner/driver in the Verizon IndyCar Series, piloting the No. 20 during the oval races. During the Firestone 600, the most recent oval, Carpenter had worked his way up to 5th after starting 14th. When the race resumes on Lap 71 on August 27, Carpenter will retain his position.
ECR participated in a test at Iowa Speedway last week, immediately following Road America. J.R. Hildebrand drove the No. 21 to give Newgarden a bit more time to rest before taking on the 0.875-mile oval. Carpenter tested his own car.
Newgarden sits 5th in the Verizon IndyCar Series point standings, just 18 points out of second place.
In a change from past years, the Iowa Corn Indy 300 moves from Saturday night to late afternoon on Sunday. NBC Sports Network's live broadcast of the 300-lap race begins at 5 p.m. ET on Sunday, July 10.
About Ed Carpenter Racing
Ed Carpenter Racing (ECR) first entered the Verizon IndyCar Series in 2012. The team is led by IndyCar's only owner/driver, Ed Carpenter, winner of back-to-back pole positions for the Indianapolis 500 in 2013 and 2014. ECR has amassed six victories and 15 top five finishes in the past five years. In 2016, Carpenter will compete in all oval events in the No. 20 Fuzzy's Ultra Premium Vodka Chevrolet. Josef Newgarden will race the No. 21 Chevrolet throughout the entire season, carrying the Preferred Freezer Services colors throughout the Month of May. J.R. Hildebrand will be returning to ECR in the No. 6 Preferred Freezer Services Chevrolet for the two Indianapolis Motor Speedway events.