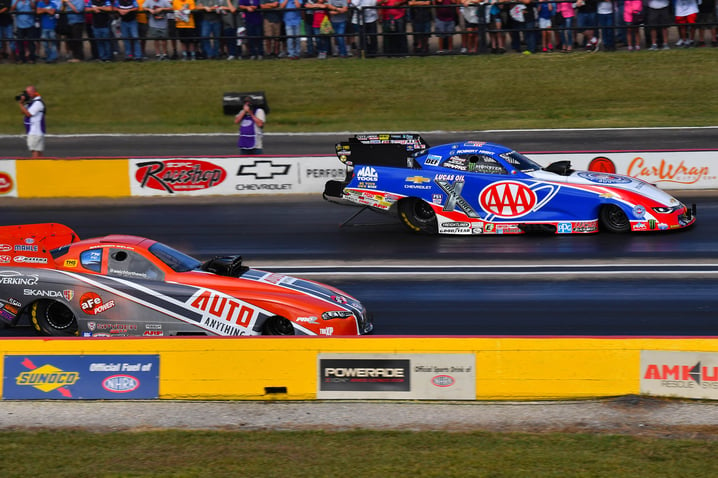 ENNIS, TX --- The AAA Texas Chevrolet Camaro SS Funny Car team and driver Robert Hight qualified No. 1 and continued a dominant day at the 31st annual AAA Texas NHRA Fallnationals racing to the semifinals before falling to eventual winner Matt Hagan. Hight made six consecutive 3.8 second runs including the quickest runs of the first two rounds of eliminations today. No driver has started a race with six consecutive elapsed times in the 3.8 range and his qualifying time was the third quickest Funny Car time in NHRA history.
In the opening session Hight rocketed past Brandon Welch with a stellar 3.866 second pass at an astounding 329.99 mph run. Welch went up in smoke on his pass of 5.451 seconds at 133.33 mph. It was the second time Hight had defeated Welch this season.
Heading into the quarterfinals it was a battle of Countdown contending Funny Cars with Hight's Camaro squaring off against Alexis DeJoria in her Patron Toyota Funny Car. Hight jumped off the starting line first and never trailed in the race posting his sixth consecutive run in the 3.8 second range. His winning time of 3.885 seconds at 329.83 mph was impressive as the track warmed up. It was the quickest run of the second round and it was enough for lane choice over Hagan in the semifinals.
"To run six runs in the 3.80s is pretty impressive. (Crew chief) Mike Neff and this whole AAA of Texas team they've got it going on," said Hight, after his second round win over DeJoria.
Hight's day came to an end in a tough semifinal round that saw Hight leave the starting line beside Hagan and at half-track both Funny Cars were welded together. Just as the race cars were approaching half-track at speeds closing in on 300 mph Hight's AAA Texas Chevrolet Camaro hazed the tires and lost just enough traction to let Hagan move ahead of him for the win. Hight was battling in the cockpit to keep his Funny Car hooked up to reach his second final this season.
"We have a great race car. We made six runs in the 3.8s in a row. That is outstanding on a cool and hot track. I felt it slip a little in the second round when it came off the starting line but it stayed hooked up," explained Hight. "In the semis it slipped and I jerked the steering wheel to catch it. It hooked up and I stayed with it but it just hazed the tires for the first time. It was a tough break but this AAA Texas Camaro was so good all weekend. We are running with the top cars out here and there are two races left. I want to win those races and see what happens."
Courtney Force and pink Traxxas Chevrolet Camaro Funny Car took out two-time Funny Car champion Cruz Pedregon in the opening round. Force's winning elapsed time of 3.894 second at 324.20 mph was enough to move her to the second round.
The 2012 Auto Club Rookie of the Year jumped the gun on the starting line trying to get every inch of advantage to start the race. Force rolled the Traxxas Chevrolet Camaro Funny Car into the final stage beam and then instinctively hit the throttle. The early launch disqualified Force and ended her day at the Texas Motorplex.
"My Traxxas team did a great job; they've given me a good race car here in Texas. I screwed up in the second round against (Matt) Hagan. It felt like a long (staging) light for me and my foot just wanted to leave," admitted Force. "But being able to move up a position in the points it's still an accomplishment leaving Texas this weekend. We have two more races to go and we're definitely motivated to go out there and continue to move up in the points and see if we can end this season on a high note."
A tough second round also upended Brittany Force and the Monster Energy Top Fuel dragster against JR Todd. Both dragsters took off aggressively but the Monster Energy dragster smoked the tires just before half-track. Force had to watch Todd pull away for the win. The second round exit dropped Force from third to fourth in the Mello Yello point standings with two national events remaining in 2016. The fourth year pro is only 41 points out of second place in the Top Fuel standings.
"I wasn't going to drive through it. It hazed the tires, it nosed over, threw me forward in the seat, and at that point the only thing to do is pull your foot out of it, wait until it calms down and jump back on it. I did that and it hooked up, and it went straight down there," said Force. "JR Todd in the lane next to us was on a decent run straight down, so there was no catching him no matter what we did. We have two more races and our goal is to get two more wins for the Monster Energy team," said Brittany Force
First round Brittany Force left the starting line first and never trails in her win over Terry McMillen in the first round. Force's winning elapsed time of 3.721 seconds was enough to pull away from McMillen's 3.919 second pass. The run was also quick enough to give Force, a three-time winner in 2016, lane choice in the second round over JR Todd.
No. 8 qualifier John Force made a career best elapsed time pass of 3.867 on Friday to race into Sunday's eliminations. The six-time AAA Texas Fall Nationals winner was pumped up for his first round match-up against Alexis DeJoria. It was two Countdown contenders and Force's foot jumped the gun launching the Advance Auto Parts PEAK Chevrolet Camaro SS Funny Car before the tree activated for a red-light disqualification.
"I thought I needed a Hail Mary and now I need two. I didn't do my job and they gave me a good race car. That is the bottom line. You can't win championships by making that mistake. My brain just faded and I put a red light out there. I apologized to my team, my fans and the sponsors. That is all I can do," summed up Force.
"We are turning that corner on the performance with this Advance Auto Parts PEAK Camaro in the heat. We were low of one session and in the top three on another session. John Schaffer and Jason McCulloch have this Funny Car doing what it is supposed to do. This whole team is working together. We ran 3.88 yesterday and it would have run 3.88 again and I would have been in the ballgame. My foot got happy and it cost us," added Force.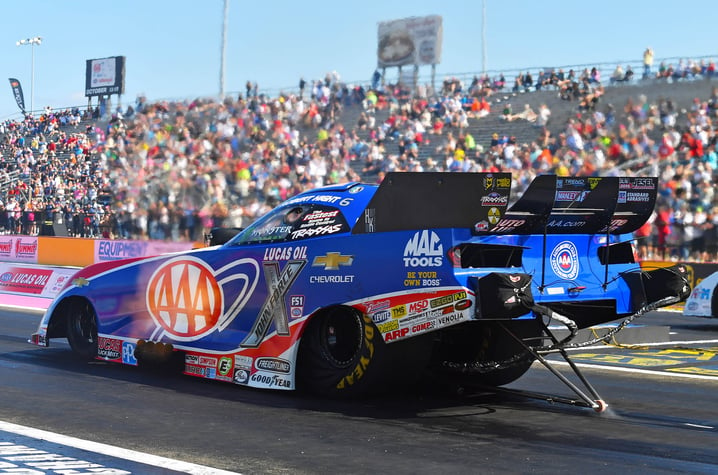 COUNTDOWN TO THE CHAMPIONSHIP POINT STANDINGS
Funny Car - 1. Ron Capps, 2465; 2. Tommy Johnson Jr, 2401; 3. Matt Hagan, 2377; 4. Jack Beckman, 2334; 5. Del Worsham, 2320; 6. Robert Hight, AAA Texas Chevrolet Camaro SS, 2278; 7. John Force, Advance Auto Parts PEAK Chevrolet Camaro SS, 2267; 8. Courtney Force, Traxxas Chevrolet Camaro SS, 2238; 9. Tim Wilkerson, 2228; 10. Alexis DeJoria, 2151
Top Fuel - 1. Antron Brown, 2504; 2. Doug Kalitta, 2354; 3. Shawn Langdon, 2332; 4. Brittany Force, Monster Energy dragster, 2313; 5. Steve Torrence, 2307; 6. Tony Schumacher, 2295; 7. JR Todd, 2260; 8. Leah Pritchett, 2250; 9. Richie Crampton, 2195; 10. Clay Millican, 2168
Pro Stock - 1. Jason Line, 2454; 2. Greg Anderson, 2428; 3. Vincent Nobile, 2340; 4. Shane Gray, 2320; 5. Bo Butner, 2314; 6. Drew Skillman, 2269; 7. Chris McGaha, 2222; 8. Allen Johnson, 2213; 9. Jeg Coughlin Jr, 2146; 10. Erica Enders Stevens, 2135
Pro Stock Motorcycle - 1. Eddie Krawiec, 2425; 2. Andrew Hines, 2408; 3. Jerry Savoie, 2376; 4. Angelle Sampey, 2365; 5. Chip Ellis, 2328; 6. LE Tonglet, 2288; 7. Cory Reed, 2229; 8. Hector Arana, 2211; 9. Hector Arana Jr, 2183; 10. Matt Smith, 2202
THE DRIVERS
JOHN FORCE, 67, Advance Auto Parts PEAK Antifreeze 2016 Chevrolet Camaro SS
Final Qualifying: 8th at 3.873, 329.02 mph
Bonus Qualifying Points: +4 (3rd quickest of Q1, quickest of Q3)
Race results: Lost to Alexis DeJoria.
ROBERT HIGHT, 47, AAA Texas 2016 Chevrolet Camaro SS
Qualifying: 1st at 3.839, 332.02 mph
Bonus Qualifying Points: +7 (2nd quickest of Q1, quickest of Q2, 2nd quickest of Q3)
Race results: Beat Brandon Welch, Alexis DeJoria; Lost to Matt Hagan
COURTNEY FORCE, 28, Traxxas 2016 Chevrolet Camaro SS
Qualifying: 5th at 3.854, 321.65 mph
Bonus Qualifying Points: +2 (2nd quickest of Q4)
Race results: Beat Cruz Pedregon; Lost to Matt Hagan
BRITTANY FORCE, 30, Monster Energy Top Fuel Dragster
Qualifying: 5th at 3.727, 322.50 mph
Bonus Qualifying Points: 0
Race results: Beat Terry McMillen; Lost to JR Todd.