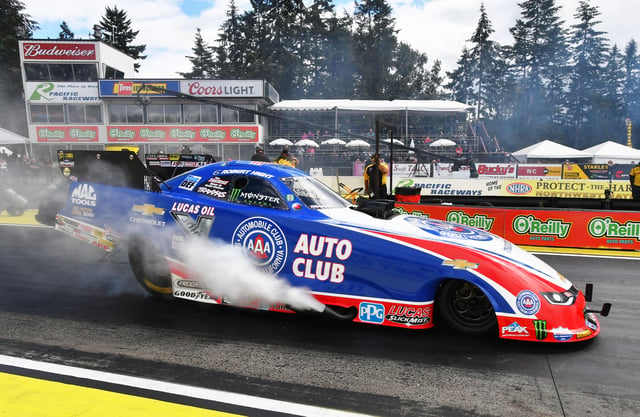 SEATTLE, WA --- Robert Hight raced to the quarter-finals at the 29th annual Protect the Harvest NHRA Northwest Nationals and dropped a very close race to No. 1 qualifier and national elapsed time record holder Del Worsham. The final round of nitro eliminations were postponed due to persistent rain showers and will be concluded in two weeks at the Lucas Oil NHRA Nationals. Hight and the Auto Club Chevrolet Camaro SS Funny Car took a starting line advantage and led Worsham well past half-track before Worsham narrowly moved around Hight by three thousandths of a second. At the finish line it was Worsham with a 3.883 to Hight's 3.894 as both drivers ran faster 320 mph.
"We were behind all weekend. We should have run that 3.86 on Friday night. We were just way off. We ran 3.89 and it isn't good enough to get you lane choice. My guys picked it up. We ran 3.86 in the first round which is a career best," said Hight in his hauler. "(Crew chief Mike) Neff says we can pick this up against Worsham who has been running awesome. Neff does exactly what he wants. He picks it up on the 60 ft. time but it is way down on power. We lost by three thousandths of a second and the week before we lose by seven thousandths of a second. I left first both weeks."
In the opening session Hight and the Auto Club Chevrolet Camaro SS was the last JFR representative with a chance to advance to the second round. In qualifying Hight and his opponent Chad Head ran identical elapsed times but Head was faster earning lane choice in a tough No. 8 versus No. 9 race. Hight was not deterred and outran Head with a career quickest 3.862 second pass that was enough to get the win but not lane choice against Worsham in the second round.
At the top end Hight was not concerned about lane choice and complimented the Pacific Raceways racing surface for its performance capabilities.
"We didn't have lane choice in the first round either. We saw (Del) Worsham run 3.83 in one lane and 3.84 in the other. This Seattle racetrack is unbelievable. We have to step it up; we have a big gun in the next round. But this Auto Club Chevy team is up to the task," said Hight from the top end.
NHRA Mello Yello Drag Racing Series racer Courtney Force, 28, from Yorba Linda, Calif., was transported by ambulance to Valley Medical Center in Renton, Wash., on Sunday after a racing incident in the first round of Sunday's eliminations at Pacific Raceways. Force's Traxxas Chevrolet Camaro SS Funny Car made contact with the left guardwall. Force exited the vehicle on her own power and was checked by NHRA emergency services before heading to the hospital to be evaluated for knee and elbow injuries where she was treated and released.
John Force was racing for his second sweep of the historic Western Swing immediately after witnessing his daughter's incident. As an eight-time Northwest Nationals winner Force found his focus and raced Tommy Johnson Jr. after he was sure Courtney was being attended to by the NHRA medical staff.
Force left with Johnson Jr., but at the finish line Force came up short and his bid for his third consecutive win came up short. Force jumped from 9th to as high as 5th during the Western Swing on the strength of his Denver and Sonoma wins. His first round exit today caused Force to slip to 7th in the Mello Yello point standings but he is still 320 points ahead of the driver in 11th place.
Brittany Force and the Monster Energy Top Fuel dragster team were upset in the first round. Force came in as the No. 6 qualifier on the strength of her superior qualifying time of 3.729 seconds. After a lengthy rain delay eliminations began and Force running beside Shawn Langdon had to wait for six pairs of dragsters to run before they took to the track.
As the Christmas Tree activated both dragsters launched hard and Force's Monster Energy dragster was on a very aggressive run that overpowered the left lane at about 100 feet. Force pedaled her dragster and tried to reel in a Langdon who was belching fire from his dragster. The 2013 Rookie of the Year was unable to catch up to Langdon and had her race day cut short.
Force will head to Brainerd and the Lucas Oil Nationals in the No. 4 spot in the Mello Yello point standings.