HOMETOWN PEAK RACE HAS JOHN FORCE EXCITED FOR WIN
CHICAGO, IL (July 5, 2016) --- John Force does not need extra motivation to get excited about coming to a race track. The 143-time Funny Car national event winner and record holder of almost every NHRA record just wants to entertain and put on a show for the fans. This weekend in Chicago, home of his primary sponsor PEAK Antifreeze & Coolant's parent company Old World Industries, Force will be looking to being home one more trophy.
"This is a big race for me and for my PEAK team. We are in Chicago and that is where Old World Industries and PEAK have their headquarters. Bryan Emrich, the chief marketing officer and my boss, will be at the track with his people and we want to put on a good show for them. I'll be ready in this PEAK Chevrolet Camaro Funny Car and I am excited," exclaimed Force.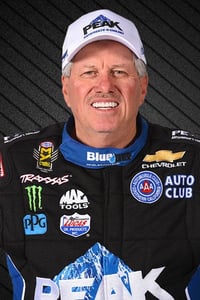 John Force has raced to six final rounds at Rt 66 Raceway and picked up three wins. In 2013 he lost a close final round to Matt Hagan but Force went on to win his 16th Funny Car championship that season. His last win in Chicago was 2006 when he took out teammate Robert Hight in the final.
"I love racing is Chicago. There is a lot of history here and my former crew chief the great Austin Coil raced the Chi-Town Hustler Funny Car. We have a lot of fans in Chicago and this is a great facility. So far this season my team has been doing OK but I don't want to just be OK I want to keep going after those championships. I have the fire and I have a young team that keeps me motivated," said Force.
Force's PEAK Funny Car team is led by crew chief Jon Schaffer who is entering his second year at the helm of the winningest driver in NHRA's history Funny Car. Schaffer was the ace assistant to Mike Neff for a number of seasons and took over the lead position for Force last year leading him to win in Las Vegas and Epping and a Top Ten finish. The youth surrounding Force has continued to keep Force focused on performance and entertainment.
"When I put on my firesuit I feel like I am 20 years old again. I see how all these young guys are working so hard on my race car and I want to make sure I perform. I am on my practice tree all the time. I am working out and watching what I eat. We got these new Camaros and they are awesome. I still love what I do and I will do it as long as I can," said Force.
CHICAGO SUCCESS TOP PRIORITY FOR ROBERT HIGHT AND AUTO CLUB CAMARA
CHICAGO, IL (July 5, 2016) --- Robert Hight and the Auto Club Chevrolet Camaro SS Funny Car team are taking the positive momentum from a semi-final finish at the Summit Racing Equipment NHRA Nationals two weeks ago and focusing on winning for the second time in 2016. The 2009 Funny Car champion started 2016 with two semi-final finishes and a win at the historic Gatornationals. This weekend at the Rt 66 NHRA Nationals Hight will be looking for his second win of the season and 38th of his career.
"We had a good testing session and brought that momentum with us into the first part of the season. We were going rounds and picked up the win at the Gatornationals but we knew we were going to need more performance for the end of the season," said Hight. "Mike Neff and this team went to work on a number of areas we thought we could improve. It has taken some time but we are seeing the progress."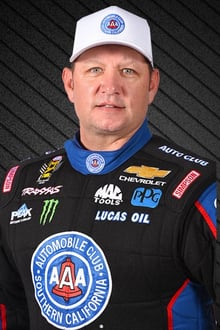 The progress Hight is referring to is performance numbers that are career defining for Hight. In Topeka Hight ran a career quickest elapsed time and speed and then he lowered his best elapsed time at each of the previous two races running 3.897 seconds and 3.886 seconds in Bristol and Norwalk respectively. Both of those races saw Hight qualify No. 3 and go rounds.
"Our performance numbers have been steadily getting better. Now we are working on consistency. This class is really competitive and all three of these John Force Racing Camaros are working together in qualifying. I am glad Courtney will get her 2016 Camaro this weekend in Chicago because then we will all have the same body and that will help across the board," added Hight.
Hight got his 2016 Camaro in Epping and since then the former crew member turned Funny Car world champion has had nothing but positive comments. After eighteen months of design and fabrication from Chevrolet engineers and the John Force Racing fab shop team the finished product has delivered a great new look.
"So much time went into these new bodies that it will take some time to get the most out of them at the track. They are lighter and you can see out of the windshield so much better. I just want to start seeing more win lights and I know my team can start making that happen," said Hight who has 57 career final round appearances. "I have been to the a couple final rounds in Chicago and I would love to get the first win in the new Camaro at Rt 66 Raceway."
The Auto Club Funny Car reached the final round in 2006 and 2010. Hight also has two No. 1 qualifying efforts at Rt 66 Raceway, earning the top spot in 2005 and 2010. Over Hight's career in Chicago he only has two first round loses and while he sits No. 8 in the Mello Yello point standings Hight knows how quickly a positive move can be made.
"We are 40 points out of fourth place right now and I think by the end of the summer we could be in the top three with good races. We just came off of four races in a row and after Chicago we'll get the Western Swing. I am looking forward to this next month of racing. We have to stay focused on Chicgao first since this is the home of PEAK John's primary sponsor and we want to perform well for them and of course Auto Club," summed up Hight.
BRITTANY FORCE READY TO MAKE MOVE IN WINDY CITY
CHICAGO, IL (July 5, 2016) --- The Monster Energy Top Fuel dragster and driver Brittany Force have been making steady progress the past month and now heading into Chicago for the Rt 66 NHRA Nationals the two-time winning team is focused on getting another victory. In two of the past three races Force has recorded a semi-final finish and the 2013 Rookie of the Year knows this kind of consistency will be key later in the season.
"We have had two strong finishes in the past three races. We made it to the semi-finals in Englishtown and then two weeks ago in Norwalk. We closed the gap on third place in the points and I am excited with how well this team has been working together," said Force.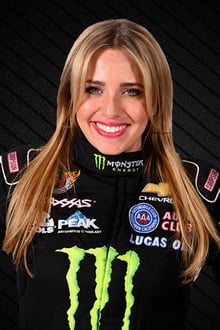 The fourth tear pro won for the first time in her career at the historic Gatornationals. It was her 75th professional start and then two races later at the unique Four-Wide NHRA National Force picked up her second win. It was a wild experience for the second youngest daughter of legendary Funny Car racer John Force.
"When I won in Gainesville it was my 75th race and my dad won his first race at his 75th race. That was cool. We also doubled up in Gainesville since Robert (Hight) won in Funny Car so it was just the best da," recounted Force. "My whole family was there plus a lot of family friends. It was perfect."
Since those two wins Force has been on a meteoric rise both in performance and popularity. At the Kansas Nationals Force set the national elapsed time record running 3.676 seconds. The record added Force's name to a family legacy that has seen every Force racer hold a national elapsed time or speed record at least once in their racing career.
"Getting that national record in Topeka was unbelievable. First just saying you ran 3.676 second doesn't sound right. We ran in the 3.60s once in testing but to officially run that quick and to get the national record is just so cool. I have to thank my team led by crew chief Brian Husen and consultant Alan Johnson," said Force.
The addition of Husen and Johnson to the Monster Energy team in the off-season has been a big boost to the John Force Racing Top Fuel program. JFR has a technical alliance with Steve Torrence Racing which Alan Johnson who Johnson also acts as a team consultant so both teams reap the benefits of Johnson's expertise and the data from an additional dragster during the races.
"I am so proud to be working with Alan Johnson and Brian Husen. They have won world championships and that is what we want to do with this Monster Energy Top Fuel dragster team," added Force. "I am working to get better as a driver and this whole team is focused on getting the best performance every weekend."
It was two years ago that Force narrowly missed her first Top Fuel victory losing in the final round to Antron Brown at Rt 66 Raceway. Force had qualified No.4 and defeated Terry McMillen, Shawn Langdon and JR Todd before pulling up beside Brown in the final. It was a dramatic conclusion to the race on live TV that saw Force roll up late to the starting line already strapped into her dragster. It was a close race at the finish line but Brown got the win light. Force is hoping for one more win light this weekend.
NEW CAMARO WITH NEW PAINT SCHEME HIGHLIGHTS FOR COURTNEY FORCE IN CHICAGO
CHICAGO, IL (July 5, 2016) --- Courtney Force and her Traxxas team will not only debut their new 2016 Chevrolet Camaro SS Funny Car this weekend at the 19th Annual K&N Filters Route 66 NHRA Nationals, but they will also unveil a new, wild and exciting paint scheme from The Fastest Name in Radio Control for one race only. The 28-year-old driver is the third and final John Force Racing pilot to race the 2016 Camaro SS Funny Car after her teammates John Force and Robert Hight made their first passes down the race track in the sporty design earlier this season.
"I can't wait to unveil the new Camaro SS Funny Car body with the new Traxxas paint scheme this weekend in Chicago. If the fans loved my last paint scheme they are sure to love this one too! I'm a little nervous going to something so different, but also very excited to get there and try it out. I can't wait to see what our team can do with it this weekend.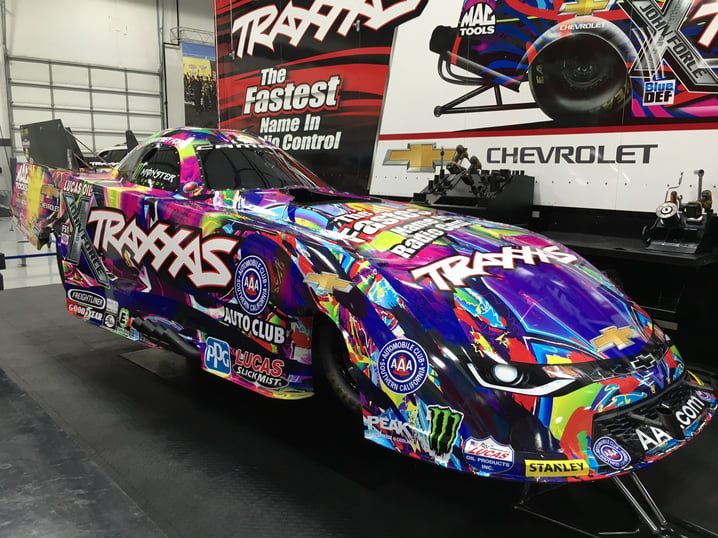 "My dad and Robert have been driving their new Camaros for the past few races and it's finally our turn. Chevrolet has done a phenomenal job with the design of the new body and I'm eager to have that clear visual out the front, from the driver's perspective. Dan Hood and Ronnie Thompson are so excited for us to run the new body and they have set the bar high for themselves with what we could possibly do. We can't wait for this weekend and although it may take some time to get it all figured out, I know this will be huge for our Traxxas Chevy Camaro team for the rest of the season," said Force.
As we advance through the second half of the season, race fans and the media are in for a few surprises along the way. Leading up to the Countdown, the Traxxas Funny Car driven by the 2012 Rookie of the Year will feature several new paint schemes. Be sure to stay tuned to see what her Funny Car will look like at the next race.
"Traxxas has designed a brand new paint scheme that is full of color and expected to catch the eye of our fans when on the track, just like our last paint scheme. With all of the positive feedback from last years' design I can't wait for the fans to see this one. This will be very special for the fans in Chicago this weekend because they will be the first to see the paint scheme on our new Chevy Camaro SS body, and on top of it, this will be the only race we run these colors before we switch it up again with Traxxas, The Fastest Name in Radio Control," said Force.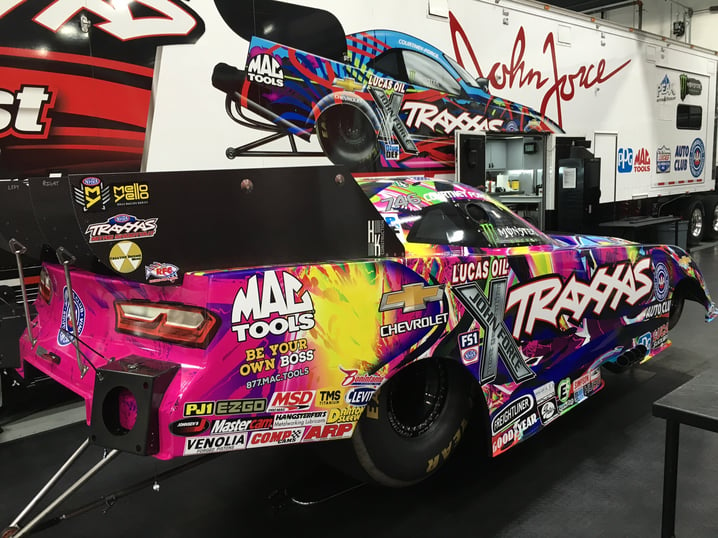 In 2012 during Force's rookie season she advanced to her first ever final and ended the weekend runner up of the event from the No. 12 spot. The last three years she has qualified in the top half of the field and started race day with lane choice over her opponent.
"I love coming back to Chicago because I think back to my rookie year where we almost took home the win. We have done well at this track in the past while qualifying in the top half nearly every year. This will be an intense weekend for our Traxxas team and so exciting with the new body and paint scheme so we are hoping to get into that winners circle before this paint scheme is retired.
"I will be at HobbyTown USA Thursday in Chicago to kick off the race weekend signing autographs and taking pictures from 6-7pm! I hope all the fans come out and check out HobbyTown USA and all of their Traxxas products. Pick up a Traxxas radio control car, truck, boat, etc. and I will sign it on the spot. Hope to see everyone there!" added Force.