JOHN FORCE CONTINUES LEGENDARY CAREER THIS WEEKEND IN BRISTOL
BRISTOL, TN (June 14, 2016) --- John Force made his mark at Bristol Dragway when he drove the iconic Superman Funny Car to the winner's circle as the winner of the Top Fuel vs. Funny Car Winston Showdown in 1999. That win coupled with Force's four victories at the NHRA Thunder Valley Nationals contributed to Force being selected for induction to the Legends of Thunder Valley this weekend at Bristol Dragway.
"Bristol Dragway is a Bruton Smith track and I always want to do my best at any of Bruton's tracks. I love racing at Thunder Valley and we have had some success there. It was big for me personally to beat the Top Fuel dragsters in that race and Bob Vandergriff Jr. is one of the best out there so I was proud of that," said Force.
Over the years at Bristol Dragway Force has raced his Funny Car to the final round on five occasions picking up four wins most recently in 2013 when the 143-time Funny Car winner outran Cruz Pedregon. Surprisingly for all of Force's race day success he only has one No. 1 qualifier which was last year with then rookie crew chief Jon Schaffer at the helm. In fifteen seasons Force has never started the Thunder Valley Nationals from the bottom half of the field and only four occasions was he even No. 7 or lower.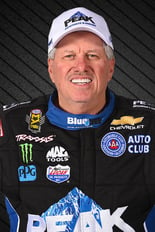 "Jon Schaffer and these PEAK crew guys have been giving me a good racecar. We have the new 2016 Chevrolet Camaro SS Funny Car and I love it. A lot of work went into getting it just right and I am excited to be driving this hot rod. Robert got his 2016 Camaro a couple races ago and Courtney should get hers in Chicago. All my teams have been doing well this season and we are up there in the points," said Force.
This season Force has raced to one final round dropping a tough race to Tim Wilkerson in Phoenix and he has been to the semifinals at three other races. The winningest driver in NHRA history knows that seeing four win lights on Sunday is one of the toughest things to do in the Funny Car class these days. That challenge does not take away the enthusiasm the 16-time Funny Car champion has for getting into his racecar.
"When I put on my firesuit I feel like I am 20 years old again. I have all these young crew guys working on this PEAK Camaro and I can't let them down. They give me energy and I hope I team them something about being champions. Last race I got them all together and we talked about what this team means to me and how much I love every one of those kids. You have to have a team to win out here and I think I have a pretty good team. I got my money back with PEAK, Auto Club, Traxxas, Monster Energy, Mac Tools and Lucas Oil so we'll be alright," said Force.
HIGHT READY TO GET BACK ON TRACK IN BRISTOL
BRISTOL, TN (June 14, 2016) --- Robert Hight knows that history can be made at any track. With performance numbers dropping from race to race these days in the NHRA Funny Car class the right conditions can lead to record setting times on any run. The Auto Club Chevrolet Camaro SS is ready to get into the performance battle and the NHRA Thunder Valley Nationals is a prime target for the 2011 Thunder Valley Nationals winner.
"We tried a lot of new things on this Auto Club Camaro last weekend in Englishtown and I was really excited to see the performance numbers. We are making progress and even though we had a short day on Sunday that doesn't take away from my confidence. My crew chief Mike Neff is a smart guy and my crew guys are some of the best guys out here," said Hight from his pit in Englishtown.
Hight qualified No. 3 at the SummerNationals with a 3.915 second elapsed time but was upset by Jeff Diehl in the first round when Hight's 10,000 hp racecar smoked the tires. Diehl would race all the way to the semifinals but the first round loss stuck with Hight.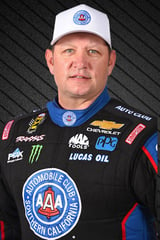 "We have been making good runs in qualifying since we got the new 2016 Chevrolet Camaro SS Funny Car body but there is an adjustment period for sure. Plus we are trying a couple other things and getting everything to work together is a process. I am excited to be getting back to Bristol. I love the fans there and the track is awesome. I'll be doing some trap shooting with the media on Thursday and that always gets your competitive juices flowing," said Hight.
This season Hight has had some early success winning the historic Gatornationals for the third time and also posting semifinal finishes at the Winternationals and the Arizona Nationals in Phoenix. Since that strong three race start to the season Hight has not been able to get to the semifinals. In two of the last for races Hight's biggest obstacle has been his teammate Courtney Force who was the Funny Car points leader.
In Atlanta and Epping Hight matched up with Force in the second round and first round, respectively and he came up the losing side of both of those races. The only positive for Hight has been that for most of the season the Funny Car points leader has either been him or his Traxxas-backed teammate.
"This is a long season and where you start doesn't have a lot of impact on where you will end up some times. It is nice to have the points lead and to get some race wins. Courtney and I are locked into the Traxxas Shootout at Indy and winning that $100,000 prize would be huge. The real deal is you want to try and be consistent and we are in the middle of four races in a row. My goal is to have a success race in Bristol and then go to the next race and do well there," summed up Hight.
COURTNEY FORCE WOULD LIKE EARLY BIRTHDAY PRESENT WITH WIN IN BRISTOL
BRISTOL, TN (June 14, 2016) --- Courtney Force is preparing for the third stop along a four-race swing with her Traxxas Chevrolet Camaro SS team. The 16th annual NHRA Thunder Valley Nationals at Bristol Dragway is the 10th of 24 races in the NHRA Mello Yello Series and also Force's birthday weekend. She will be turning 28 years old on Monday.
"Not only is Bristol one of my favorite tracks on the NHRA circuit because of the beautiful scenery and dedicated fans, but it will also be a race that I hope to win as a birthday gift to myself! My birthday is the Monday after the race so I'm really hoping for a successful weekend.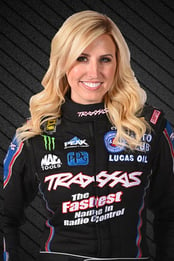 "I can't wait to be in my race car and wouldn't want to spend it anywhere else. I get to be with my family, friends and team and get to celebrate Father's Day with my dad within the same weekend! I definitely hope there is a JFR car in the Winner's Circle and hope it's The Fastest Name in Radio Control," said Force.
This will be the first time in the last four race events that Force has not sat atop the Funny Car points. The 27-year-old driver suffered an upset in the first round of eliminations last week at the NHRA Summernationals at Old Bridge Township Raceway Park beside her father and 16-time Funny Car Champion John Force, which ultimately led to Force being bumped to the No. 3 spot in points.
"Our team has had a consistently strong performance so far this season, but lost our rhythm this past weekend. I'm excited to get right back at it, and I know my entire Traxxas team is as well," said Force.
The first round exit was Force's first opening round loss of the 2016 season a streak of nine consecutive races.
Last year at the Thunder Valley Nationals, Force qualified in the No. 7 position and went into race day with lane choice over Cruz Pedregon, but lost in a race day upset. It was the very next weekend in Norwalk that Force went to her 14th final round and was runner-up of the event.
"My Traxxas team is thrilled to get to Thunder Valley and thankful for the race being back to back so we can quickly put Englishtown behind us after an early first round exit. We are hoping for a better weekend in Bristol and will take what we gathered from this past weekend and hopefully get this car qualified better this weekend. We missed opportunities of gathering bonus points during qualifying and have lost our points lead but looking forward to hopefully making a comeback this weekend," said Force.
BRITTANY FORCE BUILDING MOMENTUM HEADED TO THUNDER VALLEY
BRISTOL, TN (June 14, 2016) --- So far this season Brittany Force and the Monster Energy team have been checking items off of their racing bucket list at almost every event it seems. Force won for the first time in 75 races at the historic Gatornationals and then followed that up with a win at the Four-Wide Nationals. In Topeka at the Kansas Nationals the fourth year pro set the national elapsed time record of 3.676 seconds and etched her name in the history books as the quickest Top Fuel driver ever. With the historic Thunder Valley Nationals coming up this weekend Force is looking to continue to have success behind the wheel of her 10,000 hp racecar.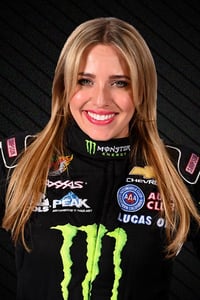 "Bristol is one of my favorite tracks on the circuit and I would love to bring home a win there," said Force, who is currently fourth in the Top Fuel standings. "It would be pretty awesome to double-up on Father's Day and end up in the winner's circle with the Monster Energy team and the PEAK team with my dad."
Force's father, John Force, will be inducted into Bristol Dragway's Legends of Thunder Valley on Sunday morning. The second youngest Force racing daughter has grown up watching her dad win, crash and talk across the country. Now she is seeing up close the competitive side of her 16-time championship father and she is using his wisdom to enhance her own racing career.
"On Sunday I was struggling with my reaction times and I was really starting to get down on myself. I went to my dad and he gave me a good pep talk. He said you have to race from the heart and just let everything else go. You have to love it. I really listened to that and it made a difference. In the semifinals I left first on the starting line and even though we didn't get the win against Torrence I feel like I did a much better job driving," explained Force.
The Monster Energy Top Fuel team was overhauled in the off-season with the addition of Top Fuel consultant Alan Johnson and crew chief Brian Husen. That combination along with Force's continued experience behind the wheel has made the JFR Top Fuel dragster one of the most consistent on tour this season.
"I can't say enough about Alan and Brian," Force said. "They have been so great to work with and this whole Monster Energy team has really come together. This whole team works really well together and they are a great group of guys. I am proud of every one of them, and we all work so hard to try and get the win every race."
This season the Monster Energy dragster has only lost in the first round three times and as advanced to at least the semifinals four times including last week at the SummerNationals. Force held the Top Fuel points lead for four races and now is comfortably in the No. 4 spot. Force continues to develop as a driver and knows that there is room for improvement at every race.
"It definitely feels good to be going rounds," Force said. "It was a tough weekend for us (in Englishtown). We struggled a little bit in qualifying. As a driver, I was really struggling on the tree. I just couldn't seem to find it so it felt good on that third round to finally have a decent tree. We didn't get the win, but it feels good to leave on that note and overcome the struggle I was having this weekend."