John Force Racing completes Indy test ahead of the Big Go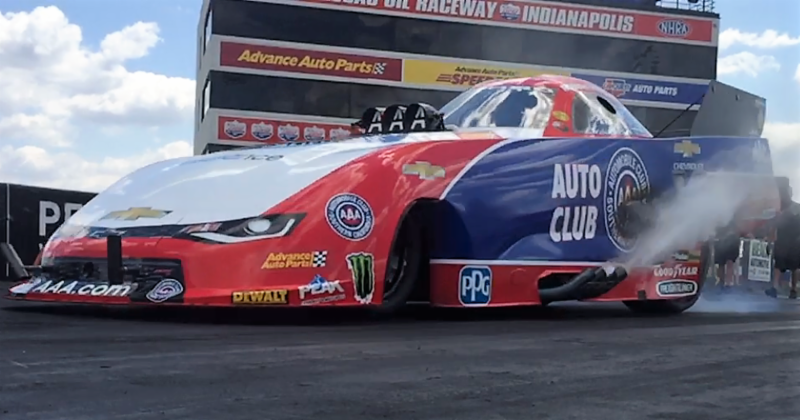 Photo credit: John Force Racing
BROWNSBURG, Ind. (Aug. 24) – John Force Racing completed a two-day test Thursday at Lucas Oil Raceway, with each of the four cars making solid passes in preparation for the Chevrolet Performance U.S. Nationals here next weekend and the upcoming Countdown to the Championship.
Auto Club of Southern California driver Robert Hight, driving a new spare chassis, was quickest of the three Chevrolet Camaro SS Funny Cars with a pass of 3.842 seconds at 330.88 mph, but PEAK Coolant and Motor Oil driver John Force and Advance Auto Parts driver Courtney Force were not far behind.
Additionally, Monster Energy Top Fuel dragster driver Brittany Force made some good runs and accomplished a lot during the Indy test.
"All of our cars ran well," said team owner John Force, whose teams have won the U.S. Nationals a dozen times.
**
Four-time Chevrolet Performance U.S. Nationals champion John Force turned in a best pass of 3.868 seconds at 292.11 mph, his first of four passes Thursday and six passes overall.
The driver of the PEAK Chevrolet, Force – seventh in the Funny Car points standings – was pleased with the overall efforts of his teams.
"We had a good test session," said Force, who won the NHRA Gatornationals earlier this season. "We changed a lot of motor stuff and the clutch, have been over the last couple races. And it's starting to show – we're running some good numbers. We ran an .86, and that was shutting it off at about 700 feet. Big picture – I said we'd be ready for Indy, and we're ready for Indy. We're ready to go racing."
**
Hight has been hot of late, winning two of the last four races and setting national records in elapsed time (3.793) and speed (339.87 mph) in Brainerd, Minn., and Sonoma, Calif., respectively. But Hight's Auto Club team wants to be prepared for the Countdown to the Championship and beyond, so he drove a second chassis that had not been run before.
"It went well," Hight said. "First run, it went .86, and the track was pretty hot. It only failed to get down the track once, and every time it went, it ran in the .80s. We tried a lot of new things, too. We just came from Brainerd, where we know we can run 3.79 in good conditions and on Sunday ran .82 when it was warmer, so we have a good setup.
"The reason to come here and test is to try new things. Some of those new things we may not put into play until next year, but some of them might show enough merit that we'll start slipping them in here in the Countdown or in qualifying runs. But I'm pleased with the way we finished up testing.
"I wish Indy started tomorrow. I don't want to have to wait a week. We're in a good place."
**
Courtney Force, driver of the Advance Auto Parts Chevy, turned in the best of her six passes – 3.868 seconds at 332.18 mph – on Thursday afternoon. Force drove one of the team's backup cars in all six passes, and the team tested an assortment of parts, mostly spares they may need during the Countdown to the Championship.
The team has not determined if it will run the primary car Force has been running or the spare yet. Regardless, Courtney Force is confident the test has shown to be a strong precursor to the race, and either car will run well.
"We tested a spare chassis so we knew what we were working with in case we needed it for the Countdown to the Championship," said Courtney Force, sixth in Funny Car points. "We made some strong passes with that car, and I'm confident that this car can do the job. It felt great this week being back out here ahead of the U.S. Nationals and The Big Go. It's the biggest race of our season, and to be able to make solid passes, and run an .86, definitely makes my team feel great going into the race."
**
Brittany Force made a top pass of 3.773 at 301.07 mph in the Monster Energy dragster, and she made a total of six runs, testing different parts and pieces.
"We did what we needed to," Force said. "We had six runs, and we were testing different parts going in to the end of the year – different race tracks, cooler race tracks, and I think we figured out what we needed. Six runs was all we made and all we needed, so we'll be ready going into Indy and the Countdown."
The Chevrolet Performance U.S. Nationals is scheduled for Sept. 1-4.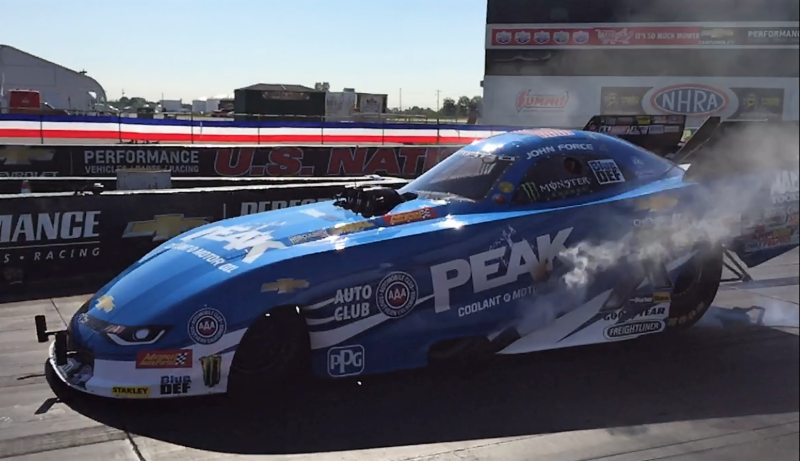 John Force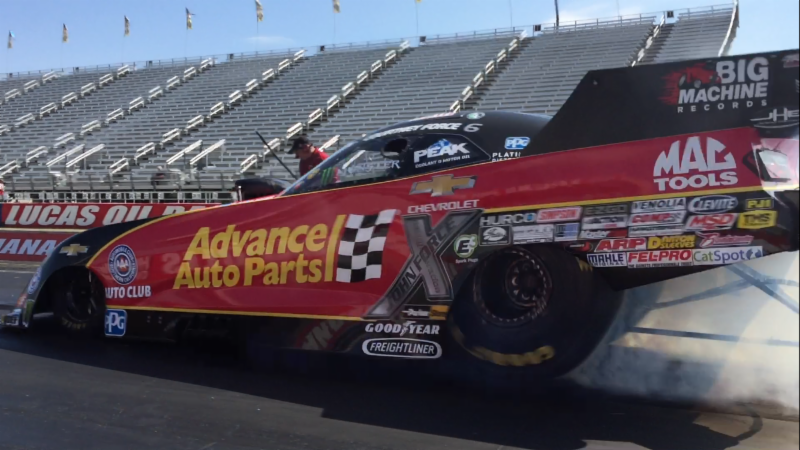 Courtney Force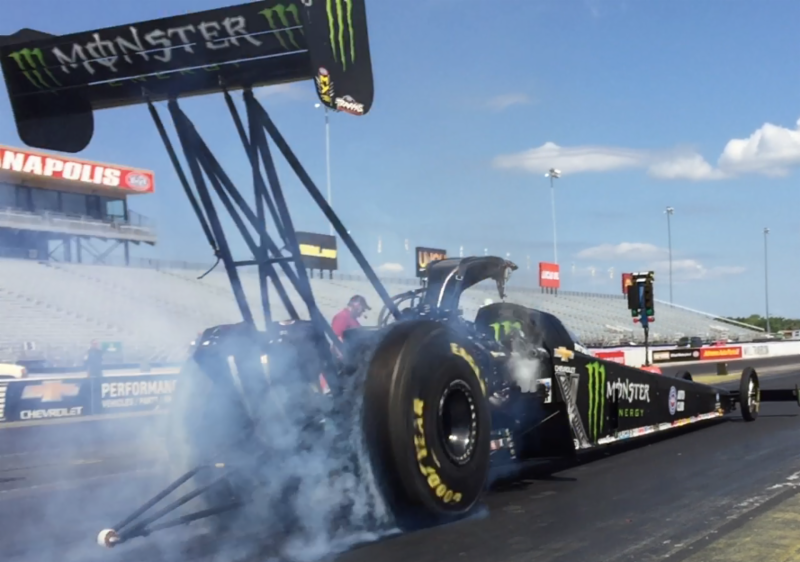 Brittany Force