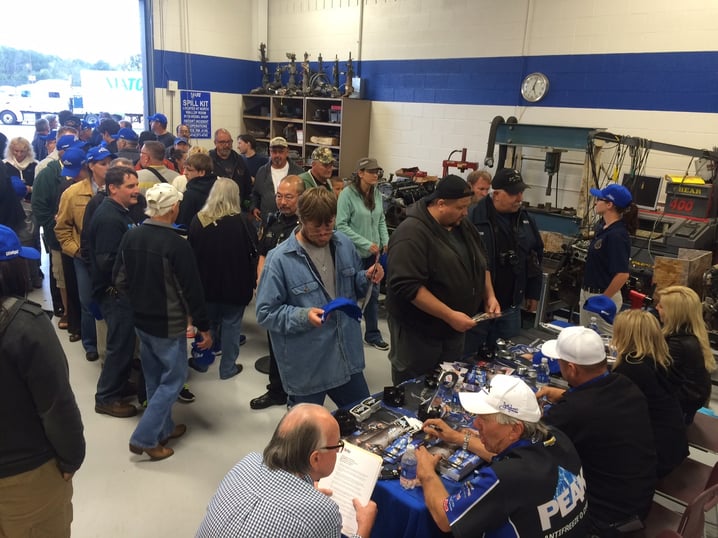 MILWAUKEE, WI (September 27, 2016) --- The entire contingent of John Force Racing drivers as well as the crew of the PEAK Antifreeze & Coolant Chevrolet Camaro SS Funny Car team spent the day in Milwaukee, Wisconsin, participating in two rewarding and exciting events in conjunction with Old World Industries, the parent company of team sponsors PEAK and Blue Def. The team, led by 16-time Funny Car champion John Force, were the featured speakers at the Al Hurvis/ADAMM Education Foundation, Inc. luncheon and then in the afternoon Force fired up his 10,000 horsepower Funny Car for over 100 students at Milwaukee Area Technical College (MATC).
"Today was a great day to talk about what is really important which is the young people of this country that need some encouragement and mentoring. The Al Hurvis Foundation luncheon was a great opportunity to talk with a group people that give their time and money to help inner city kids have a chance at a better life through scholarships," said Force, who was the keynote speaker at the luncheon. "After the luncheon we went to the Milwaukee Area Technical College and talked with some students that someday could be on a Funny Car or Top Fuel crew or working in a Chevrolet dealership. They are getting some of the best training and education you can get. I was blown away by their questions and I think I blew them away when I fired up this hot rod. I have to thank all the teachers and students from MATC and the Oak Creek Fire Department for being there to keep us safe."
Through the foundation, Old World Industries teamed up with ADAMM, an association of new car and truck dealers of southeastern Wisconsin, to honor MATC students with scholarships to support and advance their study in the automotive and technical fields within the greater Milwaukee community. To kick off the full day of activity, Hurvis/ADAMM hosted a luncheon that included speeches from Force, 2009 Funny Car champion Robert Hight, 8-time Funny Car winner Courtney Force and 3-time Top Fuel winner Brittany Force followed by the MATC open house for students to learn about the variety of departments within the automotive and technical sector including automotive collision and repair, automotive maintenance and diesel and powertrain servicing.
"For our brands at Old World Industries, PEAK and Blue Def, it is critical for us to understand who we are targeting. We are targeting DIYers but we are also targeting professionals within the industry. It is important for us to remember that not only do we have to go after guys and gals that are working on their cars and what is important there, but it is also about installers," said Bryan Emrich, Chief Marketing Officer of Old World Industries. "It's about pro and weekend mechanics. Places like MATC is where it starts for a lot of those careers and passions. When we can tie that with some of our other efforts that we have with our ownership of our company around the philanthropy that we do it just ties it all up perfectly."
The highlight of the day for the MATC students and JFR fans from around Milwaukee was when John Force fired up his PEAK Antifreeze & Coolant Funny Car outside at the Oak Creek Campus' automotive area. The 16-time champion even wowed the group with some old school throttle whops for good measure. Before the engine demonstration Force and the rest of the team talked with students about the importance of getting a strong mechanical background since there is a definite need for skilled crew people.
"It is an incredible opportunity for MATC to welcome John, Brittany, Courtney and Robert to our campus today. Our students have been excited since we announced this event but it also reinforces the role we play in the community. We have had calls, we have had emails and people have been asking about this event on social media. It is great to show a connection between motorsports and the college," said Kathleen Hohl, Public Relations Director at Milwaukee Area Technical College. "We appreciate the great things that the JFR drivers said about the importance of mechanics because those are the people that we train not just for automotive careers in Southeastern Wisconsin but this gives our students the ability to dream about what could be in their future."
At the end of the day the four JFR drivers moved on to Pittsburgh for a PPG event on Wednesday before heading to Reading, Pennsylvania for the Dodge NHRA Nationals at Maple Grove Raceway...