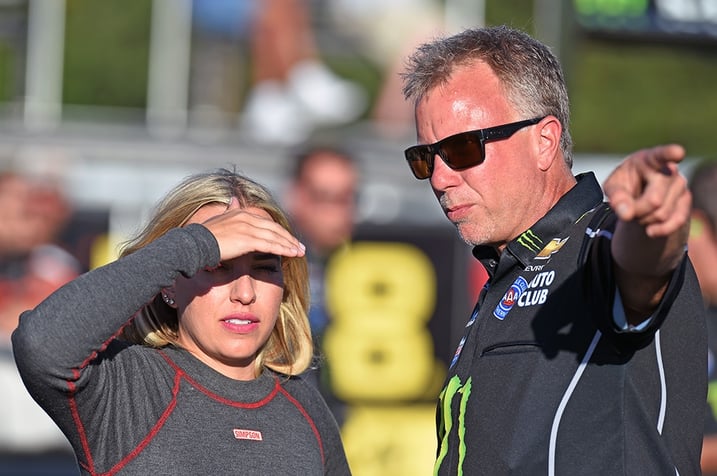 TEAM JFR QUALIFYING REPORT
2016 NHRA Friday Qualifying Summary
16th of 24 races in the NHRA Mello Yello Series
29th annual Protect The Harvest NHRA Northwest Nationals presented by Lucas Oil
Pacific Raceway
Seattle, Wash.
August 5-7, 2016
Photos courtesy of Gary Nastase Photography (JForce, BForce, CForce) and Ron Lewis Photography (Hight) for media use only
* * * *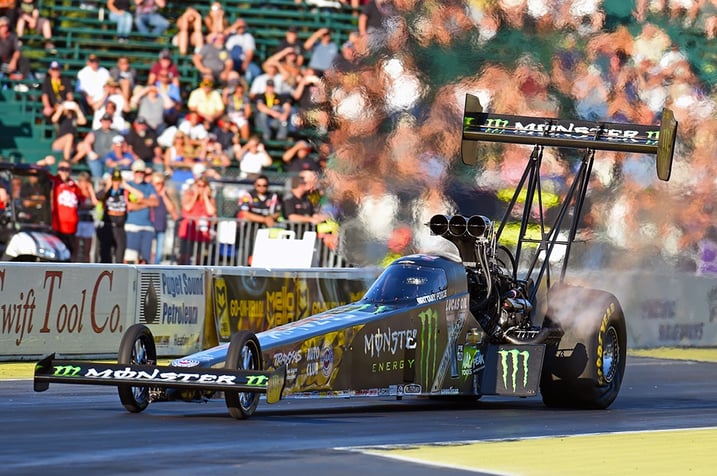 BRITTANY FORCE BLASTS TO NO. 2 POSITION ON FRIDAY IN TOP FUEL
SEATTLE, WA– The Monster Energy Top Fuel dragster powered to the provisional No. 2 position on Friday at the 29th annual Protect The Harvest NHRA Northwest Nationals presented by Lucas Oil. Driver Brittany Force had to make the run racing into a setting sun at the westward facing track but experience gave her the confidence to make a solid pass. She moved to the top spot on the strength of her 3.729 second pass before being pushed back one position by Steve Torrence.
"The glare is definitely tricky at this track. I remember it from last year. When the sun starts going down you are driving right into it. When I got to that 1000 ft. marker I got a little lost but Brian Husen, my crew chief, said I nailed it and I drove it right to the finish line. That is just a feeling the driver has when you know where you are on the track," said Force. "That felt good. We ran 3.72 and ended up No. 2 which is an awesome place to be qualified. This Monster Energy team is made up of the hardest workers that I know. I am proud to be the driver of this Top Fuel dragster. I'll be ready for Saturday."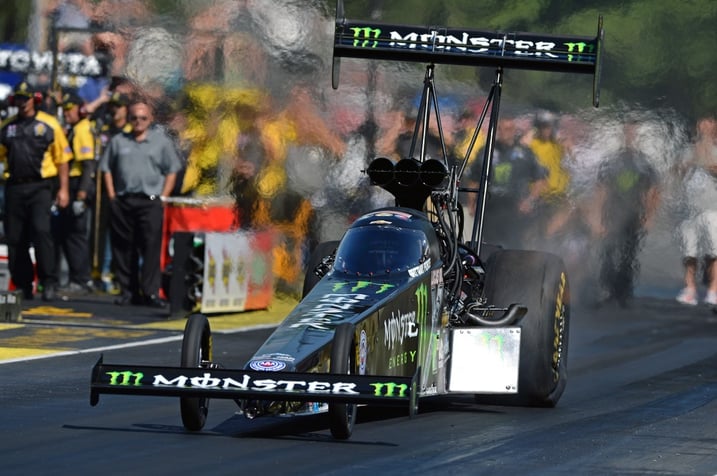 The fourth year pro picked up two qualifying bonus points for her second run, which set off the timing system 3.729 seconds after she hit the throttle. If this qualifying position holds up it will be her best starting spot of her career at Pacific Raceway. Last year Force was the No. 4 qualifier and raced to the quarter-finals.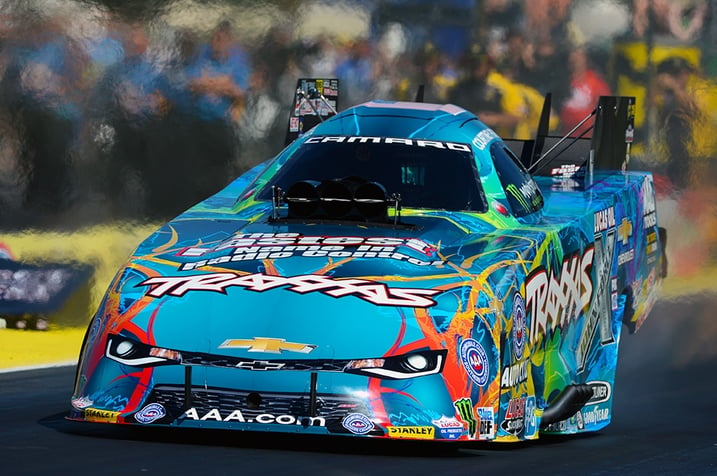 Courtney Force charged to the No. 6 position in qualifying today. Her Traxxas Chevrolet Camaro SS Funny Car posted a 3.923 second elapsed time at 325.06 mph in the first qualifying session and improved with a solid pass at 3.902 seconds, 324.44 mph during the evening session.
"It's great to be back at the track where I got my first win in Top Alcohol Dragster as well as Nitro Funny Car. It definitely feels good returning to Seattle. Going down on my first pass felt great. It was a good, clean, straight pass and we picked up two bonus points for the run with a 3.92," said Force.
Force picked up two bonus points for her team for making the second quickest pass in the first qualifying session.
"We improved in the second session with a 3.90. We got bumped down to the No. 5 spot but still a really great starting spot for our Traxxas Chevy Camaro SS team. We're wrapping up the Western Swing with this race, but it's just the beginning of this race weekend. I know it's taking a toll on all the teams, but my Traxxas guys have done a really good job getting the car down the track and getting it ready every run."
"I'm looking forward to continuing qualifying tomorrow. I think we're in a good spot to push it a little harder and see what it's capable of in Q4 when the conditions improve," added Force.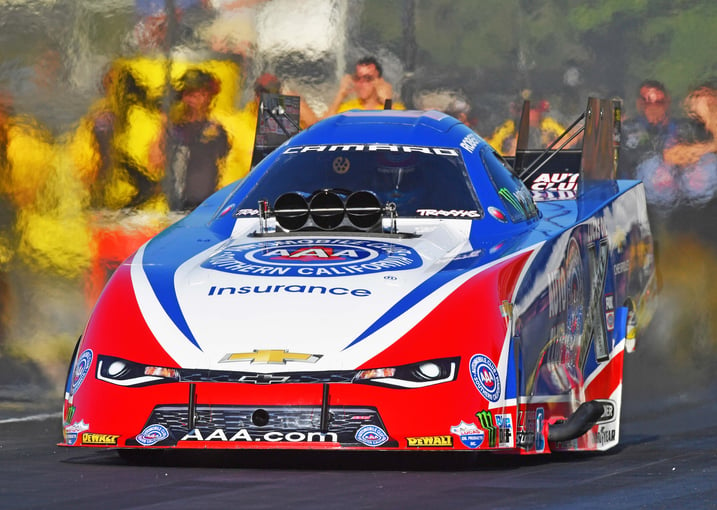 The Auto Club Chevrolet Camaro SS Funny Car came right off the hauler and Robert Hight drove it right into the thick of a tough Funny Car field with a 3.928 second pass. It was the fourth quickest run of the first session and the 2009 Funny Car champion was only .006 seconds away from the top spot.
In the second session Hight was consistent but did not improve. His elapsed time of 3.935 seconds put Hight in the middle of the pack but going into tomorrow's final day of qualifying will have the Auto Club Chevrolet Camaro team looking for a race day tune-up. At the end of the day Hight was the provisional No. 9 qualifier one position in front of team leader John Force.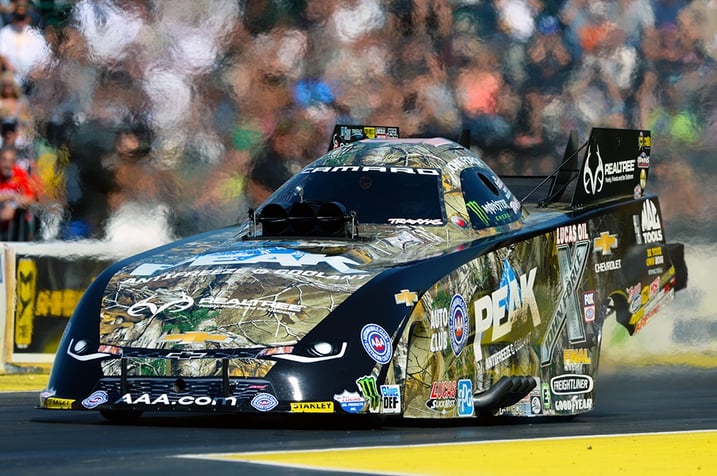 The driver who is seeking his second Western Swing sweep set the track speed record in the first session with a monster 325.85 mph run and had John Force eager to get back to the track for the second session. Force's first session elapsed time of 3.941 seconds was slightly improved upon in the evening session when his Realtree PEAK Antifreeze & Coolant Camaro Funny Car tripped the timing beams in 3.940 seconds. After the second session that saw Force settle into the provisional No. 10 position Force talked to the fans over the Pacific Raceway PA system.
"We are a little slow right now. That 3.94 was good enough for tenth. (Del) Worsham just killed everybody out there with that 3.88. Tomorrow could be a little warmer. This is the Western Swing and the fans are loving it. We are going to have some fun. If we can get it we'll get it if we don't we don't. We are going to go down swinging," said Force, an eight-time winner at Pacific Raceway. "You need three things to win the Swing. You need to have a car that can run with the pack, you need to have your team stay focused and you need destiny. I won five in a row one time and I have won four in a row a couple of times. For some reason this Swing is really tough. Anton has won it and Schumacher has won it. I got it years ago. We'll see if we can do it again and we are going to give it a try."
* * * *
NHRA ON TV
Sunday, Aug. 7, FS1 will televise one hour of qualifying coverage at Noon (ET).
Sunday, Aug. 7, FOX will televise three hours of live finals coverage at 4 p.m. (ET).
* * * *
THE DRIVERS
JOHN FORCE, 67, Realtree PEAK Antifreeze & Coolant 2016 Chevrolet Camaro SS
Qualifying: 10th at 3.940, 325.85 mph
Bonus Qualifying Points: 0
ROBERT HIGHT, 46, Auto Club 2016 Chevrolet Camaro SS
Qualifying: 9th at 3.928, 319.98 mph
Bonus Qualifying Points: 0
COURTNEY FORCE, 28, Traxxas 2016 Chevrolet Camaro SS
Qualifying: 5th at 3.902, 325.06 mph
Bonus Qualifying Points: +2 (2nd quickest of Q1)
BRITTANY FORCE, 30, Monster Energy Top Fuel Dragster
Qualifying: 2nd at 3.729, 325.06 mph
Bonus Qualifying Points: +2 (2nd quickest of Q2)
* * * *
RACE SCHEDULE:
Saturday, August 6
3rd round qualifying 1:00 PM
4th round qualifying 4:00 PM
Sunday, August 7
Final Eliminations 11 AM
****
FOLLOW JOHN FORCE RACING AT www.twitter.com/jfr_racing