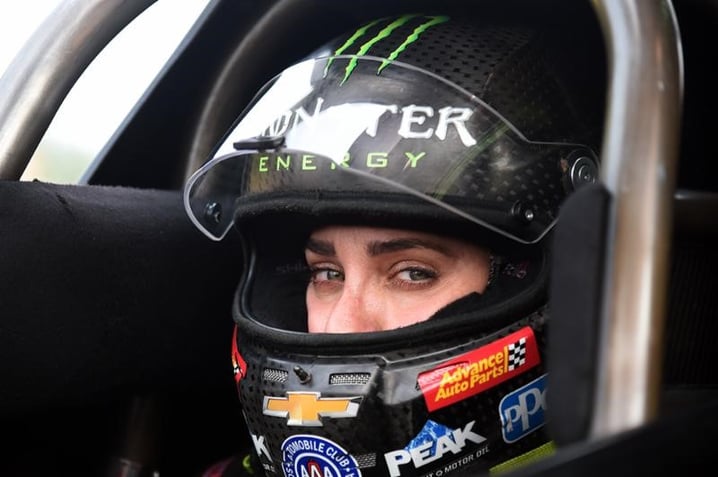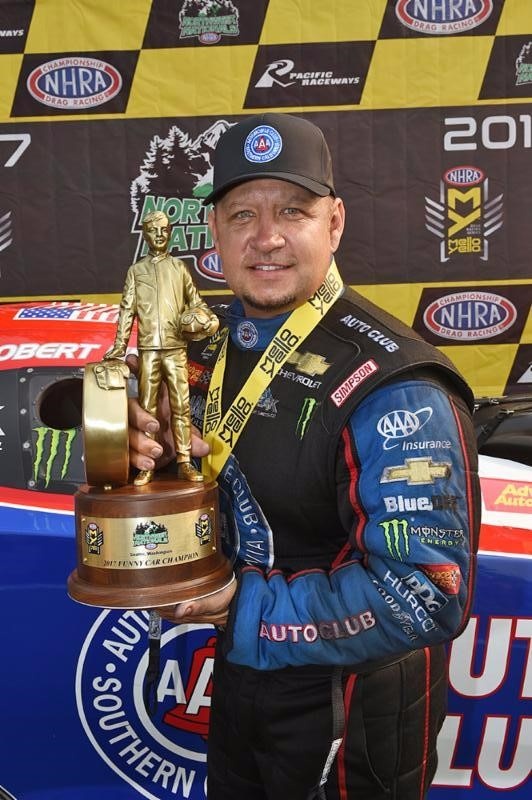 Photo credit: Gary Nastase and Auto Imagery

SEATTLE (Aug. 7) – Robert Hight and his Auto Club of Southern California Chevrolet Camaro SS team are getting hot at just the right time in the 2017 NHRA Mello Yello Drag Racing Series season.

With two victories on the Western Swing, Hight jumped to third in the Funny Car standings and is in position to take second with still two races remaining in the regular season. It was Hight's first victory at Seattle and 39th of his career, and the 12th at Pacific Raceways for John Force Racing.

But that's not all – Hight's victory Sunday in the NHRA Northwest Nationals at Pacific Raceways was the 250th Funny Car victory in JFR's history. The team has three victories this season – Hight with two (the other at Bandimere Speedway in Morrison, Colo.) and the team's namesake, John Force (Gainesville, Fla.)

The march to 250 victories began June 28, 1987, when Force went north of the border and won his first race – Le Grandnationals at Sanair Super Speedway in St. Pie, Quebec, Canada, just outside Montreal. His first victory in the United States came the following season – almost a year later – on June 19, 1988, at National Trail Raceway in Columbus, Ohio, the day before his youngest daughter, Courtney Force, was born.

The seasons went by, and the victories began to pile up. By the end of the 1995 season, Force had amassed 48 victories, stretching from coast to coast. He also had won four championships.

But 1996 was a turning point for the team. Force hired Tony Pedregon to run a second car, and the team put together one of the top seasons in drag racing history. Force won 13 races, including his and the team's 50th at Gainesville, and Pedregon added his first win as they earned 14 victories.

And the team hasn't let up. Pedregon won JFR's 100th race on Oct. 29, 2000, in Houston. It was a guarantee victory for JFR; Pedregon's challenger in the other lane was none other than Force himself.

Force reached the team's 150th victory in the 2004 season-finale at Auto Club Raceway at Pomona, Calif., and Hight won the 200th race at Heartland Park Topeka in Kansas on May 22, 2011.

"It's a huge milestone," Hight said. "It wasn't that long ago when I got No. 200 for John. We were racing Mike Neff in Topeka, so one of us was going to get it, and I ended up edging Neff out and got the 200th win. It doesn't seem like it was that long ago, but we've amassed 50 more."

Force leads all drivers with 148 wins, followed by Hight (39); Pedregon (27); Force's current crew chief Mike Neff (10); Courtney Force (8); Gary Densham (8); Eric Medlen (6); and Ashley Force Hood (4).

The team has won 25 races at Pomona, the most of any track, followed by Houston (16); Brainerd International Raceway in Minnesota (15); Topeka (15); Gainesville (14) and The Strip at Las Vegas Motor Speedway (14). All in all, JFR has won at 26 tracks in 21 different states/provinces.

The team has won a month-high 33 races in September, with July the month with the second-highest number of wins – 32.

In terms of decades, the 2000s were most prevalent, with 96 victories, followed by the 1990s (84); 2010s (65); and 1980s (5).

Hight's victory from the No. 1 position was also the 83rd victory for JFR from the top qualifying position. The team has 35 wins from No. 2; 44 wins from No. 3; and a total of 229 victories from the top half of the bracket. Two victories have also come from the No. 14 starting position.

Now, it's on to fight for victory No. 251. That will come Aug. 18-20 at Brainerd.