JOHN FORCE IN THE RUNNING FOR SECOND WESTERN SWING SWEEP
SONOMA, CA (July 27, 2016) --- John Force will be heading to the 29th annual Toyota Sonoma NHRA Nationals this weekend at Sonoma Raceway looking to get the second leg of the Western Swing sweep. The 16-time Funny Car champion won last weekend at the 37th annual Mopar Mile High Nationals and will be trying to win the historic sweep for the second time in his illustrious career. He is the only Funny Car driver to ever win the three race run that begins in Denver heads to Sonoma and concludes in Seattle.
"I have won a lot of races in Sonoma and I have a really good race car. My young team led by (crew chief) Jon Schaffer will have this PEAK Chevolet Camaro SS hot rod ready to go. We are coming off the mountain and it will be all new conditions. We tested in Indy before the swing so I think we figured a few things out. I am just excited to be going rounds and getting win lights," said Force.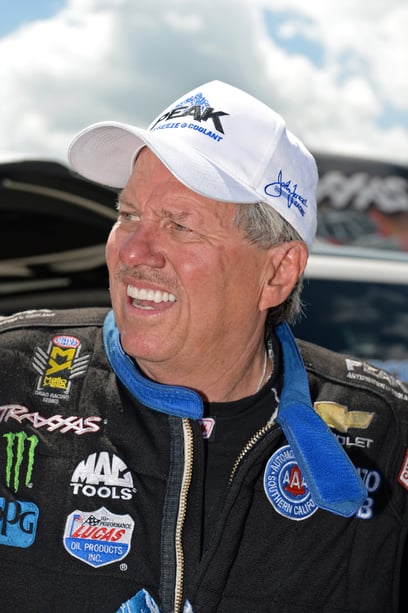 Last weekend Force picked up his 144th career Funny Car win but first win of 2016 taking out his daughter Courtney Force in an all JFR Funny Car final round. It was the fourth time the father daughter duo had met in a final with the previous race happening at the Sonoma Nationals in 2014. In that final it was the youngest Force getting the win light and becoming the winningest female Funny Car driver in NHRA history.
"Two years ago Courtney whipped me in the final in Sonoma and I got her last weekend in Denver. It is tough to race your kids. I just had to put her out of my mind when I went up there. You can't think about who you are racing. The competition is too tough. That win was big for me since it was our first win with the new 2016 Camaro body. We'll be back in the blue PEAK Antifreeze & Coolant Chevy this weekend," said Force.
Force now has twenty-two race wins at the Western Swing venues. It is the most of any driver either active or retired. Twenty-three drivers have won all three races in the swing although only seven have done it in one season. Force is the only Funny Car driver to have done so (1994). Force's overall record in the 28 previous Western Swing events is 168-59 -- 58-21 at Denver, 56-20 at Sonoma and 54-18 at Seattle.
This season Force has raced to one final round before the win in Denver and has maintained his position in the Top Ten all season. Last weekend he moved up to the No. 8 position in the Mello Yello Funny Car point standings. The seven-time Sonoma Nationals winner is only 60 points out of fourth place which is the equivalent of three rounds of racing.
"We want to get higher in the points for sure. We have four more races before the Countdown and we want to win them all just like everybody else. This team has been working hard and I have been hitting the gym and doing everything I can to get better. I spent a day in San Francisco talking about this race and I want to give these fans a show. We are on FOX national TV and like I said before I raced Courtney. With FOX and the NHRA I think we can make NHRA drag racing great again. We have seen more people at the races and more people are watching us on TV. I love what I do," exclaimed Force.
Over his career at Sonoma Raceway Force has appeared in thirteen final rounds including an impressive seven in a row from 1990-1996. Amazingly he has faced eleven different opponents in those round rounds with only Cruz Pedregon and Ron Capps getting two shots at Force each with a 1-1 final round record against the winningest driver in Sonoma Raceway history. Force has seven victories at the beautiful race track surrounded by wineries and dairy farms.
With two round wins the Toyota Sonoma Nationals would join only the national events at Atlanta, Englishtown, Denver, Brainerd, and Pomona (Auto Club Finals) as races where Force has accumulated 60 round wins.
BRITTANY FORCE LOOKING FOR MONSTER EFFORT IN SONOMA THIS WEEKEND
SONOMA, CA (July 27, 2016) --- The Monster Energy Top Fuel team and driver Brittany Force are charging into Sonoma Raceway looking for their third win of the 2016 NHRA season. Last weekend as the No. 4 qualifier at the Mile High Nationals Force raced to the second round before overpowering the track and wrapping up the first leg of the Western Swing with a quarter-final finish.
"We had a great race car on the mountain. This Monster Energy team has been great all season and we made four good qualifying runs. The weather just bit us on Sunday. I think the track was tricky for everyone and we just didn't get the win in the second round. I am already looking forward to getting to Sonoma and getting that first round win," said Force.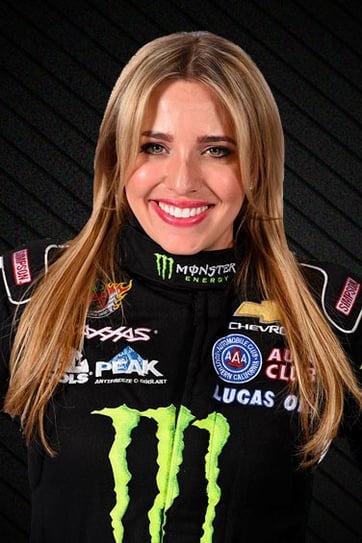 Sonoma Raceway is the only race track in the tour that the fourth year pro does not have a round win. In the three previous races the 2013 NHRA Rookie of the Year has been ousted by some of the toughest competitors in Top Fuel. Last year as the No. 12 qualifier Force was eliminated by 8-time Top Fuel champion Tony Schumacher and the previous two seasons it was veteran drivers Clay Millican and Doug Kalitta ending the day of the second youngest daughter of Funny Car champ John Force.
"I have gotten better as a driver every season and this year with the addition of crew chief Brian Husen and Top Fuel consultant Alan Johnson I am excited about our chances at every race. We got our first win in Gainesville and then won the Four-Wide Nationals two races later," added Force. "We are coming down the homestretch of the regular season and we want to start building some momentum for the Countdown. This is a great team but the competition is tough. I am up for the challenge and so are all the Monster Energy crew guys."
Earlier this season Force set the Top Fuel national elapsed time record in Topeka, Kansas, crossing the finish line with an astounding time of 3.676 seconds. Force credited her new team and also continuing developing confidence for the accomplishment. The two-time winner also knows that the Top Fuel class has never been more competitive and records can fall at any time especially at a track like Sonoma Raceway.
"I would like for it to be ours for a while and maybe have it be something unbeatable. It does seem like nowadays the racecars are getting faster and quicker every race so I don't know how long we will hang onto this record. I am hoping it last for a little while so we can enjoy it," said Force. "It is still pretty unbelievable to think about that record. It is exciting to set a record like that with this Monster Energy team. I have to thank Alan Johnson, Brian Husen and all my crew guys. That record is something we are all really proud of and we'll always be able to hang onto that memory."
MEMORIES OF SUCCESS IN SONOMA ON COURTNEY FORCE'S MIND
SONOMA, CA (July 28, 2016) --- Hot off a runner-up finish in Denver at the last NHRA event on tour, Courtney Force is returning to a memorable race track this weekend and vows to keep the momentum going with her Traxxas Chevrolet Camaro SS team. The 29th annual Toyota NHRA Sonoma Nationals at Sonoma Raceway stands as the second stop along the NHRA Western Swing, three back-to-back race weekends beginning at Denver, followed by Sonoma and finally Seattle.
The youngest daughter of John Force has accomplished a lot at Sonoma in the past, specifically in 2014 when she qualified in the No. 1 position and dismissed her father in the final to win the race. It was her 6th career No. 1, 11th career final round and her 5th career victory. The win made Force the winningest female in Funny Car history, passing her sister Ashley Force Hood who had collected four Funny Car wins in her competition days. It was the 234th win for John Force Racing.
"We are coming into Sonoma second in the points and look to continue to make some more progression here," said Force. "This track has been good to us in the past and we've had a pretty good handle on it, especially in 2014 when we were No. 1 qualifier and won the race. We hope to repeat here and look forward to being back at this track with the fans."
Force's success last week at Denver launched her into the No. 2 position in the NHRA Mello Yello point standings. She raced to her 10th career No. 1 qualified position with a 3.917 ET on Friday, picked up eight additional bonus points throughout qualifying and advanced to her 16th career final round in Funny car.
"We had an incredible outing in Denver last weekend. We started the weekend off in the #1 qualifying position while gaining 8 points from our runs. We had a quick race car for a tough track all weekend long and even set the track elapsed time record. Our Traxxas team was one of the fastest cars on the mountain which was exciting when you are the 'Fastest Name in Radio Control.' We went all the way to the finals only to be defeated by my dad in a very close race. It was an exciting weekend for our team and the fans and a great way for us to kick off the Western Swing."
"I'll be looking for a little revenge on dad after last weekend, but I'm super excited to see our Chevy Camaros running so good! We will of course have tough competition again this weekend, but hope to keep our rhythm going from Denver. Huge thanks to my team and all their hard work last weekend and to Dan Hood and Ronnie Thompson on the consistency of our race car. I love driving this hot rod and can't wait for this weekend at the Sonoma Nationals," said Force.
SECOND STOP ON WESTERN SWING HAS HIGHT EYEING SUCCESS
SONOMA, CA (July 27, 2016) --- Last weekend three John Force Racing Chevrolet Camaro SS Funny Cars raced to the semi-final round of the 37th annual Mopar Mile High NHRA Nationals in Denver. Unfortunately Robert Hight and the Auto Club of Southern California was the odd man out, missing his chance for a fourth win on the mountain. This weekend at the Toyota Sonoma Nationals Hight will be looking to grab four win lights and pick up his second win at Sonoma Raceway.
"We had a really quick race car last weekend. We were the only Funny Car to make three runs in the threes in the first three rounds on Sunday. We just ran into a buzz saw with our teammate Courtney. The good news is we share a lot of information and now we are off that mountain so I think we can step it up some more," said Hight before heading off for Sonoma.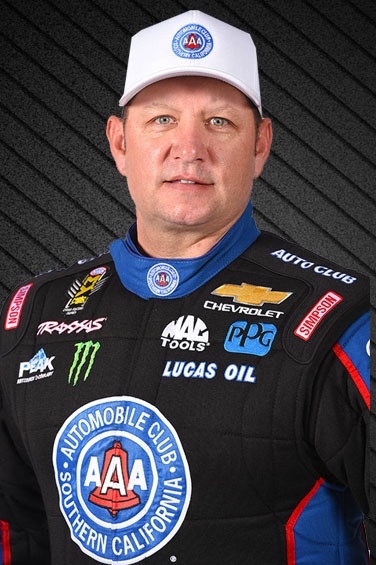 The 2008 Sonoma Nationals winner will be driving himself to the race along with daughter Autumn in a Fleetwood Flair RV from Sterling Motors RV. The pair will also head up to Seattle after the Sonoma race. It will be some well-deserved family time for one of the busiest drivers on the NHRA Mello Yello Drag Racing Series.
"We are on the road a lot and when we are back in California I have a lot of responsibilities at the office. It is great to get to spend this time with Autumn. These are two of my favorite race tracks. I grew up in Northern California and it will be fun to just enjoy some of the days between the races. I can't thank Sterling RV enough for hooking me up with the RV. I'll be posting updates on social media and I am sure Autumn will get some great pictures too," added Hight.
This season Hight has recorded one win and five additional semi-final finishes. Currently he has streak of three semi-finals in a row going back to Norwalk, Ohio. Last weekend Hight set the track speed record at Bandimere Speedway with a monster 322.81 mph pass. In his career at Sonoma Raceway Hight has qualified No. 1 once (2006) and has only started the race from the bottom half of the field four times.
In addition to his 2008 win the 2009 Funny Car champion has three additional semi-final finishes including last year's race where he was ousted by eventual winner Jack Beckman. This year Hight will be looking to pick up his 38th career win and extend his streak of winning at least two races every season.
Read the original news story from John Force Racing website