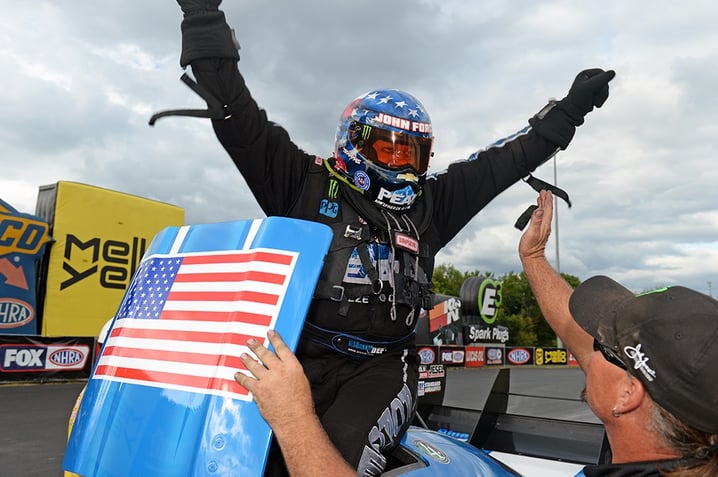 CHARLOTTE, NC --- John Force made the most the first Countdown race of 2016 picking up his 146th career win and moving from the No. 8 to No. 3 position in the Mello Yello point standings. Force outran Dave Richards, Tim Wilkerson, Ron Capps and then Tommy Johnson Jr to pick up his first win at the Carolina NHRA Nationals. From the winner's circle stage Force dedicated the victory to his sponsors and announced he would be sending the Wally trophy to Advance Auto Parts who were emblazoned across the side of his Chevrolet Camaro SS Funny Car along with primary sponsor PEAK Antifreeze & Coolant.
Going into the final round John Force was 7-1 against Tommy Johnson Jr. and Force's Advance Auto Parts PEAK Chevrolet Camaro SS Funny Car was looking for its third win of the season. The last final round match-up between these two racers was last season's New England Nationals where Force also took the win.
"We have a lot of work cut out for us. We'll be testing here all day tomorrow. You win a race and you still come right back and you test. I'm excited. My wife said to me this morning, 'You have to get out of bed.' It's tough on me. I'm beat up and it's been a challenge the last four nights in a row. I got up and I was mad. I said I was going to win today. Right before the final she said, 'Remember what you told me this morning?' I said, 'Yeah, I'm going to win,' said Force in the zMax Dragway press room.
In the final Force and Johnson Jr. left the starting line together but by about 700 feet Force was driving around Johnson Jr. and getting to the finish line first with a winning elapsed time of 3.946 seconds at 324.05 mph edging out Johnson Jr's 3.987 second, 315.71 mph run.
While the final round win was critical, the semifinal match up with point leader Ron Capps was important not just for Force but also for his JFR Chevrolet Camaro SS Funny Car teammates. Force defeated Capps, the No. 2 qualifier, in an epic side by side race. Force got the win on the strength of his 3.957 second, 323.27 mph race in front of Capps's 4.003 second, 317.57 mph pass. The win stopped Capps's accumulation of points and allowed Force to ultimately end the day just 50 points out of the top spot.
"I have a race car now that I can race with, and when you get a race car and you're on your game I can win. Tommy Johnson flew all weekend; he outran us but I was right in the hunt with him. (Ron) Capps in the semis, I love to race him. At the end of the day it was just a fight and we got the win, and we'll just take it from here," added Force.
Force extended his win streak against Capps in Countdown races to 6-0 since the inception of the NHRA play-off format. The winningest driver in NHRA history beat three Countdown contending Funny Cars and also trailered the No. 1 and No. 2 qualifiers today.
In many instances the road to victory is paved with a fortuitous round win and Force earned his in the second round against veteran Tim Wilkerson. As Force was rolling to the staging beams he realized the brakes on his Chevrolet Camaro were not engaging fully and the winner of over 1,200 rounds of racing had to depress the clutch pedal to stop his 10,000 hp Funny Car from rolling through the staging beams and costing him the race. Force's winning time of 4.013 seconds was pedestrian and his .394 reaction time could quite possibly be the worst winning reaction time of his illustrious career.
Earlier in the week Force moved crew chief Jason McCulloch from the Monster Energy Top Fuel dragster to his PEAK Camaro Funny Car to work with lead crew chief Jon Schaffer. The shuffle worked seamlessly and from the winner's circle Schaffer was proud of the effort the entire team displayed throughout the weekend and on race day.
"This is huge for us and this is the first time that I have been in this position. It is actually awesome to be in this position with our race team and John Force and I just feel like everything is starting to click again. I can't be any happier," said Schaffer, who has four wins with Force now. "We got as much points as you can, we have good momentum going into the Countdown. I think we started out eighth and moved up a few spots up to third, so that is huge for us."
The Auto Club Chevrolet Camaro SS Funny Car and Robert Hight raced to the quarterfinals and made one of the stoutest runs on a hot track of the 2016 season. In the first round with a track temperature bumping up against 130 degrees Hight and the Auto Club Camaro flew down the left lane and lit up the scoreboard with the race day quickest Funny Car run of 3.916 seconds at 327.51 mph.
The run was quick enough to get the win over two-time Funny Car champion Cruz Pedregon and gave the two-time Carolina Nationals winner lane choice over Ron Capps in the next round.
Unfortunately the track temperature continued to rise and Hight knew his Mike Neff-tune Funny Car could not duplicate that effort in the quarterfinals. Against Capps Hight's Chevy slowed slightly and that gave away the win to the point leader.
"We were just weak on power on that run. That first round win we got everything that was out there. You could not have run quicker or faster I don't think. It was a great run but Neff said 'you can't do that again, you can't live and die by that sword'. It was fast," said Hight. "So we go and back off and the power button is off and it slows down even more. We had trouble in qualifying but Mike Neff and these Auto Club boys know what they are doing. In the first round we were racing Cruz Pedregon and that guy is a two time champion and you know he can run again. It was tough and you have to be ready to peddle it. That win was a statement."
The Monster Energy Top Fuel dragster lost a tough quarterfinal race to eventual Carolina Nationals Top Fuel winner and Mello Yello point leader Antron Brown. The race was decided by less than 18 inches at the finish line. The scoreboards reflected Force's losing elapsed time of 3.797 seconds beside Brown's 3.796 second run. This was the first time in 2016 at zMax Dragway that Brown got to the finish line in front of Force. At the Four-Wide Nationals Force outran Brown three consecutive runs on the way to her second career victory.
Today Force had to walk away with a first round win over legendary driver Chris Karamesines and a close second round loss to Brown.
"It was definitely a good drag race for the fans who came here to see runs like that. When you put on a show like that, you like to get the win. Overall looking at the weekend and looking at our year, the place we have struggled is making solid runs down the race track in the heat. So to be able to run that in 130 degree temperature and to be able to go down there and make a solid run we just can't hang our heads. It was a good run, a good day it just ended a little short for us."
Force was able to move up from 5th place to 4th place in the Mello Yello point standing and will look to move up even more in St. Louis.
Courtney Force and the Traxxas Chevrolet Camaro SS Funny Car were upset in the first round by Matt Hagan in a close race. Both Funny Cars left the starting line welded together and Force looked to be pulling away before her Funny Car started spinning the tires in the left lane. Force did a great job of keeping her race car in the middle of her lane but she lost just enough power to allow Hagan to creep around her for the win.
"Yeah, it's definitely not the start we wanted going into the Countdown to the Championship unfortunately. At least we were able to pick up a bonus point in qualifying. It's definitely a tough position to be in going out in the first round of the Countdown," said Force who only lost in the first round two other times this season. "But we actually had a good race car, we were on a good run, and were out ahead of (Matt) Hagan in that first round. But it started spinning the tires down track and dropped two holes. I stayed in the throttle just hoping I could get around him and just hoped for the best. He was on a good run so it was hard to catch up to him. Unfortunately we missed that round and we are out early. We are really just looking to the next race because we need to make the next two count. I think this Traxxas Chevrolet Camaro race team is in a pretty good position. We might have stumbled a little bit in the first race but we have got five more to make up for it."
Force will head to St Louis for the AAA Midwest NHRA Nationals in the No. 6 position in the Mello Yello point standings. In the Countdown the Top Ten drivers have been bunched together and the fifth year pro is only 100 points out of first place with five races remaining.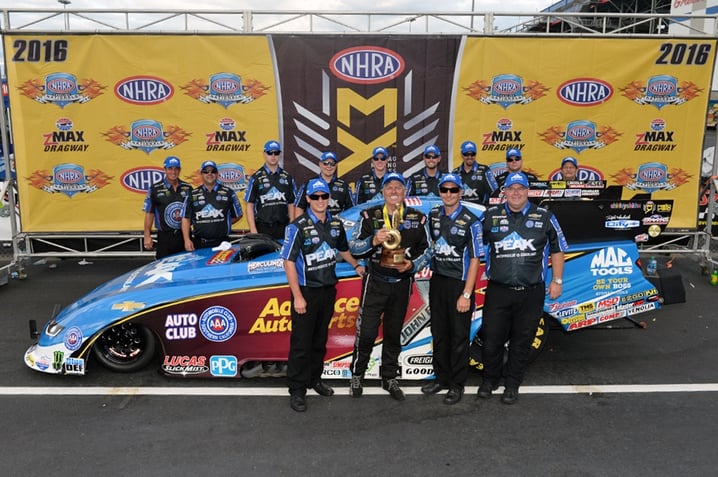 COUNTDOWN TO THE CHAMPIONSHIP POINT STANDINGS
Funny Car - 1. Ron Capps, 2194; 2. Del Worsham, 2152; 3. John Force, Advance Auto Parts PEAK Chevrolet Camaro SS, 2144; 4. Tommy Johnson Jr, 2132; 5. Matt Hagan, 2122; 6. Courtney Force, Traxxas Chevrolet Camaro SS, 2094; 7. Robert Hight, Auto Club Chevrolet Camaro SS, 2093; 8. Jack Beckman, 2084; 9. Tim Wilkerson, 2067; 10. Alexis DeJoria, 2036
Top Fuel - 1. Antron Brown, 2,146; 2. Doug Kalitta, 2,124; 3. Steve Torrence, 2,106; 4. Tony Schumacher, 2,099; 5. Brittany Force, Monster Energy dragster, 2,090; 6. J.R. Todd, 2,074; 7. Shawn Langdon, 2,067; 8. Clay Millican, 2,052; 9. Richie Crampton, 2,046; 10. Leah Pritchett, 2,034
Pro Stock - 1. Jason Line, 2233; 2. Greg Anderson, 2183; 3. Vincent Nobile, 2129; 4. Bo Butner, 2123; 5. Allen Johnson, 2095; 6. Chris McGaha, 2082; 7. Shane Gray, 2081; 8. Drew Skillman, 2073; 9. Jeg Coughlin Jr, 2052; 10. Erica Enders Stevens, 2020
Pro Stock Motorcycle - 1. Andrew Hines, 2205; 2. Chip Ellis, 2161; 3. Angelle Sampey, 2156; 4. Eddie Krawiec, 2120; 5. LE Tonglet, 2106; 6. Jerry Savoie, 2099; 7. Hector Arana Jr, 2083; 8. Hector Arana, 2052; 9. Matt Smith, 2042; 10. Cory Reed, 2032
THE DRIVERS
JOHN FORCE, 67, Advance Auto Parts/PEAK Antifreeze 2016 Chevrolet Camaro SS
Final Qualifying: 3rd at 3.881, 331.04 mph
Bonus Qualifying Points: +8 (Quickest of Q1, 3rd quickest of Q2 and 2nd quickest of Q3 and Q4)
Race results: Beat Dave Richards, Tim Wilkerson, Ron Capps, Tommy Johnson Jr
ROBERT HIGHT, 47, Auto Club 2016 Chevrolet Camaro SS
Final Qualifying: 7th at 3.912, 323.66 mph
Bonus Qualifying Points: 0
Race results: Beat Cruz Pedregon; Lost to Ron Capps
COURTNEY FORCE, 28, Traxxas 2016 Chevrolet Camaro SS
Final Qualifying: 8th at 3.934, 322.81 mph
Bonus Qualifying Points: +1 (3rd quickest of Q1)
Race results: Lost to Matt Hagan.
BRITTANY FORCE, 30, Monster Energy Top Fuel Dragster
Final Qualifying: 2nd at 3.729, 324.67 mph
Bonus Qualifying Points: +3 (2nd quickest of Q2 and 3rd quickest of Q3)
Race results: Beat Chris Karamesines; Lost to Antron Brown
FOLLOW JOHN FORCE RACING AT www.twitter.com/jfr_racing