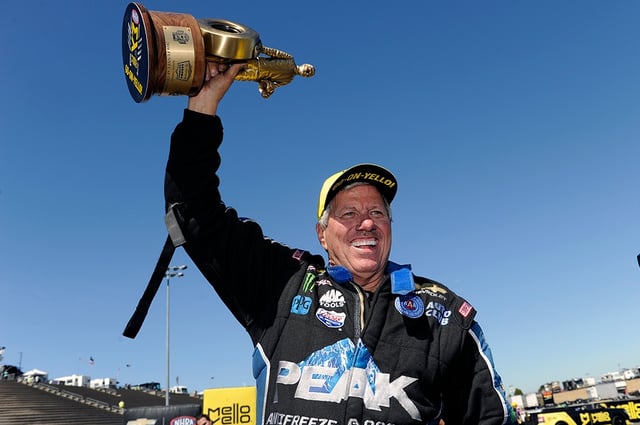 SONOMA, CA --- John Force is the only Funny Car driver who has won the historic NHRA Western Swing races of Denver, Sonoma and Seattle consecutively. Today with his 8th Funny Car win at the 29th annual Toyota Sonoma Nationals Force is in position to become the only driver to ever sweep the Western Swing twice. In a final round for the ages Force outran Funny Car point leader Ron Capps 3.948 to 3.960 to capture his 145th career Funny Car win and his 1,251st round win.
"I really respect (Capps) because of the way he is if you beat him, it's the same Ron Capps that if you lose to him. Same respect. The point is that Capps is a special guy and I want to beat him. To me, he is already a champion. I know how that game is played. Trust me. If you take a look, I might have beat him today, but he is a mile ahead of us in the points standings. No one is going to catch him in the Countdown until we get to the Countdown and then we will have a shot. And he will have a lead going into that," said Force from the John Cardinale Media Center.
As the No. 6 qualifier Force picked up his first round win of the day with a win over Alexis DeJoria and then he had to face his teammate Robert Hight in the second round. Force and Hight left the starting line together but the 16-time champion got to the finish line first against the 2008 Sonoma Nationals winner. Earlier this season Hight ended Force's day at Norwalk with a second round win and the two have faced each other 41 times.
The semi-finals matched Force up with his youngest daughter and the racer he faced in the final round a week ago in Denver. Once again the elder Force was able to race around Courtney Force who started the day as his highest qualified teammate, No. 2, to reach his 244th career final round.
"I have Courtney out there fighting me every week, and this is what she lives for. She is running better than me in the Traxxas Camaro Funny Car. Brittany has got a hot rod that will run with any Top Fuel and Robert Hight, same thing, right there with me. But there has to be a future and the future is live TV, and FOX. I sat out there and looked up at the stands and I wasn't thinking that I wanted to win here for myself and for Eric Medlen, I was thinking, 'Wow, look at that house packed'. It just does something mentally to you that gives you heart. And Capps, he is a great racer and I love him. I gave him a big hug down there," added Force.
In the final Force racing in his third final round at the Toyota Sonoma Nationals in the past four seasons got the jump off the starting line on Capps and never trailed in the race. Force took his career winning record against his long-time foe to 49-30 and in the finals at Sonoma Raceway Force now has a 2-1 record.
Force swept the Western Swing in 1994 and in 2003 he won the first two races contested then at Denver and Seattle before bowing out in the semi-finals of the Sonoma Nationals. Over the past two races Force has moved from 9th to 5th in the Mello Yello point standings and is only 23 points out of 4th place with three regular season races remaining.
Courtney Force dismissed Gary Densham and Chad Head today at Sonoma Raceway before falling to her father and John Force Racing teammate for the second event in a row. She managed to keep a strong hold on the No. 2 position in the NHRA Funny Car point standings and clinched a starting position in the 2016 Countdown to the Championship.
Force qualified in the No. 2 position in the Funny Car field with a 3.871 second elapsed time at 306.12 mph and lined up beside Gary Densham in the opening round. This was the third time Force has matched up with Densham on race day, but the first time this season as well as the first time at Sonoma. She was 1-1 to the veteran driver entering this race. The 2012 Auto Club Rookie of the Year for NHRA posted the third best ET of the opening round and turned on the win light with a 3.915 second pass at 322.42 mph to advance to round two.
"He (Densham) has been a family friend of ours for a long time and it's always tough running someone like him," said Force during her top end interview following the opening round of eliminations. "It's always strange going up there. My guys were making changes on the clutch. We did a last minute lane swap and I was nervous going to that right lane. Me and the wall have had too close of contact before so I was trying to avoid it. I had to get my chutes out late because I was about to hit it again. I'm just happy for this Traxxas team, The Fastest Name in Radio Control cars. We made a solid pass in the heat of the day."
In the second round of eliminations Force had lane choice against competitor Chad Head. It was the fourth time they have met on race day and the third time this season. Force got a big starting line advantage and drove her Chevrolet Camaro right to the win. The car started to move towards the wall down track and Head was making up time, but the 28-year-old driver turned on the win light with a 3.930 ET at 322.42 mph to Head's closing 3.938 ET at 328.22 mph. The margin of victory for Force was 0.0273 seconds (approximately 13 feet).
In the semi-finals Force lined up beside her father for the second race in a row. It was their 20th career match up and their fourth this season. The Traxxas driver beat the 16-time champion in 2014 at Sonoma raceway in the final round to claim her fifth career Funny Car victory. The youngest Force daughter got a .001 starting line advantage, but dropped a cylinder early and the veteran got the win with a 3.933 ET at 326.56 mph to a 4.073 ET at 314.97 mph. It was Force's only four-second run all weekend.
"We had a hole out on the hit. Our car went immediately to the left, I corrected it and got it back in the center of the groove and drove it all the way down there having to counter steer it and try to catch up to dad. It still actually ran a 4.07 so if anything would have happened, we would have been right there to capitalize. They had a great race car and we didn't have lane choice on that run. We'll have to figure out why our car dropped a hole on the hit. It was pretty uncommon for our Traxxas car to do that. It hadn't happened all weekend long. We'll find the problem and fix it and be ready to go to Seattle," said Force.
The Auto Club Chevrolet and Robert Hight were quick and consistent in qualifying and parlayed that success into the No. 3 starting spot on Sunday. The 2008 Sonoma Nationals winner took out Jeff Diehl in the first round with a session quickest elapsed time of 3.909 seconds at a whopping 326.32 mph.
"We have this Auto Club Chevrolet Camaro running real good and it's a lot of fun to drive right now. We have a tough matchup in the next round against the boss (John Force). I have a lot of fans here; I'm from Northern California and we hope to do a good job for you," said Hight from the top end.
In the second round racing John Force Hight once again suffered a mechanical issue and just when the 2016 Gatornationals winner thought he was going to get his second win of the season he watched as the Realtree PEAK Antifreeze Camaro drove around him at the finish line. Last year in Las Vegas Hight was out in front of Force when he lost power in his Funny Car just before the stripe.
"We lost a spark plug. That was a tough loss. We had the quickest run of the first round and I think we were about to run quicker. We were even with him at half-track and I thought we were about to pull away. We are running really quick and qualifying well. This Auto Club Chevrolet Camaro will be ready for Seattle and I am excited about getting the Countdown started," said Hight.
Brittany Force started the day with a great first round win, her first at Sonoma Raceway, outrunning T.J. Zizzo. Force took a starting line advantage and never trailed in the drag race in a close side by side race. The two-time winner crossed the finish line with a winning elapsed time of 3.763 seconds at 325.45 mph. Force earned lane choice over Doug Kalitta in the quarter-finals.
In the second round Brittany came up on the losing side of a tight Top Fuel race. Against Mac Tools teammate Doug Kalitta got the jump off the starting line and reached the finish line first. The Monster Energy Top Fuel dragster made a great run 3.743 seconds but the 2013 NHRA Rookie of the Year will have to head to Seattle next week in search of her first Western Swing national event win.
"We always struggle here. The good news is we have an awesome race car and we are getting really close to the countdown. I just need to get on the same page. I have my weekends and some weekends I will nail it other weekends I am off. Luckily for me I have a very supportive team. I have two very supportive crew chiefs in Brian Husen and Alan Johnson. They told me we are a team and they have my back no matter what. It is great to be surrounded with people like that. We will put this one behind us and go into Seattle. I'll start over there. I have found it before and I'll find it again. We'll be looking to go rounds in Seattle and get a win next weekend," said Force.
"There is definitely added pressure because I have a race car that I know will perform and a lot of the time it comes down to the driver. There is added pressure of having a great sponsor like Monster Energy. I am learning to use that pressure to get pumped up and motivated. I am going to use that to push me on the starting line."