LAS VEGAS (April 2) – Brittany Force and the Monster Energy Top Fuel dragster won a first-round matchup in Sunday's NHRA Nationals at The Strip at Las Vegas Motor Speedway before falling to Leah Pritchett in the second round.
The race was the fourth on the 2017 Mello Yello Drag Racing Series calendar.
Force – who qualified No. 4 this weekend – advanced to the quarterfinals by defeating Steve Faria in the opening round with an elapsed time of 3.762 seconds at 329.26 mph, to Faria's pass of 4.505 seconds at 180.96. It marked her best pass of the weekend and the first time she had faced Faria.
That was success in itself, as the team made significant changes to the clutch package following Saturday's qualifying sessions.
"Qualifying was tricky was for us; we only got down the track once out of four runs, and that's tough going into race day, and pulls your confidence down a little," said Force, now fifth in Top Fuel points standings. "The team made some changes, and we came out in the first round and were able to go right down the race track. I had a good light there and we have to keep swinging for that."
In the second run against Pritchett, Force made a good launch but struck the tires moments later, while Pritchett went straight down the track and took the win. Officially, Force was credited with a pass of 4.872 at 153.39 mph. Force is still looking to make it past the quarterfinals in a race at Las Vegas.
"Wish we could have done the same in the second round, but our day ended early," Force said. "But we made a lot of changes this weekend – especially in the cockpit, for me, and the clutch. To be able to get to the second round is pretty good for us, and we'll keep moving forward.
Force's team will test Monday at The Strip, seeking further input on changes they made to the cockpit earlier this weekend.
"The good thing is that the changes we made to the cockpit are staying," Force said. "We're not changing anything there; we're done. We can only move forward from that and get better. I've only had six runs in the new setup. We're going to do some testing tomorrow, and everything takes time. It takes seat time, takes experience, and soon it will feel like home in there – that will be my car."
The next race is the NHRA Spring Nationals at Royal Purple Raceway in Baytown, Texas, just outside Houston, on April 21-23.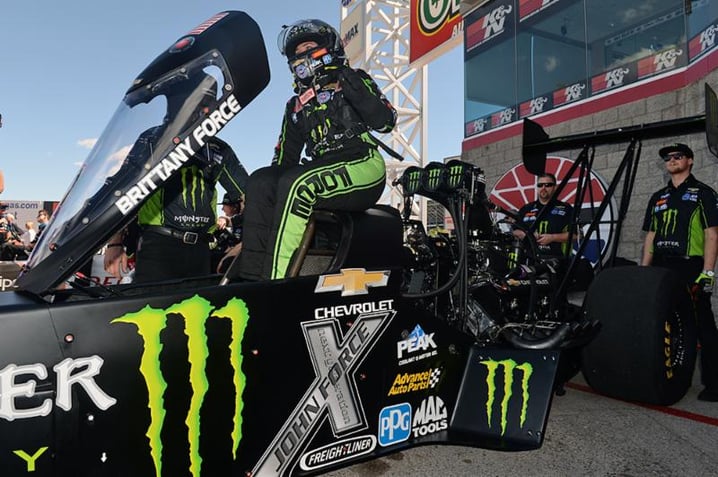 Photo Credit: Gary Nastase and Auto Imagery
About John Force Racing
John Force Racing, Inc., based in Yorba Linda, Calif., and Brownsburg, Ind., is a professional sports dynasty, one that has earned 18 NHRA championships and claimed 250 professional victories in Funny Car (247) and Top Fuel (3). Led by team owner and driver John Force, a 16-time Funny Car Champion, 1996 Driver of the Year for all of American motor racing, 2011 International Motorsports Hall of Fame inductee, and driver of the PEAK Coolant and Motor Oil Chevrolet Camaro SS Funny Car, JFR is additionally comprised of Auto Club of Southern California Chevrolet Camaro SS driver Robert Hight, 2009 Funny Car champion and 2005 NHRA Rookie of the Year; Advance Auto Parts Chevrolet Camaro SS driver Courtney Force, 2012 NHRA Rookie of the Year; and Monster Energy Top Fuel Dragster driver Brittany Force, 2013 NHRA Rookie of the Year. For more information, please visit johnforceracing.com.