GAINESVILLE, Fla. (March 14) – Monster Energy Top Fuel driver Brittany Force fought through three seasons chasing her first professional victory, racing to six final rounds and posting four No. 1 qualifiers before finally breaking through.
Then, on March 20, 2016, Force battled past four competitors to secure her first Top Fuel victory, in the NHRA Gatornationals at Gainesville Raceway – site of this weekend's Mello Yello Drag Racing Series event.
"Gainesville was huge, bringing home our first win," Force said. "It's something we'd been after since 2013, so to finally capture that at a race like the Gatornationals is something I'm very proud of.
"Going back to the track, the Monster Energy team wants to do it all over again. We want to bring home that win. We want consistent runs all weekend, we want to turn those win lights on and bring home that win."
Force was a model of consistency that day a season ago, beating Morgan Lucas, Tripp Tatum, Dave Connolly and finally Terry McMillen to get her first victory. She was also able to celebrate with John Force Racing teammate Robert Hight, who won with his Auto Club of Southern California Chevrolet Camaro SS Funny Car to secure JFR's first "double-up."
"The whole day was so great," Force said. "I remember every single detail."
Force went on to win three races in 2016, finishing sixth in the final Top Fuel standings. She currently sits third in the points after racing to the final round in the most recent race, in Phoenix.
Interestingly, Force also raced to the final in Phoenix in 2016 – before winning in Gainesville. She'd love for history to repeat itself.
"That's what we're hoping for, that's what we're going for," Force said. "We're still looking for our first win of the season, and we'd love to repeat last year and bring home that first win at the Gatornationals in Gainesville. Going to the final round in Phoenix shows how close we are."
Force is bringing more momentum to Gainesville, as she recorded five of her 11 quickest passes in Arizona in February (with four coming during Arizona Nationals eliminations): 3.703 seconds, 3.676 (tying her career best), 3.707, 3.701 and 3.704.
"Phoenix is so different," Force said. "Yes, we figured out what was going wrong with our car and why we couldn't get down the race track. That's why it made solid passes the rest of that weekend. We're making a few changes for Gainesville, and it will be a whole new setup just because the weather conditions, track conditions will be so different. We'll figure it out in qualifying."
4-Second Reads:
Brittany Force has competed in the NHRA Gatornationals four times, and every year since 2013, the first year she competed in the event.
Force is the defending winner of the NHRA Gatornationals. She defeated Morgan Lucas, Tripp Tatum, Dave Connolly, and Terry McMillen in succession last year for her first NHRA Top Fuel victory.
Force's record in elimination round races at Gainesville Raceway is 5-3.
Force's best qualifying position at the NHRA Gatornationals was No. 5 last season.
Force is 2-2 in first-round NHRA Gatornationals matchups.
In her career, Force has three victories and 91 round wins.
Force is currently third in the Top Fuel points standings, up two spots from fifth from the previous race.
Force's best time/speed at Gainesville – 3.729 seconds (2016 E3); 323.89 mph (2016 E3)
Force's best time/speed of career – 3.676 seconds (most recently 2017 Phoenix E1); 331.53 (2015 Reading Q1)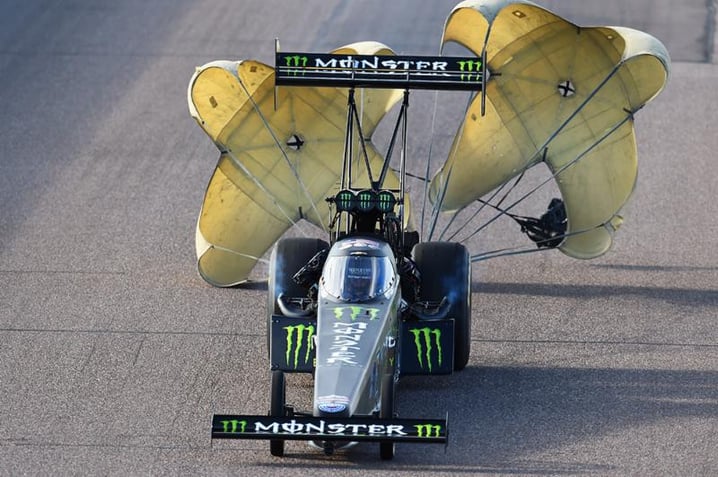 Photo Credit: Gary Nastase and Auto Imagery
About John Force Racing
John Force Racing, Inc., based in Yorba Linda, Calif., and Brownsburg, Ind., is a professional sports dynasty, one that has earned 18 NHRA championships and claimed 250 professional victories in Funny Car (247) and Top Fuel (3). Led by team owner and driver John Force, a 16-time Funny Car Champion, 1996 Driver of the Year for all of American motor racing, 2011 International Motorsports Hall of Fame inductee, and driver of the PEAK Coolant and Motor Oil Chevrolet Camaro SS Funny Car, JFR is additionally comprised of Auto Club of Southern California Chevrolet Camaro SS driver Robert Hight, 2009 Funny Car champion and 2005 NHRA Rookie of the Year; Advance Auto Parts Chevrolet Camaro SS driver Courtney Force, 2012 NHRA Rookie of the Year; and Monster Energy Top Fuel Dragster driver Brittany Force, 2013 NHRA Rookie of the Year. For more information, please visit johnforceracing.com.