GAINESVILLE, Fla. (March 14) – John Force hopes to relive past success this weekend as he and his PEAK Coolant & Motor Oil Chevrolet Camaro SS team head to the NHRA Gatornationals, the third stop on the NHRA Mello Yello Drag Racing Series schedule.
Forrce has seven victories at Gainesville Raceway, with an NHRA record five consecutive Funny Car wins between 1992 and 1996. Victories in the Gatornationals often coincided with title runs, with the 16-time champ winning the Gatornationals and a championship six times in the same season.
But it's been awhile: Force was last in winner's circle as a driver in Gainesville in 2001. He's seen victories more recently as a team owner, however. Last year, he watched teammate Robert Hight earn the victory in Funny Car and daughter Brittany Force win her first race in Top Fuel.
"It doesn't matter what you've done in the past," Force said. "It makes you feel good. We're going to go in with high hopes. But it's a long season, and we've got a lot of work to do.

"It's a great race track. It's a place where everybody goes to get warm, people coming from Canada or other places out of the north. It's a college town; a lot of young people there, a lot of partying, but no partying for us."
The storylines don't end with the statistics and past achievements. Force announced last week that he is reuniting with crew chief Mike Neff – the 2011 Gatornationals winner in Funny Car – as well as co-crew chiefs Jon Schaffer and Jason McCulloch and their team.
Recently, Neff headed the crew assigned to Hight. With Neff, Force won the 2010 Funny Car title. Schaffer and McCulloch were responsible for much of Force's late-season success last year, in which he won four races.
"Naturally, going home is good," Force said. "I'm going back with Mike Neff, who I won a championship with a few years back, as well as Jon Schaffer and Jason McCulloch, who I won four races with last year, and finished fourth in the points. We're excited about it."
Force is also remembering Eric Medlen this weekend and the 10th anniversary of his death. Medlen was one of JFR's drivers, who perished in a testing accident at Gainesville in 2007.
"This is the 10th anniversary of Eric Medlen, the loss of a young kid who was a great talent," Force said. "The changes that were made from his crash led by his dad John Medlen, I believe, changed the sport for safety, and were very critical. I come in with an open heart to take on the competition, but he'll always be in our memory, the girls' as well. We were very close to Eric."
Force is also coming off a strong test following the race at Wild Horse Pass Motorsports Park in Chandler, Ariz., in which he made four passes in the 3.8-second range. While Florida is a perfect place for spring break, soaking up the sunshine, hitting the beaches, and partying, Force said his team is focused on winning.
"All the cars came out of testing fast," Force said. "We still don't have the consistency, except for the Advance car (driven by Courtney Force), but we'll see what it goes. I've got high hopes, high expectations, and we'll be okay. But the proof's in the pudding."
The first two rounds of qualifying will be televised on tape delay by Fox Sports 1 at midnight Eastern. Qualifying continues Saturday (tape delay on FS1 at 11 p.m.). FS1 will televise elimination rounds Sunday beginning at 1 p.m. ET.

4-Second Reads:
John Force has competed in the NHRA Gatornationals 36 times, all in succession since 1981.
Force has advanced to the final round of the NHRA Gatornationals 12 times, winning seven times (1992-1996, 1999, 2001). His most recent final round matchup came in 2014, when he faced teammate Robert Hight and finished in the runner-up spot.
Force's record in elimination rounds for the NHRA Gatornationals is 58-31.
Force has been the No. 1 qualifier for the NHRA Gatornationals six times, most recently in 2006.
Force has won the NHRA Gatornationals three times from the No. 1 qualifying spot (1992, 1995, 2001).
Force has only qualified outside the top eight on six occasions in 36 NHRA Gatornationals. His worst qualifying spot was No. 16 (1982 and 2014; went to semifinals both times).
Force has won his first-round NHRA Gatornationals matchup 24 times.
In his career, Force has 147 victories and 1,265 round wins.
Force is fifth in Funny Car points standings, down two spots from third from the previous race.
Force's best time/speed at Gainesville – 3.996 seconds (2016 Q3); 322.81 mph (2016 E1)
Force's best time/speed of career – 3.839 seconds (2016 Dallas); 335.15 mph (2017 Pomona 1 Q3)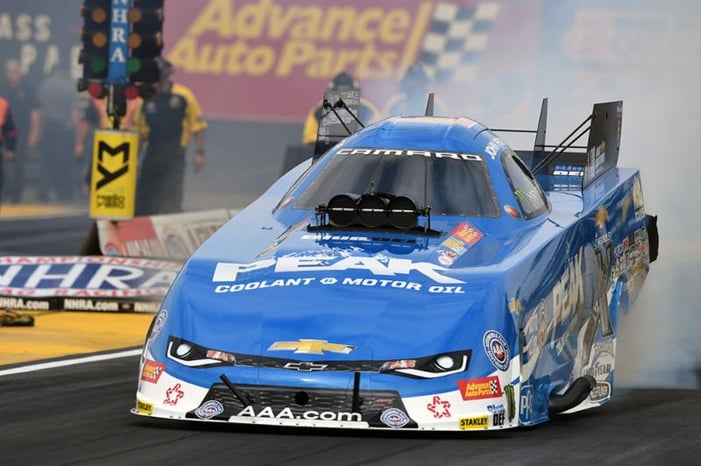 Photo Credit: Gary Nastase and Auto Imagery