GAINESVILLE, Fla. (March 19) – He may have been serenading the tune "Singin' in the Rain," but John Force was winning under the Florida sunshine Sunday in a perfectly-tuned PEAK Motor Oil and Coolant Chevrolet Camaro SS Funny Car.

The 16-time NHRA Mello Yello Drag Racing Series champion earned his record-extending 148th career victory and eighth in the NHRA Gatornationals at Gainesville Raceway. Force defeated rookie Jonnie Lindberg – competing in his first Funny Car race – in a solid final-round matchup, giving John Force Racing its first victory of 2017 and first since last year's fall race at Las Vegas.

Force exited his PEAK Chevrolet after winning and broke into the popular tune "Singin' in the Rain." "I found the music," he said.

"I've lived on music in my old Chevy," Force said. "I can remember when I was 15 years old driving around without a driver's license and the music carried me. Every day, the Beach Boys, Merle Haggard. I lived that life and you find yourself.

"I don't go to a race without believing I can win," continued Force, the day after recording his 155th No. 1 qualifying spot. "The day I don't believe I can win, then it's time for me to quit. It's like a rollercoaster ride and I'm still a kid driving that '54 Chevy listening to the Beach Boys, and I found the music. They are going to be sorry I found the music, trust me."

The 67-year-old hadn't won at the Gatornationals since 2001, breaking a 16-year drought, which set yet another NHRA record. But there are better ones he set as well:
Most Funny Car victories in the Gatornationals (eight)
Thirty seasons with at least one Funny Car victory
Forty seasons in which he beat a new competitor to the finish line
Oldest driver ever to win in a Funny Car

"I've got a lot of experience that, believe it or not, things that I bring to a racetrack," Force said when asked if he'd have an advantage lined up against a 40-year-old version of himself. "I read things, I listen, I study the other drivers, I'm nothing special. I'm just a guy that's devoted my life to it."

Force started the day with a convincing 3.881-second pass at 331.45 mph against Del Worsham in the opening round. Then, he squared off against Jack Beckman in the quarterfinals, whom he had only an 11-28 record against. That didn't matter, as Force made another solid pass of 3.916 at 328.14 mph, while Beckman stuttered.

It was onto the semifinals and Tommy Johnson Jr., who slipped into round three despite problems with his car the previous round. Force drove straight down the track in 3.955 seconds at 324.05 seconds – while Johnson struggled again – and into the finals against Lindberg.

Force bested Lindberg's reaction time – 0.071 seconds to 0.115 – and led the entire way, beating Lindberg's time with a pass of 3.928 seconds at 328.14 mph to 3.971 at 314.83 mph. All that in a new car, and less than two weeks after switching crews with teammate Robert Hight's team.

The victory over Lindberg also gave John Force Racing another milestone – 2,500 Funny Car victories. JFR has won more than 20 percent of all Funny Car rounds – more than 12,100 – ever contested.

"We made a lot of changes coming here, and I don't know if I'm smart or just lucky," said Force, who vaulted from fifth to second in the points standings. "Either way, I surround myself with great people and they are the ones that make it happen. Then there are the sponsors and the cheer of the crowd.

"A lot of things are about heart, a lot of things are about luck. But you always feel someone up there like you, and it's not that God is going to pull for me. If that's how it worked, I'd be in real trouble. It's just a matter that I believe hard work, dedication … it's been a draining day. I kept telling my wife every round, 'I'm going to win this thing again. I'm not accepting that it's over.' I've been real lucky. Chevrolet has been real good to me. We gave the fans a race at the Gators."

The race was a fitting tribute to Eric Medlen, a John Force Racing driver that perished in an accident during testing at Gainesville 10 years ago to the date.

"Eric was like my kid, and we're all a big family even though we fight sometimes," Force said. "You look at these people (fellow competitors) and know how much you care for them, and I know Eric would want his dad to win and I know if his dad can't win he'd like to see John Force do it one more time. He was in my heart all day. He could win or lose, but he was happy driving that race car. I showed you all that this old man can cut it. Age is not a limit."

The fourth round of the NHRA Mello Yello Drag Racing Series schedule is the NHRA Nationals at The Strip at Las Vegas Motor Speedway in Nevada.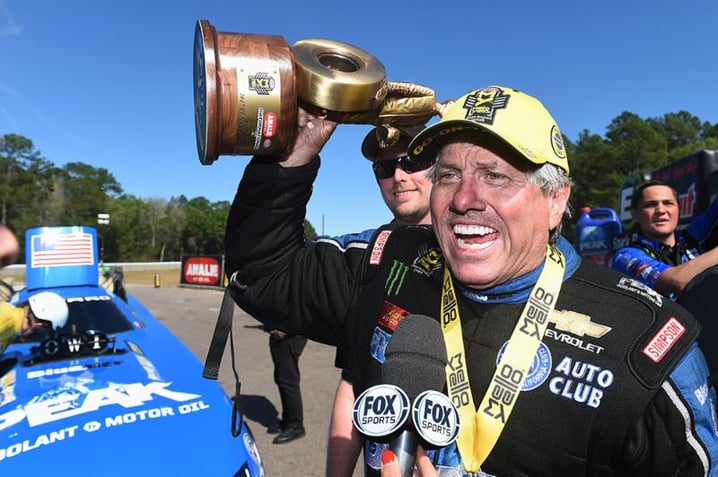 Photo Credit: Gary Nastase and Auto Imagery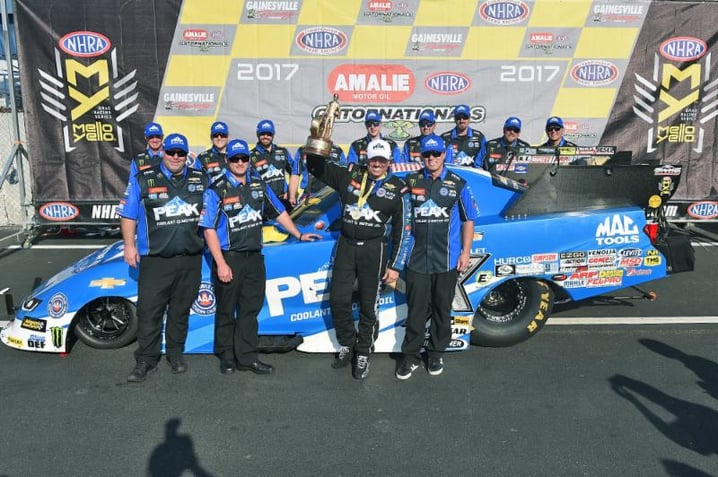 Front, from left: Co-crew chiefs Jason McCulloch and Jon Schaffer, John Force, crew chief Mike Neff. (Photo Credit: Gary Nastase and Auto Imagery)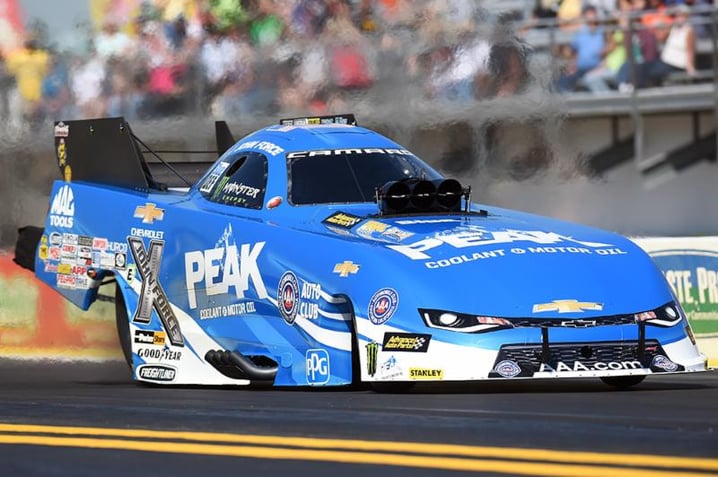 Photo Credit: Gary Nastase and Auto Imagery
About John Force Racing
John Force Racing, Inc., based in Yorba Linda, Calif., and Brownsburg, Ind., is a professional sports dynasty, one that has earned 18 NHRA championships and claimed 250 professional victories in Funny Car (247) and Top Fuel (3). Led by team owner and driver John Force, a 16-time Funny Car Champion, 1996 Driver of the Year for all of American motor racing, 2011 International Motorsports Hall of Fame inductee, and driver of the PEAK Coolant and Motor Oil Chevrolet Camaro SS Funny Car, JFR is additionally comprised of Auto Club of Southern California Chevrolet Camaro SS driver Robert Hight, 2009 Funny Car champion and 2005 NHRA Rookie of the Year; Advance Auto Parts Chevrolet Camaro SS driver Courtney Force, 2012 NHRA Rookie of the Year; and Monster Energy Top Fuel Dragster driver Brittany Force, 2013 NHRA Rookie of the Year. For more information, please visit johnforceracing.com.