LAS VEGAS (April 2) – John Force raced to the semifinals of Sunday's NHRA Nationals at The Strip at Las Vegas Motor Speedway but came up short of his second consecutive Funny Car final in the NHRA Mello Yello Drag Racing Series.
Force dispatched of former teammate Phil Burkart Jr. in the first round, and then Matt Hagan in the second before falling to Tommy Johnson Jr. in the semifinals.
Force was seeking his seventh Funny Car victory at Las Vegas and second straight this season, having won the most recent NHRA race, the Gatornationals at Gainesville Raceway.
"I look at this day as positive," said Force, driving the PEAK Coolant and Motor Oil Chevrolet Camaro SS. "We went some rounds, and our other drivers did some things, too. Courtney (Force) was No. 1 qualifying, we made some changes to Brittany's (Force) car, and Robert Hight's car with Jimmy Prock is making progress. It's all part of a process.
"We'll come out here and test some new things. Drivers will continue to test the Christmas Tree for the starts, and crew chiefs will test new heads and other things we've been working on."
Force faced Burkart for the 20th time in his career and second time this season in the opening round. Despite dropping cylinders about halfway down the track, Force kept the car straight and won with a time of 4.454 seconds at 213.64 mph. Burkart went up in smoke at about the 150-foot mark.
In the second round, Force had better luck. Yielding lane choice to Hagan, Force and Hagan staged a close race down much of the track. However, Hagan dropped a cylinder, and Force kept the throttle down and won with a pass of 3.987 at 321.81 mph. The victory put Force 6-0 against Hagan at Las Vegas.
But that's where the good luck ended. Whether it was a problem with the car's blower – which forced the team to make last-second changes – or something else, Force couldn't continue his winning streak against Johnson.
In a matchup between the No. 7 (Force) and No. 6 qualifiers, Force and Johnson had matching 0.071-second reaction times and ran side-by-side for the 500 feet. But then Force's car quit – the problem unknown – midway down the track, while Johnson leapt into the finals.
Force's pass was 4.128 at 282.13 mph, while Johnson's near-perfect pass was 3.997 at 319.45 mph. Force is now 33-13 all-time against Johnson, who narrowly defeated rookie Jonnie Lindberg in the finals.
"We had a blower problem," Force said of the issues the car faced prior to the semifinals. "We thought we fixed it, and we don't know if that was the problem in the race. We thought we could change them in the lanes, but we didn't have time to make adjustments, so we just took the right lane. Then we went down and just dropped a couple holes, and Tommy Johnson won.
"There are no uppers without downers," concluded Force, now third in the Funny Car points standings.
The team will test Monday at The Strip at Las Vegas. The next race is the NHRA Spring Nationals April 21-23 at Royal Purple Raceway in Baytown, Texas, just outside Houston.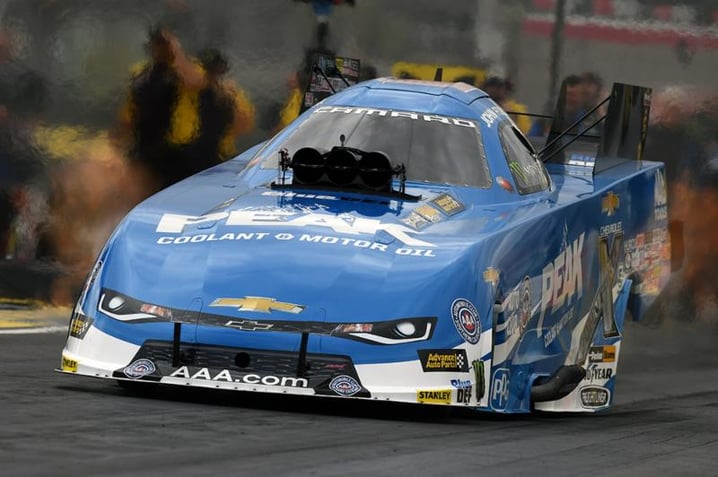 Photo Credit: Gary Nastase and Auto Imagery
About John Force Racing
John Force Racing, Inc., based in Yorba Linda, Calif., and Brownsburg, Ind., is a professional sports dynasty, one that has earned 18 NHRA championships and claimed 250 professional victories in Funny Car (247) and Top Fuel (3). Led by team owner and driver John Force, a 16-time Funny Car Champion, 1996 Driver of the Year for all of American motor racing, 2011 International Motorsports Hall of Fame inductee, and driver of the PEAK Coolant and Motor Oil Chevrolet Camaro SS Funny Car, JFR is additionally comprised of Auto Club of Southern California Chevrolet Camaro SS driver Robert Hight, 2009 Funny Car champion and 2005 NHRA Rookie of the Year; Advance Auto Parts Chevrolet Camaro SS driver Courtney Force, 2012 NHRA Rookie of the Year; and Monster Energy Top Fuel Dragster driver Brittany Force, 2013 NHRA Rookie of the Year. For more information, please visit johnforceracing.com.