LAS VEGAS (April 2) – Robert Hight, widely regarded as one of the best Funny Car drivers in the sport, made a rare mistake on the starting line during the NHRA Nationals on Sunday at The Strip at Las Vegas Motor Speedway.
A double-step in the second round against Tommy Johnson Jr. caused Hight to red light with his Auto Club of Southern California Chevrolet Camaro SS, ending his Las Vegas weekend too early.
"Just screwed up," Hight said. "I really don't know what happened. I really hate it for my guys because they work so hard. No excuses."
The Christmas Tree controls when drivers launch, and the delay from the time the drivers stage until the Tree comes in is a random time. The delay for the Hight-Johnson matchup was longer than usual, just as it was when Alexis DeJoria red-lit against Gary Densham in another second-round matchup.
But Hight would not make any excuses.
"That shouldn't matter," Hight said. "I've been at this a long time and should have been ready for that or anything. Like I said, I don't really know what happened. I still had my hand on the brake, too, so I knew it wasn't time to go.
"That happens sometimes, but that doesn't make it any easier to take."
Hight reached the second round after knocking off No. 3 qualifier Tim Wilkerson in the first round. Hight left first with a .073-second reaction time and was never headed, winning with a pass of 4.036 seconds at 312.86 mph. Wilkerson slowed to a 4.801-second run at 173.01 mph.
Hight was officially .115 seconds red against Johnson, but his Camaro barely moved. Johnson, meanwhile, made a run of 4.068 seconds at 268.71 mph.
The next race is the NHRA Spring Nationals at Royal Purple Raceway in Baytown, Texas, just outside Houston, on April 21-23.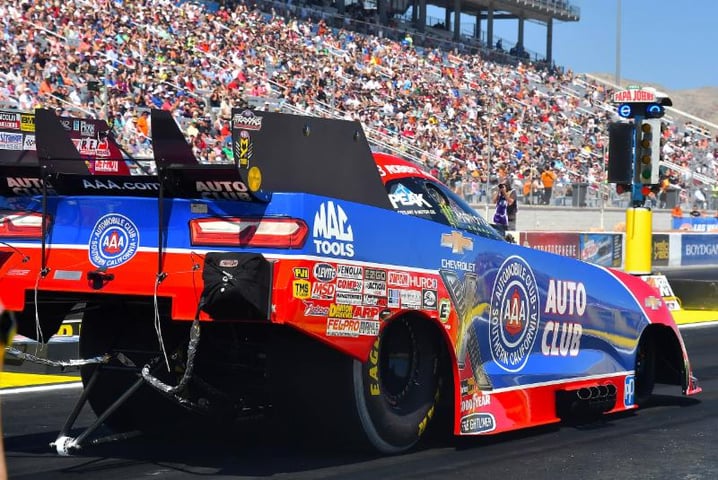 Photo credit: Ron Lewis Photgraphy
About John Force Racing
John Force Racing, Inc., based in Yorba Linda, Calif., and Brownsburg, Ind., is a professional sports dynasty, one that has earned 18 NHRA championships and claimed 250 professional victories in Funny Car (247) and Top Fuel (3). Led by team owner and driver John Force, a 16-time Funny Car Champion, 1996 Driver of the Year for all of American motor racing, 2011 International Motorsports Hall of Fame inductee, and driver of the PEAK Coolant and Motor Oil Chevrolet Camaro SS Funny Car, JFR is additionally comprised of Auto Club of Southern California Chevrolet Camaro SS driver Robert Hight, 2009 Funny Car champion and 2005 NHRA Rookie of the Year; Advance Auto Parts Chevrolet Camaro SS driver Courtney Force, 2012 NHRA Rookie of the Year; and Monster Energy Top Fuel Dragster driver Brittany Force, 2013 NHRA Rookie of the Year. For more information, please visit johnforceracing.com.