Pigot Climbs To A 9th Place Finish In Road Course Race at Indianapolis Motor Speedway; Hildebrand Fights to 14th After Starting 21st
(SPEEDWAY, Ind.) May 13, 2017 – Race Notes
Spencer Pigot recorded Ed Carpenter Racing's best finish in the road course race at the Indianapolis Motor Speedway today with a 9th place in the INDYCAR Grand Prix. JR Hildebrand preserved after a difficult qualifying session yesterday left him with a starting position near the back of the field. He gained seven positions over the course of the 85-lap race, finishing 14th.
Pigot passed six cars on the first lap alone, moving his No. 20 Fuzzy's Ultra Premium Vodka into the Top 10 before crossing the Yard of Bricks for the first time. Two laps later, he passed defending race winner and defending Verizon IndyCar Series champion Simon Pagenaud. He gained another position when Sebastien Bourdais lost an engine, moving him into 8th. On Lap 17, Pigot picked off 2016 Indianapolis 500 winner Alexander Rossi for the 7th position. The following lap, he worked his way around Juan Pablo Montoya, moving him into 6th.
Hildebrand started the race from the 21st position, where he would remain for the opening laps. He gained two positions before the first round of pit stops began. As the field began to pit on Lap 17, Hildebrand kept the No. 21 Preferred Freezer Services Chevrolet on track until Lap 22 and had cycled up to 13th. The 29-year-old made his first stop for a switch from black Firestone Firehawks to sticker red tires, also opting for a front wing adjustment. After the stops, he found himself with another two positions gained, running 17th.
Pigot's first stop of the race also came on Lap 22. Pitting from the 6th position, he made a stop for a set of scuffed red tires. The car misfired, then stalled on the launch. The crew re-fired Pigot, but he had dropped to 15th upon exiting the pits. He immediately put his red tires to good use, passing two cars on his first lap at-speed. He again passed Montoya on Lap 26, moving him to 11th. He worked his way back into the Top 10 on Lap 33 after passing Daly. Another position was gained when he passed James Hinchcliffe, moving him to 9th.
Hildebrand put a pass on Mikhail Aleshin on Lap 33, moving him to 16th. The field began to pit again on Lap 38, with Hildebrand making his stop on Lap 42. With his requisite stint on black tires, he was able to stay on red tires and moved to a scuffed set. He stayed in the 16th position until Lap 57 when he then again passed Aleshin.
Also on Lap 42, Pigot made his second stop. As he had not yet run on the black tires, he had to spend his third stint of the race on black Firestone Firehawks. The 23-year-old was quickly passed by Montoya, who was still running on red tires. He ran 11th for the entirety of the stint, before making his final pit stop on Lap 64.
Hildebrand's last pit stop for sticker reds came on Lap 60. He moved into the 14th position when he beat Carlos Munoz out of the pit lane, where he would run until the checkered flag. His 14th place finish is his best to date in the INDYCAR Grand Prix, bettering a 15th place in 2015.
Pigot had saved a set of sticker reds for his final stint of the race and gained back the position he had lost while on the black tires. He made quick work of Montoya, moving back into the Top 10. A drive through penalty for Josef Newgarden awarded him the 9th place position. He spent the final laps of the race working towards 8th place, but was unable to make up all of the 10-second gap to Rossi.
Practice for the 101st Running of the Indianapolis 500 will begin on Monday, May 15. Team owner Ed Carpenter will step back in to the No. 20 while Pigot moves to Junco Racing for the Memorial Day weekend classic. Hildebrand will stay in the No. 21 Preferred Freezer Services Chevrolet as he will compete in his 4th Indianapolis 500 with Ed Carpenter Racing.
SPENCER PIGOT (No. 20 Fuzzy's Ultra Premium Vodka Chevrolet), Finished 9th: "It seemed yesterday we struggled when the track got hotter, but today we didn't. We made some good changes overnight, after the warmup, and the car was really good. Our tires were one of the best out there and later on during the stints we could definitely catch a bunch of guys. It's encouraging, but finishing 9th when we know we could have been better, we will try and show that the next time out."

JR HILDEBRAND (No. 21 Preferred Freezer Services Chevrolet), Finished 14th: "Tough to have an actual race when you start at the back and don't have cautions to help you out, but we made what we could of it. We started on blacks, which in the end was the right call. However, we lost quite a bit of track position to the cars on reds at the start, as there was a dramatic delta between the two types of Firestones. We fought back to the front from then on out. The Preferred Freezer Services guys made some good changes to the car - the last few stints the car was pretty good."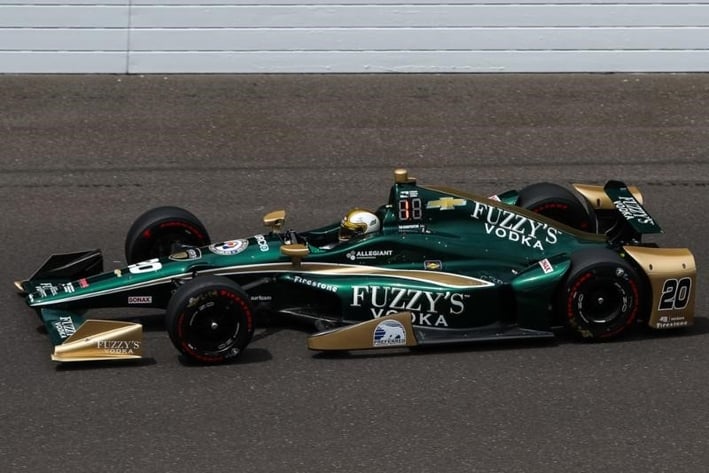 Spencer Pigot had a busy day in the INDYCAR Grand Prix, working his way up to 6th after starting 16th. A stall in the pit lane dropped him to 15th, but he climbed back to 9th to record both his and Ed Carpenter Racing's best finish in the Indianapolis Motor Speedway road course race.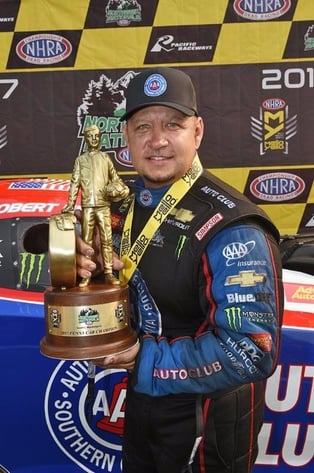 JR Hildebrand started 21st after a difficult qualifying session yesterday, but climbed up to 14th by the end of the 85-lap INDYCAR Grand Prix. Hildebrand is in his fourth Month of May with Ed Carpenter Racing.
About Ed Carpenter Racing
Ed Carpenter Racing (ECR) first entered the Verizon IndyCar Series in 2012. The team is led by IndyCar's only owner/driver, Ed Carpenter, winner of back-to-back pole positions for the Indianapolis 500 in 2013 and 2014. ECR amassed seven victories and over 20 top five finishes in its first five years. In 2017, Carpenter will compete in all oval events in the No. 20 Fuzzy's Ultra Premium Vodka Chevrolet while Spencer Pigot will take over at road and street course races. JR Hildebrand will compete for the Verizon IndyCar Series championship as he races the No. 21 Chevrolet throughout the entire season. More information on Ed Carpenter Racing may be found at www.edcarpenterracing.com.