PRESS RELEASE FOR IMMEDIATE RELEASE
STELLAR WORK BY BOTH FUZZY'S VODKA CREWS ALLOW ED CARPENTER AND JR HILDEBRAND TO FINISH RACE AT TEXAS MOTOR SPEEDWAY
Team Repaired Both Cars Following Multi-Car Accident To Help Carpenter Earn 11th and Hildebrand Finish 12th
(FORT WORTH, Texas) June 10, 2017 – Race Notes
It looked as though the Rainguard Water Sealers 600 would come to an early end for the entire Ed Carpenter Racing team, but the Fuzzy's Ultra Premium Vodka crews worked hard to make sure that was not the case. Both Ed Carpenter and JR Hildebrand were collected in a seven-car accident on Lap 152 of 248. With neither car damaged beyond repair, the No. 20 and No. 21 crews worked to fix both Chevrolets. Because of the attrition on track, by resuming the race Carpenter earned an 11th place result while Hildebrand finished 12th.
A disappointing qualifying result yesterday did not hold Carpenter back at the start, as he rolled off 14th but gained seven positions within the first three laps. By Lap 17, Carpenter had worked himself into the Top 5 and was locked in a battle with the lead pack of cars through the first stint of the race. Hildebrand started 18th and was 15th by the time the first caution came out on Lap 37.
Both drivers made a stop when the pit lane opened on Lap 41. Carpenter requested no changes to his car, while Hildebrand took a front wing adjustment. Hildebrand entered the pit lane in 18th, but his crew gained him eight positions to get him out in 10th. The gain was short lived, as Hildebrand was given a penalty for a pit speed violation and had to take the restart from the back of the field. Carpenter was 5th at the time of the Lap 48 restart, Hildebrand was mired in 19th.
It took Hildebrand just over 20 laps to get himself and the No. 21 Fuzzy's Vodka Chevrolet back into the Top 10. Meanwhile, Carpenter settled in in the lower half of the Top 10, content to stay within striking distance of the leaders. The next caution on Lap 91 gave both another opportunity to pit under a yellow, with Hildebrand jumping four positions to move up to 6th and Carpenter remaining in 8th.
The green flag came back out on Lap 102 but the caution immediately flew again before the entire field had crossed the start/finish line. This time, the caution was for Carpenter. At the restart, Tristan Vautier came down on Carpenter, hitting Carpenter's front wing. Carpenter did full 360-degree spin at over 200 miles per hour, but managed to make contact with nothing, straightening the No. 20 out and continuing on. The only damage to the car was a cut tire, which he had to come in to a closed pit lane to repair. His penalty was taking the restart from the back, where he would have been regardless because of the spin.
At the restart on Lap 107, Carpenter was 19th. Like Hildebrand in the stint before him, Carpenter set sail for the front of the field and reached the Top 10 again on Lap 138. When a yellow came out the same lap for debris, Hildebrand, who had dropped back slightly, was running 9th just ahead of Carpenter. Again, both Carpenter and Hildebrand were able to pit under a caution. Carpenter came out of the pits in 10th while Hildebrand dropped to 13th while avoiding contact with Carlos Munoz.
The race briefly returned to green flag conditions at a restart on Lap 147. Ahead of Carpenter and Hildebrand, things went awry on Lap 152. Tony Kanaan and James Hinchcliffe made contact, starting a multi-car accident that ended up collecting seven cars. Carpenter and Hildebrand were both caught up in the melee, with Hildebrand's No. 21 being returned to the garage area via a tow truck while Carpenter drove the No. 20 back into the pit lane.
The team quickly realized that if Carpenter could return to the race for even one lap, he would automatically pick up four positions. The crew immediately began repairs to the No. 20; meanwhile, the No. 21 crew assessed the damage to Hildebrand's car and deemed it able to return to competition with repairs of their own.
The race was red flagged for clean up and the Fuzzy's Vodka crews feverishly worked on both cars. Carpenter climbed back into his No. 20 and re-entered the race on Lap 163; Hildebrand was back out by Lap 183. Though the penalty for unapproved work under a red flag was two laps, both cars were already multiple laps down to the leaders and their positions were not affected. However, because of the quantity of cars that had retired from the race, Carpenter returned to the race in 12th place while Hildebrand was 13th.
On Lap 201, another car made contact with the wall and exited the race. This yielded one more position to both drivers, with Carpenter moving up to 11th and Hildebrand into 12th. Once it was not possible for Carpenter to gain any more positions, he brought the No. 20 in, despite the fact he was running laps faster than the leader. Four more cars made contact in the closing laps, leaving only nine cars to take the checkered flag. Hildebrand stayed out until the conclusion of the race, but did not gain any additional positions.
· After 15 straight weeks of having a car on course at a race track, the team has earned a well-deserved break. ECR will not participate in any tests in the coming week, instead returning to the track for the the KOHLER Grand Prix at Road America. Practice will begin on June 23, with the race taking place on June 25. Spencer Pigot, road and street course driver of the No. 20, will join Hildebrand on track. Carpenter's next race will be the Iowa Corn 300 on July 9.
ED CARPENTER (No. 20 Fuzzy's Ultra Premium Vodka Chevrolet), Finished 11th: "It was a wild night. We overcame a lot of adversity. First the spin - I was hoping for a spin and win! - and then got caught up in that big one. But there's no quit in Ed Carpenter Racing. As many cars as were crashed out, we figured we'd patch it back up and salvage some points. You collect points all year long and you never know what a night like tonight might do at the end of the year for the entrant championship standings for both the No. 20 and the No. 21. I'm proud of the Fuzzy's Vodka guys putting in the extra work. The easiest thing to do would have been packing up and heading home. I'm thankful for the drive of this team, getting back out there and finishing with both cars. There was a lot of tore up stuff tonight, but all things considered we got out of it alright for crashing twice! But it was really unfortunate, I think we could have raced with those guys at the end. We just had too many things happen, but that's the way it goes."

JR HILDEBRAND (No. 21 Fuzzy's Ultra Premium Vodka Chevrolet), Finished 12th: "Huge credit to the team for recognizing that there was an opportunity to fix the car, get back out, and pick up some positions. The Fuzzy's Vodka crew killed it. With no set up pad, the car that I rolled back out there with could have competed for a Top 5 finish today with no problem. I'm really proud of the guys. It is a big confidence boost for everyone, the day goes totally sideways and we're able to end on a positive note which always feels good. Ed (Carpenter) and I were both able to take advantage of the team doing awesome work. Hopefully this kind of gets us on a bit of momentum heading into the rest of the year, we have a lot of racing left to do. It is a bummer not to get a much better finish that we easily could have gotten today, regardless of the carnage, but it makes us all feel good about what we can do from here on out.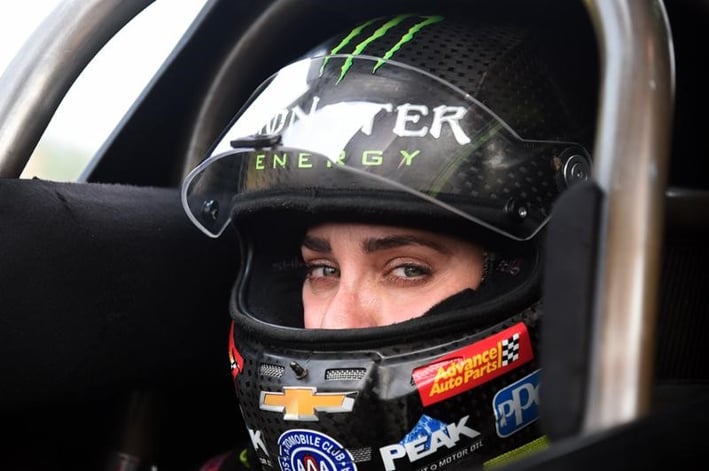 Ed Carpenter's 16th race at Texas Motor Speedway proved to be one of his most eventful. Contact with one car forced him into a spin, then he was collected in a multi-car accident. His Fuzzy's Vodka crew repaired his No. 20 and by resuming the race, he earned an 11th place finish.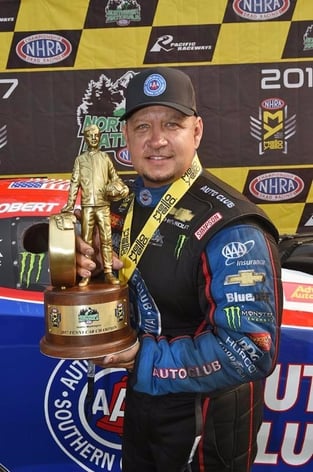 JR Hildebrand was collected in the same seven-car incident as team owner Ed Carpenter. Instead of calling it quits, his own Fuzzy's Vodka crew repaired his car. Hildebrand was able to take the checkered flag and bring home a 12th place finish.
About Ed Carpenter Racing
Ed Carpenter Racing (ECR) first entered the Verizon IndyCar Series in 2012. The team is led by IndyCar's only owner/driver, Ed Carpenter, winner of back-to-back pole positions for the Indianapolis 500 in 2013 and 2014. ECR amassed seven victories and over 20 top five finishes in its first five years. In 2017, Carpenter will compete in all oval events in the No. 20 Fuzzy's Ultra Premium Vodka Chevrolet while Spencer Pigot will take over at road and street course races. JR Hildebrand will compete for the Verizon IndyCar Series championship as he races the No. 21 Chevrolet throughout the entire season. More information on Ed Carpenter Racing may be found at www.edcarpenterracing.com.