Electrical Failure Sidelines Ed Carpenter A Quarter of the Way Into Today's 500-Mile Race
LONG POND, Penn. (August 22, 2016) – Race Notes
After a washout yesterday, the Verizon IndyCar Series returned to Pocono Raceway to race 500 miles under blue skies today. Josef Newgarden earned his fifth Top 5 finish of the year with his fourth place today in the ABC Supply 500. What can only be described as bad luck continued to plague Ed Carpenter, who fell out of the race with an electrical failure barely a quarter of the way into the event.
Both Fuzzy's Ultra Premium Vodka Ed Carpenter Racing Chevrolets cars started the race in the top 10. Carpenter qualified 10th, his third top 10 start in five races this year. Newgarden earned his third front row start of the year when he qualified 2nd.
Carpenter was able to maintain his position at the drop of the green flag. Newgarden smartly ducked behind the pole sitter Mikael Aleshin, biding his time. He did not have to wait long, seizing an opportunity on Lap 2 and taking the lead of the race. A yellow came out seconds later after Takuma Sato made contact with the Turn 3 wall.
Throughout the first stint of the race, both Carpenter and Newgarden battled understeer in Turn 3. Carpenter made his stop first on Lap 32 from the 10th position for a front wing adjustment. Newgarden had dropped to 3rd by his first pit stop on Lap 34, when he received a front and rear wing adjustment.
Newgarden re-entered the race in 4th, but passed Munoz on Lap 38 to move back into 3rd. Carpenter was 15th by the time stops cycled through. He had gained a position back and was running 14th on Lap 57 when he radioed in that the car had lost power. He coasted in from Turn 2, bringing the No. 20 Fuzzy's Vodka car to a stop in his pit box. The electrical failure was deemed terminal and Carpenter exited the car, credited with a 21st place.
Meanwhile, Newgarden exchanged the lead with Alexander Rossi and made his second pit stop on Lap 64. Just behind Newgarden, three cars made contact in the pit lane, causing the second yellow flag of the race. Newgarden took the restart on Lap 70 from the third position.
For the next stint of the race, the top six cars ran together and continuously swapped positions. Newgarden ran third for most of the stint, taking the lead when the first two cars made their stops before him. On Lap 96, he made his third stop and asked for no adjustments on the No. 21 Fuzzy's Vodka car.
Newgarden remained in third through the next round of stops. On his fourth pit stop on Lap 125, the crew took turns of out both the front of rear wings of the car. Again, he maintained position and was third.
The leaders began to catch lapped traffic less than 20 laps later. On Lap 141, Newgarden was able to get around Aleshin and move into 2nd. Also able to get around Aleshin was Will Power, who began to pressure Newgarden. Power moved around him on Lap 150, with Newgarden staying behind to draft off him.
On Lap 155, Newgarden made his third stop for a final rear wing adjustment. Three laps later, Verizon IndyCar Series points leader Simon Pagenaud made contact with the wall, causing another yellow. After the Lap 162 restart, second place Ryan Hunter-Reay lost power and was forced to pit, moving Newgarden to 2nd. Aleshin was able to work his way around Newgarden on Lap 170, dropping him to 3rd.
A debris caution flew on Lap 176, promising to mix things up once again. Newgarden was able to make his final stop during the yellow, taking new tires and a timed fuel fill. While he beat Aleshin out, Sebastien Bourdais did not take tires and jumped ahead of Newgarden.
At the restart on Lap 179, Newgarden was able to get around Bourdais, but Tony Kanaan followed in suit and got around Newgarden. Newgarden took the position back within the lap, but Aleshin closed in and dropped Newgarden back to 3rd on Lap 183.
Newgarden stayed in 3rd until the final laps of the race. Hunter-Reay, who was able to regain his lap under the last caution period, had powered back to the front. He passed Newgarden coming to the white flag, giving Newgarden a fourth place finish after 500 miles.
Newgarden has never finished worse than 8th in four starts at Pocono Raceway. He led 15 laps today, giving him a total of 311 laps led this year. He finished second to Hunter-Reay during last year's event.
With today's finish, Newgarden moved into third place in the Verizon IndyCar Series point standings. However, he will not be allowed to continue in the Firestone 600 at Texas Motor Speedway on Saturday evening. Since the race is resuming instead of restarting, Newgarden will not be allowed to continue after being taken out in a Lap 41 crash on June 12.
Carpenter will restart the Firestone 600 from the 5th position. The race will resume on Saturday, August 27th and will be broadcast live on NBCSN at 9 p.m. ET.
JOSEF NEWGARDEN, NO. 21 FUZZY'S ULTRA PREMIUM VODKA CHEVROLET, FINISHED 4TH: "First off, I want to say thanks to all the fans that came out. It's such a shame we got washed out yesterday. We had a lot of people come back out to watch this race and I think we put on a good show. Thank you to everyone in Pocono that supports IndyCar! The 21 car was strong; we were just lacking a little bit. I was trying so hard to hold Ryan (Hunter-Reay) off there at the end, I just couldn't quite do it! He was so fast, he had an incredible drive so congrats to him. Also to Will (Power) and Mikael (Aleshin), they were just a little better than us. I think we were a Top 5 car for sure, maybe a podium, but it was tough to beat those couple of guys in front of us."
ED CARPENTER, NO. 20 FUZZY'S ULTRA PREMIUM VODKA CHEVROLET, FINISHED 21ST: "Ed Carpenter Racing has performed so awesome this year and the 20 car can't catch a break. I haven't finished a full race this season. I made one mistake at Phoenix, but other than that we've just had things happen. Some of it shouldn't have happened and could have been avoided, so there's just a lot of frustration. This is one of my last two races this year and I felt really good coming into today. I'm not going to comment on what happened specifically, it won't do any good to talk about it out in the open. It's just frustrating."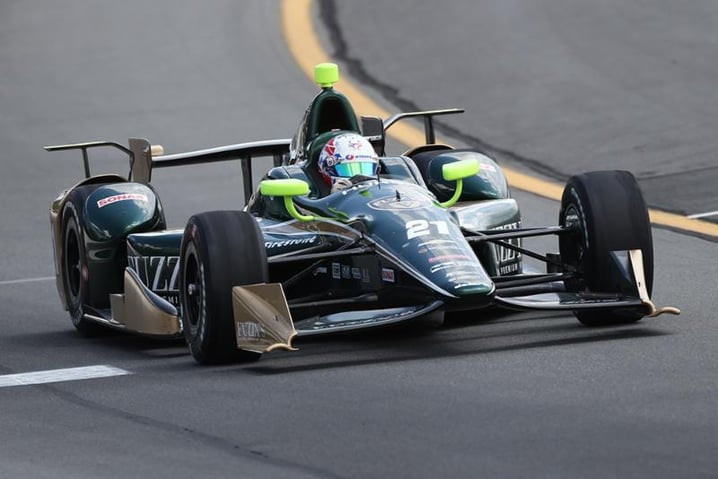 Josef Newgarden earned his five Top 5 finish of the year with a fourth place today at Pocono Raceway. He has never finished worse than 8th in four starts at the 2.5-mile triangular oval.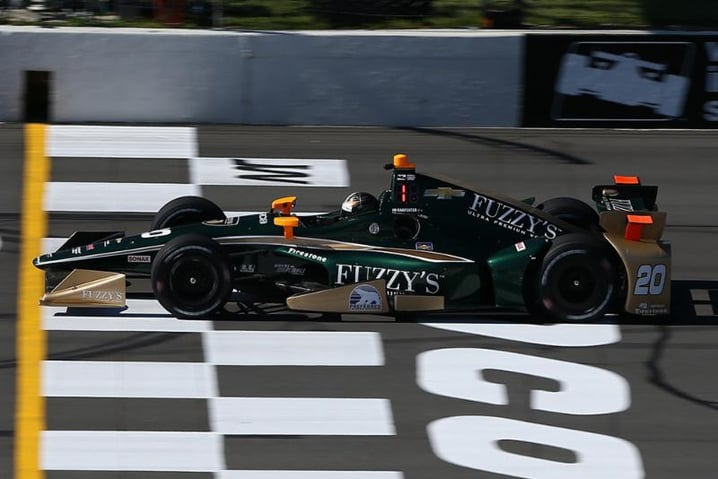 Ed Carpenter was sidelined early today, exiting the race on Lap 58 after an electrical failure caused the Fuzzy's Vodka car to lose power.
About Ed Carpenter Racing:
Ed Carpenter Racing (ECR) first entered the Verizon IndyCar Series in 2012. The team is led by IndyCar's only owner/driver, Ed Carpenter, winner of back-to-back pole positions for the Indianapolis 500 in 2013 and 2014. ECR has amassed seven victories and 20 top five finishes in the past five years. In 2016, Carpenter will compete in all oval events in the No. 20 Fuzzy's Ultra Premium Vodka Chevrolet while Spencer Pigot will take over at road and street courses. Josef Newgarden will compete for the Verizon IndyCar Series Championship as he races the full season in the No. 21 Chevrolet. More information on Ed Carpenter Racing may be found at www.edcarpenterracing.com.