We have many employees and customers who are veterans and we are so thankful for their service.
One such veteran-owned company, Bottle Breacher, was started by a Navy SEAL, Eli, and his wife, Jen. The Military Veterans at Bottle Breacher used to use 50 caliber ammunition to defend our country. Now they use ammo to make bottle openers, whiskey bullets, cigar bores and much more. When they're cutting metal, they use Hurco CNC machines. Check out this cool video that shows how the bottle breachers are made.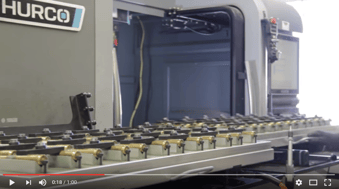 Last, but definitely not least, we would like to recognize the many veterans who work at Hurco.
Nick Brooking
Robert Buckland
Mike Cope
Harold Cox
Greg Dozier
Mark Gilmore
Ron Goodhart
Don Hammer
Doug Hilker
Lonnie Leffew
Douglas Lewis
Greg Loman
Juan Lopez
Dave McGilvrey
Cory Miller
Todd Musall
Dave Plank
Karl Szabo
Chris Trueblood
Joseph Wade