Background
For those of you who don't follow every single move we make at Hurco, let me give you a brief synopsis of the Hurco Chipmaker Challenge. As we approached IMTS, the Hurco team brainstormed ways to add some excitement and get attention for manufacturing entrepreneurs. We landed on a contest we called The Chipmaker Challenge (for outside the beltway types...I mean for you readers who are outside of the job shop world--machinists refer to themselves as chipmakers because the pieces of metal that come off the big block of metal when they cut parts are called chips). Anyway, we knew we wanted to give away a brand new Hurco CNC machine, but people in our industry are competitive, proud of their profession, and VERY ENTREPRENEURIAL. That ruled out a raffle or a sweepstakes. So, we modeled our Chipmaker Challenge contest after the show The Shark Tank.
The best decision we made was recruiting judges to make the decision. The quality of applicants exceeded my expectations and narrowing down the field to the seven finalists who would appear at IMTS was grueling. All of us Hurco are extremely thankful to everyone who participated, but especially the seven finalists who took this journey with us. It was a "learn as you go" situation and they hung in there with us through it all knowing that only one would win and the other six would lose.
So, where are they now?
Ben Noordehoek: On Time Machining
Click here to watch Ben's video application to see his how his passion for efficiency has made him a CNC rock star.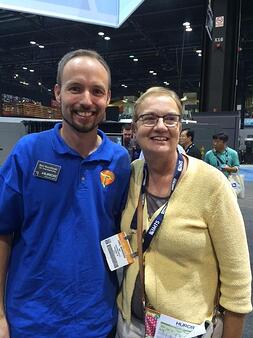 In this blog post, I will give you the behind-the-scenes glimpse at our finalist Ben Noordhoek. He didn't win the machine, but earned the title Hurco evangelist. Ben's knowledge of our control, passion for efficiency, and ideas for new features impressed our engineers so much, they asked him if he wanted to work here!
We didn't have any luck wooing Ben down south to Indiana from his native Michigan where he has made a home with his wife and children (and the grandparents nearby to babysit on short notice), but he has stayed in touch with emails and visited us here in Indianapolis. Ben continues to supply us with brilliant ideas to increase efficiency. (Pictured left:Ben with his mom, who came to IMTS with Ben's dad and sister to root for Ben at the Chipmaker Challenge Championship).
Ben was one of two finalists who didn't have a business yet, but started planning a business venture with a colleague six years ago when they decided to eliminate all personal debt and become rock stars at their current company to prepare for life without a net...the life of an entrepreneur.
We enjoyed Ben's enthusiasm and passion for efficiency! During one of our conference calls, another finalists was talking about the problem his company has due to the need to outsource parts. On cue, Ben said, "Sounds like you need quality parts ON TIME," which was the theme of his business plan. Passion for efficiency doesn't describe the drive Ben has to figure out the fastest, most efficient method to manufacture parts.
Below is an excerpt from his application where he illustrates why we have dubbed him the conversational evangelist and Mr. Efficiency. You have to watch the video of his pitch at IMTS to truly understand his unique talents.
"I can make parts fast in any machine; the problem is it takes forever to make quality parts fast in any machine, for that I need a Hurco. What's the difference between a part and a quality part in this industry? About .0004". I've assembled stuff from shops that do everything CAM, it rarely fits nice, it's either sloppy or you need a hammer. You end up spending hours re-setting parts up to dust a thousandth of an inch off a surface so it will go together. That's stupid, it was already set up so why not make it right the first time. Then as I'm trying to release a wedged part that doesn't fit right so I can dust a couple tenths off it to make it right, I slice my fingers on the sharp edges that were careless de-burred with a pencil grinder because the CAD model had sharp edges and it's cut to data and it's a pain to put blend rads in so they didn't bother, just like they didn't bother checking the part because they never paid any attention to it because the software did all the work.

In a Hurco you just deck a part with a facemill as block 1, then you mill frame with .05 corner rads as block 2, pop holes in for block 3, NC program call block 4, text detail number block 5, if something is not right it's easy to change! In the end the conversational blocks took barely any time, the NC program did the unique contours, and the final part looks great, which customers love.

Other things that make conversational useful: when I have 12 details that are all very similar but slightly different and I take 4 minutes to write a program, changing the program only takes a few seconds. I can write template programs that have the angle of some lines programmed in, length of other lines, endpoints of other lines, blend rads everywhere so when I'm done all I have to do is change a couple numbers for a similar but different part. If I used CAM I could import my sequence and post a program in
about a minute, but wait! The CAD data does not have blend rads! I'll end up spending a couple minutes adding the rads to each new model or I'll spend a couple minutes hand de-burring the parts. Once my template is done it usually only takes a few seconds to change it for the next part, and blend rads and chamfers are automatic!

Nothing against CAM, but there is a time and a place for user friendly programming.
Hurco's also have a great coolant pump, when I turn the coolant on I want a lot of coolant, some machines barely have enough to keep my tools from breaking."
Watch Ben's pitch at the IMTS Chipmaker Challenge Championship.