Winner of Colts Tickets is a Machinist for Eli Lilly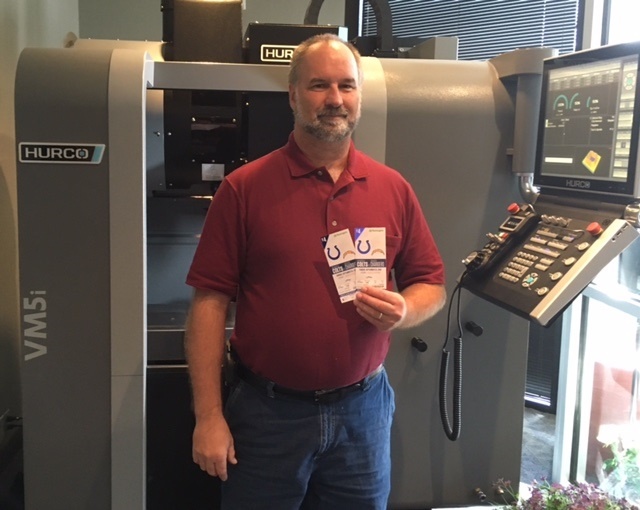 Rob Schonegg is a machinist for Eli Lilly, a pharmaceutical company based here in Indianapolis (home of Hurco, too). As part of our sponsorship with the Indianapolis Colts, we have great seats to the game that we like to share with our customers. Rob was the winner of the drawing and stopped by today to pick up the tickets to the game and passes to the VIP Colts Tailgate party that's before the game.
He's been running Hurcos at Lilly for more than 20 years. He told me this is the second time he's won a prize from Hurco. The first time was when he attended an open house on a Friday evening back in 1997 when Lilly just had a Hurco KMB1 (they still have it and it still makes chips, but they've added a VM30 and a VMX30i to the Hurco collection) . He and his wife were leaving the event and he saw that Hurco was giving away calculators. "Even back then, you didn't need a calculator when you were running the Hurco, but I decided to get one anyway," said Rob. He filled out a form to get the calculator, but was shocked when he was notified that he had won a trip to Disney World. "I didn't even know there was a drawing for a trip," Rob told me.
At the Lilly machine shop, he makes a lot of prototype parts, lab equipment, and parts for plants around the world.
Congratulations Rob! Hopefully, you'll bring some good luck to the Colts on Sunday.