Boyce Technologies Producing 3,000 Bridge Ventilators
Hurco customer, Boyce Technologies (www.boycetechnologies.com/), based out of Long Island City, New York, designs and manufactures security and communications equipment for the mass transit market. This equipment includes emergency response systems, intercom systems, security alarm systems, radio and wireless networks, and customer information display systems. His company quickly pivoted to help fight COVID-19 by manufacturing bridge ventilators. Below is the article highlighting their effort.
The relationship between Boyce and Hurco began in 2008 when he purchased his first machine - a VMX30 vertical machining center - which was installed in his living room...no joke, read the article here! https://mfgnewsweb.com/archives/1/43469/Current-News-oct15/NYC-Entrepreneur-Makes-Largest-One-Time-Purchase.aspx .
Over time Boyce Technologies continued to grow, and to this date still holds the record for the most machines purchased in one transaction. Today they have a total of 21 Hurco machines in their facility, and have grown into a large commercial building, and out of the living room where things began. The Boyce Technologies story is truly one of success!
Recently, Bill de Blasio, the Mayor of New York City, showcased one of the 3,000 new, locally produced ventilators that City Hall purchased for $10 million as part of the new effort to manufacture the needed devices here at home.
The FDA-approved devices were built by Boyce Technologies in Queens and are "bridge" ventilators — a boiled-down version of the full-fledged device capable of providing many of the functions, but at a fraction of the size and price. According to Allie Griffin of the Queens Post:
Two technology and product design experts in New York City put their heads together to look for a solution and worked with the City's Economic Development Corporation to bring it to fruition.
Scott Cohen, co-founder of New Lab, and Marcel Botha, CEO of 10XBeta, led the effort and worked with Charles Boyce, president of Boyce Technologies to develop the machines.
They collaborated with engineers and alumni from the Massachusetts Institute of Technology, where the original design was created in a classroom in 2010.
The machine prototype was developed further by a collaborative team of hundreds of people in the past few weeks until a final design was reached called the Spiro Wave.
"Nothing like this was made in New York City a month ago, two months ago," de Blasio said. "We are now increasingly self-sufficient."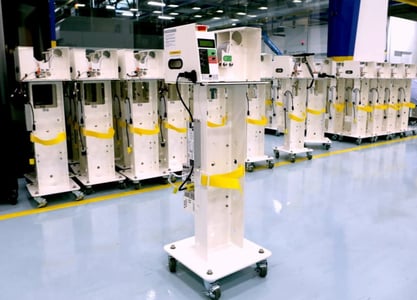 A group of new ventilators developed by Scott Cohen, Marcel Botha, and Hurco customer Charles Boyce.
Local production was in full swing by April and the machines were ready to be used by April 6. But, thankfully, they were not needed as stay-at-home orders slowed the spread of COVID-19.
Now, the machines are being moved into city hospitals "so that they have a reserve."
The new bridge ventilators are part of a larger effort to build a strategic reserve of medical supplies in the Big Apple to ensure the city is ready for the next pandemic — or the next wave of COVID-19.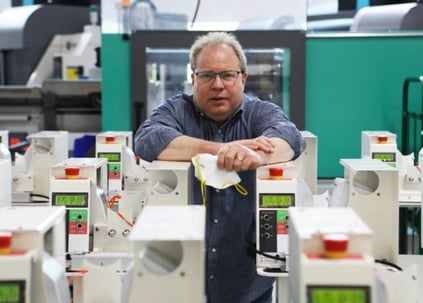 Charles Boyce, president of Boyce Technologies, is pictured with a group of "bridge" ventilators
manufactured at his Long Island City facility.
This is yet another great example of what companies and individuals stepping up can do to help in any way they can. We are proud to see not only Hurco customers raising their hand, but other small shops as well around the country doing their best to help fight Covid-19.

We're always looking for great stories of the incredible work our customers are doing. Please send me an email if you would like us to share your shop's story. copem@hurco.com