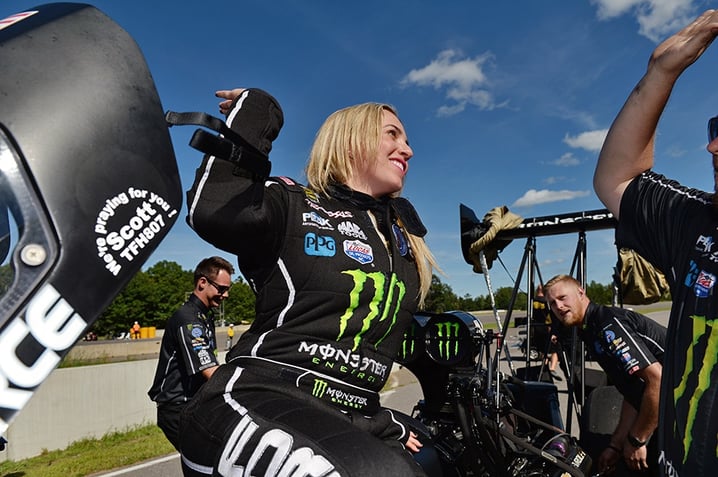 BRAINERD, MN --- Brittany Force made the most of her return to the final round at the 35th annual Lucas Oil NHRA Nationals. Last year Force came up a little short to No. 1 qualifier Richie Crampton but today against two-time world champion Antron Brown Force took the win in a wild, fireball spewing final run. Force and her Monster Energy Top Fuel dragster had just enough power to outrun a tire-smoking Brown, who she beat last year in Brainerd in the semifinals.
"It's just awesome to be able to win here. I felt good coming in here this weekend just because we had some success (runner-up finish) last year. We had been struggling a little bit and to come out here and get the win is exactly where we want to be going to the Countdown and the biggest race of our season in Indy (the Chevrolet Performance U.S. Nationals), so we're exactly where we want to be," said Force. "I have to say thank you to my entire Monster Energy team for all their hard work, and it feels so good to bring home another win."
"Being able to come here last year and go to the finals and not quite get it, we just wanted to completely finish it this weekend. So it feels good to do that. Actually, this is kind of a new track for me. I'd been to just about every track on the circuit as a kid coming out and watching my dad, but this was actually a new one for me in 2013. So to be able to win here is pretty awesome."
On the last run the last run of the day the motor on her Monster Energy Top Fuel dragster exploded just before the finish line. When Force, now a three-time winner in 2016, stopped her dragster it was still on fire but that did not dampen the enthusiasm for getting another win.
"It was definitely a crazy one. If we're going to blow everything up, at least turn on a win light and we did that. I didn't see Antron (Brown) next to me. I had no clue where he was, what he was doing. But I just had to keep my foot into it and I just felt it blow up and felt the tug and as long as I could hang on until I got to that 1,000-foot stripe and get the win light, and it did. I jumped out of the car and saw that it was on fire, but we're in the winner's circle," added Force.
This was the fourth time for Force pulled up beside Brown in a final round and in the previous three appearances the 2013 Rookie of the Year came up on the losing end. Last year at the Lucas Oil NHRA Nationals Force picked up her first and only round win against Brown in the semifinals. In addition to Brown, Force had to defeat 2013 world champion Shawn Langdon in the semifinals today and veteran Doug Kalitta in the second round.
"I definitely think it makes this one a very special one. All those guys we took down to get to the winner's circle, none of them are easy," explained Force in the BIR press room. "They are some of the best drivers out here, so to be able to be lined up against them and turn to win light on I think makes the entire team proud."
In the semifinal against Langdon Force had lane choice and she was aggressive on the starting line snagging a quick start, .056 to .069 reaction time, and took the win at the finish line with the quickest run of the round, a solid 3.717 seconds at 324.63 mph, in front of Langdon's 3.736 seconds at 328.86 mph.
"This race was important. We wanted to get win last year and didn't; we're coming after it. I'm going against Antron. I'm ready for this one. We want to take the win home today," said Force, from the top end after her semifinal win.
Race day started with a nice run by Brittany Force and Monster Energy Top Fuel dragster team at the Lucas Oil NHRA Nationals. Force took a starting line advantage and never trailed in the race. Her winning elapsed time of 3.725 seconds at 324.75 mph was enough for the win and lane choice over Doug Kalitta in the second round.
Courtney Force and the Traxxas Chevrolet Camaro SS Funny Car came into race day as the No. 6 qualifier and took out Brain Stewart in the first round. She posted the second quickest run of the session, 3.878 seconds, to get lane choice over Tommy Johnson Jr., in the second round.
The quarterfinal race was a critical round for Team JFR as a win by Courtney Force would stop Johnson's movement up the point standings. Force was trying to protect her father and 16-time Funny Car champion John Force from being passed in the points.
"We definitely wanted to get that win to help out dad. If we would have lost to Johnson he would have passed dad. It was great to help out a teammate with a round win like that," said Force.
Force was ousted by eventual winner Del Worsham in the semifinals. She had a nearly psychic reaction time of .031 against the reigning world champion but at about 330 feet Force's Traxxas Camaro lost traction and her day was over.
"It was a good weekend for our Traxxas team. It felt great to get back in the car this weekend. Everything felt good, everything was brand new so we were definitely getting used to a few adjustments. We actually changed the steering a little bit this morning to get the direction of the car where we want it to go. I just have to learn from that; it's a little bit of an adjustment for me as a driver," said Force.
"It's part of the process when you have a new car. I'm really thrilled with my team to put a brand new car together from top to bottom and then running a body that we've never run before I definitely want to give all the credit to my guys after such an outstanding weekend. To hold onto the second-place spot (in the Funny Car standings) going into Indy is huge for us. I think we learned that we definitely have another great race car and we owe a lot of that credit to the team and all the guys back at the shop, who put a lot of hard work into getting this car ready for Brainerd," added Force.
The Auto Club of Southern California Chevrolet Camaro SS proved to be a challenge for racer Robert Hight and the rest of the team. It was inconsistent during the two days of qualifying and on race day Hight once again won from the No. 9 qualifier position but was not able to advance beyond the quarterfinals. Hight grabbed a first round win over Chad Head with a 3.885 second run at 330.96 mph.
"Our issue is consistency. We have all the parts and skill to run low 3.80s we just need to put it together for consecutive runs. We have run in the 3.8s and we ran 3.91 against Hagan. We should have run quicker and we'll test this week in Indy. Our focus now is the Chevrolet Performance US Nationals, the Traxxas Shootout and of course the Countdown. We are moving in the right direction with this Auto Club Camaro," said Hight.
The quarterfinal race against Hagan was a tough race to lose. Hight's 3.915 second run would have been competitive in just about every other round of competition but not against Hagan in the second round. Hight will head into the Chevrolet Performance U.S. Nationals in the No. 6 position in Mello Yello points with a shot at moving up one or possibly two positions before the Countdown begins.
The lone JFR racer to have his day cut short was 11-time Lucas Oil NHRA Nationals winner John Force. In the opening session against veteran Tim Wilkerson Force was headed for his record 75th win light at Brainerd International Raceway when he lost power in the Blue DEF PEAK Antifreeze Chevy Camaro just before the finish line. A shredded blower belt was the culprit that derailed a hard charging Force at about 800 feet. The two-time 2016 winner crossed the finish line with a respectable 3.954 second run at a slow 288.39 mph beside Wilkerson's 3,923 second run at 324.75 mph run.
At the end of the day Force was proud to see one of his race cars in the winner's circle and ready to get into the Countdown and the U.S. Nationals.
"It is really good for (Brittany) mentally before the Countdown. It also really picks up the whole team. They were testing stuff and that is what is important to them to get ready for the Countdown. They got fast today and for her to get another win with Brian Husen, Jason McCulloch and Alan Johnson. That is a great Monster team and I am excited for all our sponsors and teams," said Force, from the starting line after the Top Fuel win.
"My team is going to test in Indy and we will be ready for the U.S. Nationals. We were on a roll in Denver and Sonoma. I am excited to get into this Chevy for testing and then to get back to racing. The fans have been great here this weekend," concluded Force.
MELLO YELLO POINT STANDINGS
TOP FUEL - 1. Antron Brown, 1424; 2. Doug Kalitta, 1257; 3. Steve Torrence, 1216; 4. Brittany Force, Monster Energy, 1161; 5. Tony Schumacher, 1117; 6. JR Todd, 1013; 7. Shawn Langdon, 968; 8. Richie Crampton, 840; 9. Clay Millican, 822; 10. Leah Pritchett, 637; 10. Terry McMillen, 637
FUNNY CAR - 1. Ron Capps, 1413; 2. Courtney Force, Traxxas Chevrolet Camaro SS, 1198; 3. Del Worsham, 1192; 4. Jack Beckman, 1146; 5. Matt Hagan, 1115; 6. Robert Hight, Auto Club Chevrolet Camaro SS, 1040; 7. John Force, PEAK Antifreeze Chevrolet Camaro SS, 1003; 8. Tommy Johnson Jr, 999; 9. Tim Wilkerson, 915; 10. Alexis DeJoria, 765
PRO STOCK - 1. Jason Line, 1761; 2. Greg Anderson, 1683; 3. Bo Butner, 1207; 4. Allen Johnson, 1054; 5. Vincent Nobile, 1004; 6. Drew Skillman, 953; 7. Shane Gray, 825; 8. Chris McGaha, 802; 9. Erica Enders Stevens, 742; 10. Jeg Coughlin Jr, 729
PRO STOCK MOTORCYCLE - 1. Eddie Krawiec, 898; 2. Andrew Hines, 856; 3. Angelle Sampey, 659; 4. Jerry Savoie, 651; 5. LE Tonglet, 522; 6. Hector Arana, 459; 7. Chip Ellis, 454; 8. Matt Smith, 422; 9. Hector Arana Jr, 366; 10. Steve Johnson, 331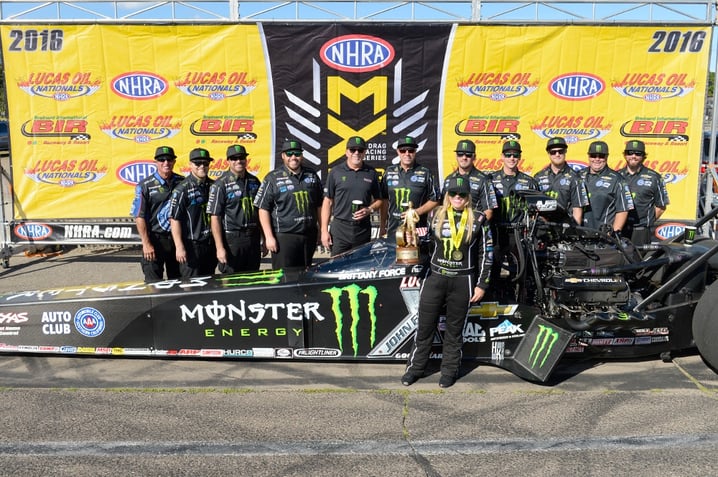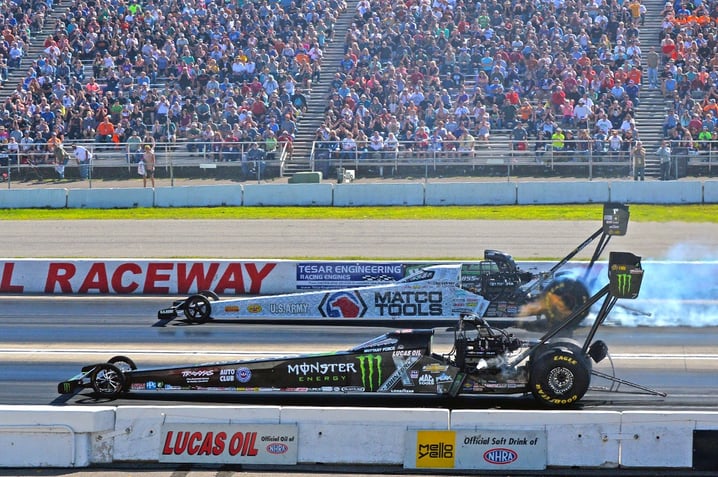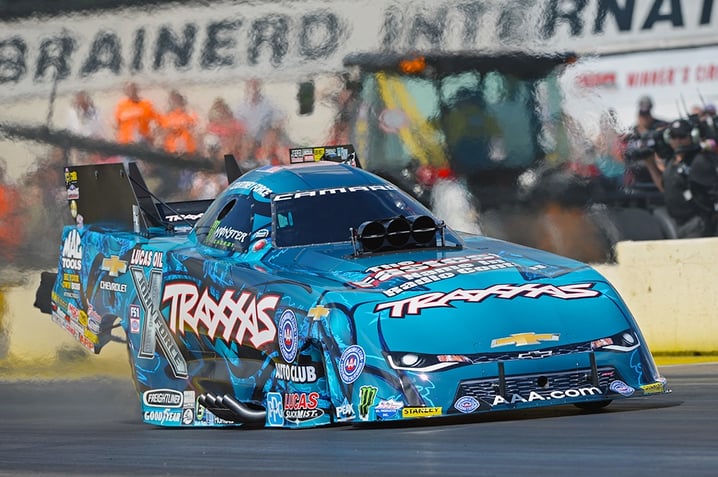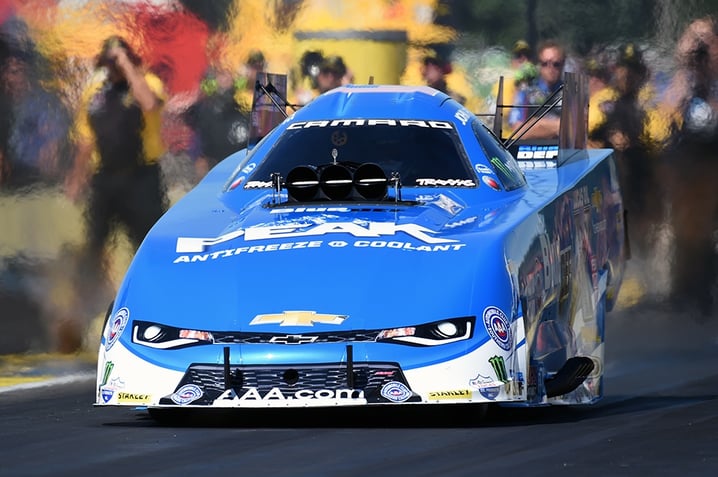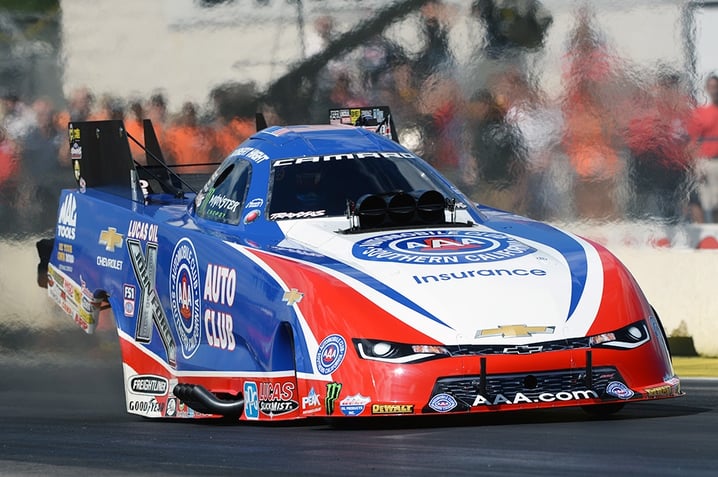 * * * *
THE DRIVERS
JOHN FORCE, 67, BlueDEF/PEAK Antifreeze 2016 Chevrolet Camaro SS
Final Qualifying: 7th at 3.915, 328.06 mph
Bonus Qualifying Points: 0
Race results: Lost to Tim Wilkerson.
ROBERT HIGHT, 47, Auto Club 2016 Chevrolet Camaro SS
Final Qualifying: 9th at 3.933, 318.99 mph
Bonus Qualifying Points: 0
Race results: Beat Chad Head; Lost to Matt Hagan
COURTNEY FORCE, 28, Traxxas 2016 Chevrolet Camaro SS
Final Qualifying: 6th at 3.892, 317.34 mph
Bonus Qualifying Points: 0
Race results: Beat Brian Stewart, Tommy Johnson Jr.; Lost to Del Worsham.
BRITTANY FORCE, 30, Monster Energy Top Fuel Dragster
Final Qualifying: 3rd at 3.693, 323.97 mph
Bonus Qualifying Points: +1 (3rd quickest of Q4)
Race results: Beat Terry Haddock, Doug Kalitta, Shawn Langdon, and Antron Brown