HIGHT MOVES UP IN POINTS WITH CHICAGO SEMI-FINAL FINISH
TEAM JFR RACE REPORT
13th of 24 races in the NHRA Mello Yello Series
19th annual K&N Filters Route 66 NHRA Nationals
Route 66 Raceway
Joliet, IL
July 10, 2016
Photos courtesy of Gary Nastase Photography for media use only.
* * * *
Final round results from Sunday's 19th annual K&N Filters Route 66 NHRA Nationals,thirteenth race in the 2016 NHRA Mello Yello Drag Racing Series:
FUNNY CAR – Jack Beckman, Norco, Calif., Infinite Hero Dodge, 3.955, 324.05 mph def. Ron Capps, Carlsbad, Calif., Napa Auto Parts Dodge, 4.522, 194.74 mph.
TOP FUEL – Antron Brown, Brownsburg, Ind., Matco/US Army dragster, 3.777, 321.19 mph def. J.R. Todd, Indianapolis, Ind., Sealmaster dragster, 3.798, 322.11 mph.
PRO STOCK – Greg Anderson, Mooresville, NC, Summit Racing Equipment Chevrolet Camaro, 6.644, 209.01 mph def. Bo Butner, Floyds Knobs, Ind., Butner Auto Sales Chevrolet Camaro, 6.667, 209.17 mph.
PRO STOCK MOTORCYCLE – Andrew Hines, Brownsburg, Ind., Harley Davidson V-Rod, 6.858, 194.91 mph def. Angelle Sampey, Mathews, La., Star Racing/PSE Buell, 6.893, 193.40 mph.
* * * *
HIGHT MOVES UP IN POINTS WITH CHICAGO SEMI-FINAL FINISH
JOLIET, IL --- Robert Hight and his Auto Club Chevrolet Camaro SS made a move in the Funny Car point standings with a strong qualifying effort and a semi-final finish at the 19th annual K&N Filters Route 66 NHRA Nationals today in Joliet. Hight, the No. 6 qualifier, took out Cruz Pedregon and Alexis DeJoria before falling to eventual winner Jack Beckman in the semi-finals. This was the second race in a row for Hight to reach the semi-finals and fifth time this season for the Auto Club Chevy to reach at least the final four.
The semi-final race was one of the closest of the round in either nitro categories. Hight took a slight starting line advantage in reaction time but at the finish line Beckman was able to post a winning elapsed time of 3.923 seconds to Hight's 3.970. The two round wins today were critical to the Auto Club team moving from 8th to 6th in the point standings and Hight is only four points behind the No. 5 driver.
"We had a great chance to get another win today with this 2016 Auto Club Chevrolet Camaro. We were just down on power on that semi-final run. We made the quickest run of the quarter-finals and we were trying to run as hard again. We have the performance to go rounds," said Hight from the JFR pits. "I am glad we are moving up in the points and we could have jumped a couple more spots. We'll get ready for the Western Swing and hopefully get some more wins on the west coast. I have had success in Denver and this Auto Club team has never been more motivated."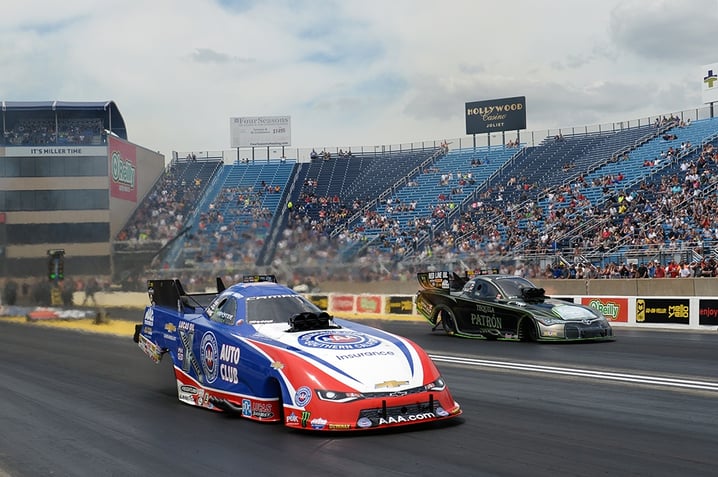 Hight and the Auto Club Chevrolet Camaro SS Funny Car picked up their 12th round win at the start of the K&N Filters Route 66 NHRA Nationals. In the first round Hight immediately got the win light when Cruz Pedregon red-lit on the starting line. With that round win Hight moved up from No. 8 to No. 7 in the Mello yello points. His winning time of 4.016 seconds was a solid run to start the day and the Mike Neff tuned Camaro was ready to step up for their round two match-up with Alexis DeJoria.
In a critical second round race Hight was able to dispatch DeJoria with a quickest of the round time of 3.917 seconds. The Auto Club Chevrolet Camaro had a fire onboard at the finish line but the Funny Car had enough speed to get to the finish line first. Hight was able to keep DeJoria in tenth place and prevent her from earning enough points to move around teammate and boss John Force in the Funny Car Mello Yello point standings. The round win also moved Hight up to No. 6 in the point standings.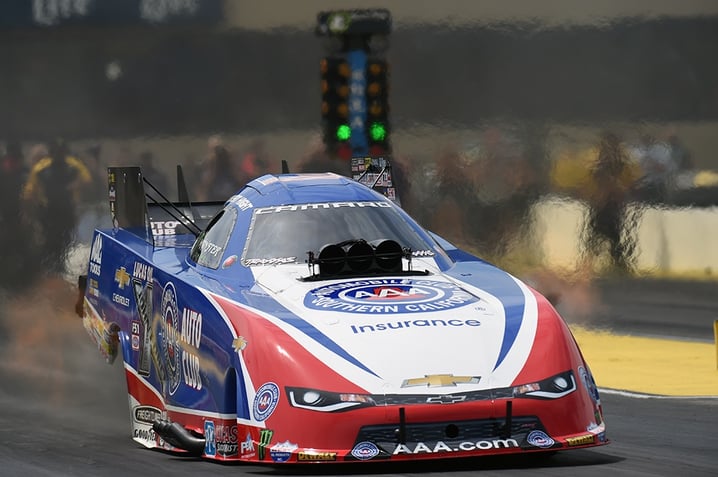 In the first round of Top Fuel facing Chris Karamesines the Monster Energy Top Fuel dragster and Brittany Force rolled up in right lane and then switched lanes before the run. Shawn Langdon had just smoked the tires at the hit of the throttle in the right lane right in front of Force so the team decided to swap lanes. The move worked out for Force and the Monster Energy team as they lit the win light with a 3.780 second run at 327.59 mph.
The fourth year Top Fuel driver was set up for a rematch of the Carquest NHRA Nationals from Phoenix with Leah Pritchett in the second round. Unfortunately Force was unable to get the win and she dropped another close race to Pritchett. Both dragsters were having problems on their respective runs but Force was unable to get the win light. The scoreboards showed elapsed times of 3.872 and 4.327 seconds.
"It's definitely disappointing to leave after such a strong weekend. Friday night No. 1 qualifier and had great runs all weekend with a track record. I ran a 3.69, which was just outstanding," said Force. "I felt really confident about today and got past that first round, but we had a mishap and stumbled and didn't past that second round. We have a weekend off and we'll come back refreshed and ready to compete in Denver. I love the western swing. It's close to home, three in a row, and I want to win."
Force was able to hold onto the No. 4 position in the Mello Yello Top Fuel point standings with five races left in the regular season.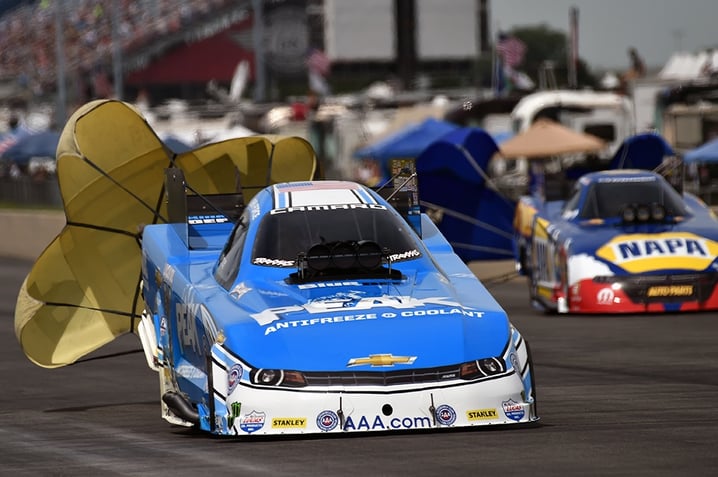 Courtney Force made five consistent, back-to-back, three-second runs this weekend to qualify No. 7 and come out victorious in her first round match-up against reigning World Funny Car Champion Del Worsham. Her Traxxas Chevrolet Camaro SS fell in the second round of eliminations which caused the 5th year driver to slip to the No. 3 position in the Mello Yello Funny Car point standings, but saw a promising future in her brand new 2016 Chevrolet Camaro SS body.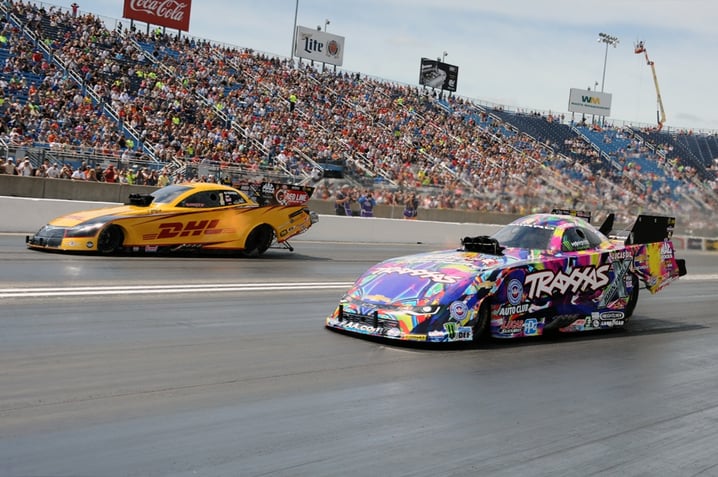 "It was a great weekend for our team because we ran the new Chevy Camaro body. It was awesome because the first lap I took with this body on my car was in Q1 and from there on we had great runs all weekend long," said Force. "Sitting behind the wheel and looking ahead out the window of this new Chevy Camaro body actually feels like sitting in my street car, my Chevy Camaro SS back home. It's cool to be able to be in a race car like that. It feels like the real thing. We made five solid three-second passes in a row this weekend and I'm excited to run this body for the rest of the season."
Force lined up her Traxxas Chevrolet next to No. 10 qualifier Worsham in the opening round of eliminations. Her winning 3.955 second pass advanced her to the next round over the veteran driver.
"We had a new paint scheme out here this weekend which I think was exciting for the Chicago fans to see. Everyone loved it and we had lots of compliments on the Traxxas design. This is the only weekend we're running these colors and then we're retiring it for the next race to come out fresh with an all-new design for the Western Swing. I'm really excited for the fans to see what we're going to bring," said Force.
Force is now 7-9 overall to Worsham in previous events, but has now won six of their last seven match-ups. Their last meeting was in Norwalk in 2015 with Force getting the win against in the semi-finals. This is the first time they have raced this season as well as the first time at Chicago.
In the second round Force lined up beside Jack Beckman. The Traxxas Chevy shook the tires and she was forced to lift off the throttle and coast to the finish line. It was the second time they have raced at Route 66 Raceway, but the first time they have raced each other this season. Their last event was at Charlotte in 2015.
"In the second round we got bit. It shook the tires really hard and I hung on to it hoping it would go through, but I lost vision and had to get out of it. We'll learn from today, move onto the Western Swing and hope we can get started on the right foot when we get to Denver," said Force.
Three-time K&N Filters Route 66 NHRA Nationals winner John Force dropped a close race to No. 4 qualifier Ron Capps in the opening round. Force's PEAK Antifreeze & Coolant Chevrolet Camaro SS Funny Car slowed at the top end and crossed the finish line with a time of 4.007 seconds beside Capps' winning 3.927 seconds.
"We'll turn the corner. We found some issues. We are going to go to Indy and test. Courtney is doing fine. Brittany is doing fine. Robert is doing fine. My PEAK Camaro has some issues. We are going to investigate a few things that might still be bothering us from Topeka. We have time but we need to go rounds and that is where our focus is going to be," promised Force.
Three years ago Force raced to the final round at Route 66 Raceway for the sixth time but today the 143-time winner was unable to reach the quarter-finals. At that race Force took out Capps in the semi-finals in their only previous meeting at the K&N Filters Route 66 NHRA Nationals.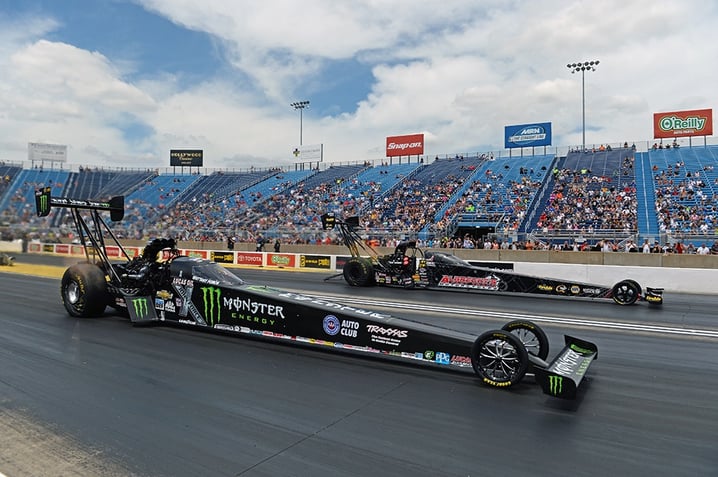 * * * *
MELLO YELLO POINT STANDINGS
FUNNY CAR – 1. Ron Capps, 1068; 2. Jack Beckman, 942; 3. Courtney Force, Traxxas Chevrolet Camaro SS, 892; 4. Matt Hagan, 828; 5. Tommy Johnson Jr, 803; 6. Robert Hight, Auto Club Chevrolet Camaro SS, 799; 7. Del Worsham, 796; 8. Tim Wilkerson, 760; 9. John Force, PEAK Chevrolet Camaro SS, 699; 10. Alexis DeJoria, 697
TOP FUEL – 1. Antron Brown, 1056; 2. Doug Kalitta, 1054; 3. Steve Torrence, 912; 4. Brittany Force, Monster Energy dragster, 896; 5. Tony Schumacher, 803; 6. Shawn Langdon, 746; 7. JR Todd, 725; 8. Clay Millican, 603; 8. Richie Crampton, 603; 10. Leah Pritchett, 521
PRO STOCK – 1. Jason Line, 1472; 2. Greg Anderson, 1392; 3. Bo Butner, 898; 4. Allen Johnson, 773; 5. Drew Skillman, 717; 6. Vincent Nobile, 666; 7. Shane Gray, 619; 8. Chris McGaha, 610; 9. Jeg Coughlin Jr, 580; 10. Alex Laughlin, 530
PRO STOCK MOTORCYCLE - 1. Eddie Krawiec, 639; 2. Andrew Hines, 505; 3. Angelle Sampey, 471; 4. Jerry Savoie, 428; 5. Hector Arana, 344; 6. Chip Ellis, 333; 7. LE Tonglet, 289; 8. Steve Johnson, 258; 9. Matt Smith, 235; 10. Michael Ray, 228
THE DRIVERS
JOHN FORCE, 67, PEAK Antifreeze & Coolant 2016 Chevrolet Camaro SS
Final Qualifying: 13th at 3.979, 312.93 mph
Bonus Qualifying Points: 0
Race Results: Lost to Ron Capps.
ROBERT HIGHT, 46, Auto Club 2016 Chevrolet Camaro SS
Final Qualifying: 6th at 3.894, 325.22 mph
Bonus Qualifying Points: +3 (3rd quickest of Q2 and 2nd quickest of Q3)
Race Results: Beat Cruz Pedregon, Alexis DeJoria; Lost to Jack Beckman.
COURTNEY FORCE, 28, Traxxas 2016 Chevrolet Camaro SS
Final Qualifying: 7th at 3.895, 328.06 mph
Bonus Qualifying Points: +3 (quickest of 3rd session)
Race Results: Beat Del Worsham; Lost to Jack Beckman
BRITTANY FORCE, 30, Monster Energy Top Fuel Dragster
Final Qualifying: 1st at 3.692, 325.69 mph
Bonus Qualifying Points: +6 (3rd quickest of Q1, quickest of Q2, and 2nd quickest of Q4)
Race Results: Beat Chris Karamesines; Lost to Leah Pritchett.
* * * *
FOLLOW JOHN FORCE RACING AT www.twitter.com/jfr_racing
****
NEXT EVENTS:
July 22-24 Mopar Mile-High NHRA Nationals, Denver, CO
July 29-31 NHRA Toyota Sonoma Nationals, Sonoma, CA
Aug. 5-7 NHRA Northwest Nationals, Seattle, WA
Aug. 18-21 Lucas Oil NHRA Nationals, Brainerd, MN
Aug. 31-Sept. 5 Chevrolet Performance U.S. Nationals, Indianapolis, IN
Countdown to the Championship
Sept. 16-18 NHRA Carolina Nationals, Charlotte, NC
Sept. 23-25 AAA Insurance NHRA Midwest Nationals, St Louis, MO
Sept. 29-Oct 2 NHRA Keystone Nationals, Reading, PA
Oct. 13-16 AAA Texas NHRA FallNationals, Dallas, TX
Oct. 27-30 NHRA Toyota Nationals, Las Vegas, NV
Nov. 10-13 Auto Club NHRA Finals, Pomona, CA