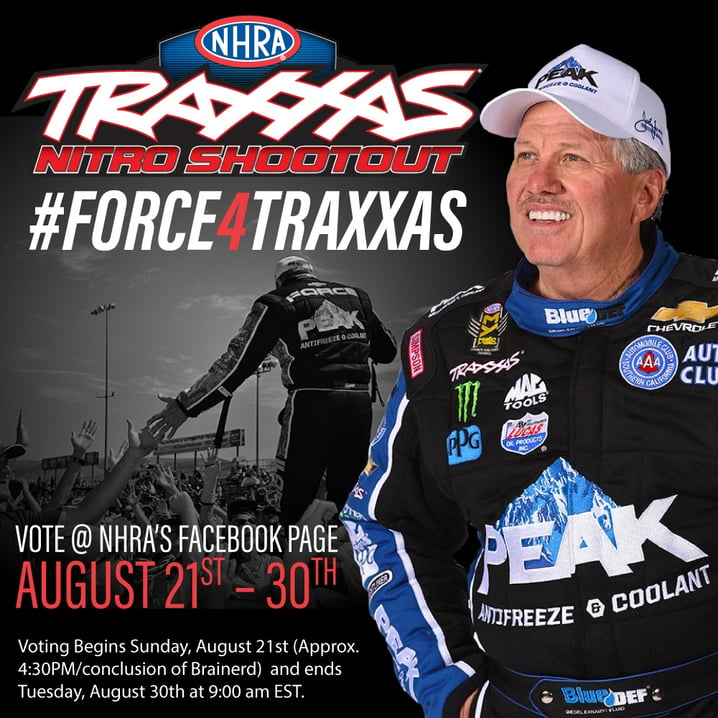 BRAINERD, MN (August 21, 2016) --- The winningest driver in NHRA history has enjoyed unrivalled support from his legions of fans for nearly four decades. When John Force was starting his now historic career fans encouraged him, cheered him and in many cases fed his low budget team. This year Force will rely on his fans one more time in his bid to race in the 2016 edition of the Traxxas Nitro Funny Car Shootout. He has two wins in 2016 but the surging Force in his PEAK Chevrolet Camaro SS was not one of the first seven Funny Car drivers to win this season and will vie for the 8th and final spot through the fan vote and lottery process. Fans can vote for John Force by clicking this link http://bit.ly/Traxxas2016 which will take them to the fan vote on NHRA's Facebook page. Voting is open now and will remain open until 9 a.m. (ET) on Tuesday, Aug. 30.
"I have a great race car and it just took us a while to get a win. We are No. 7 in the points and we got wins in Denver and Sonoma which were two tough races. I have raced in a lot of All-Star races and I definitely want to race this year in this PEAK Chevrolet Camaro SS Funny Car," said Force. "The competition has never been tougher and I love being in my race car. These young kids led by my crew chief Jon Schaffer are working hard at every race and I want to keep them busy at the Chevrolet Performance U.S. Nationals."
Through appearances at national events, match races and sponsor events Force has signed more autographs and posed for more photos than the 145-time winner can count. In addition to the race victories, round wins and record setting No. 1 qualifiers Force has participated in 28 All-Star bonus races over his legendary career. Force has won the Traxxas Shootout twice picking up wins at the inaugural event contested at the Texas Motorplex in 2012 and then two years later in 2014 he picked up his 8th Shootout win over teammate Robert Hight. The 16-time Funny Car champion has won specialty races eight times (1987, 1990, 1993, 1996, 2000, 2006, 2012 and 2014). Force has earned over 1.25 million dollars in All-Star specialty race prize money.
John Force Entertainment put together a short video to support Force's bid for the Traxxas Nitro Funny Car Shootout. The video comically highlights Force's well-documented challenges with social media as well as his undisputed success on the race track. Check out the video here: https://youtu.be/Du8oricXzDA
"I am learning Twitter and the internet but I still have a lot to figure out. Fans can vote for me on the NHRA's Facebook page after Brainerd and until the Tuesday before Indy. I wanted to make a funny video showing me messing around with my team, Courtney, Brittany and my grandkids but that also showed what I am good at which is driving this PEAK Chevy Funny Car and winning races," summed up Force.
The NHRA Traxxas Nitro Shootout, which is a race within a race, will be conducted at the Chevrolet Performance U.S. Nationals at Lucas Oil Raceway at Indianapolis. The Funny Cars will be featured on Sunday September 4 with the winner earning the $100,000 top prize. The program will award the top four finishers, with the runner-up receiving $15,000 and the semifinal losers pocketing $7,500 each.
The following drivers are qualified for the 2016 NHRA Nitro Funny Car Shootout:
Funny Car
Ron Capps (Pomona1)
Tim Wilkerson (Phoenix)
Robert Hight (Gainesville)
Alexis DeJoria (Las Vegas1)
Courtney Force (Houston)
Matt Hagan (Atlanta)
Tommy Johnson Jr. (Bristol)
To be determined by fan vote and lottery