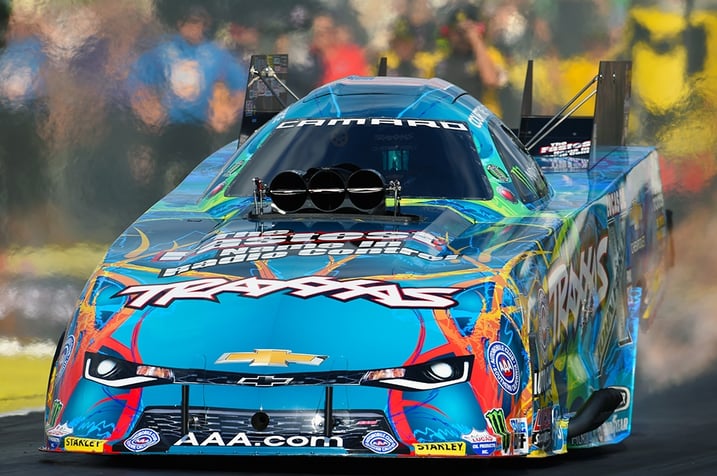 TEAM JFR QUALIFYING REPORT
2016 NHRA Final Qualifying Summary
16th of 24 races in the NHRA Mello Yello Series
29th annual Protect The Harvest NHRA Northwest Nationals presented by Lucas Oil
Pacific Raceway
Seattle, Wash.
August 5-7, 2016
Photos courtesy of Gary Nastase Photography (JForce, BForce, CForce) and Ron Lewis Photography (Hight) for media use only
* * * *
COURTNEY FORCE NO. 3 AT RECORD SETTING NORTHWEST NATIONALS
SEATTLE, WA – Today featured the top five quickest runs in Funny Car history. Courtney Force was right in the thick of the historic qualifying sessions settling in the No. 3 position at the Protect the Harvest NHRA Northwest Nationals with a stout 3.855 second run at 328.14 mph. The pass set a national ET record in Funny Car and she held the record for approximately seven minutes. Two pairs later 2015 Funny Car champion Del Worsham posted a 3.841 second run to take the record. In the final session Worsham was passed by Ron Capps briefly before setting low elapsed time with a stunning 3.832 second pass and securing the national record for the day.
"We broke the national ET record and ran a 3.85 in this Traxxas Camaro and it was pretty awesome being the Fastest Name in Radio Control cars and the fastest one on the track. It wasn't long after, Del Worsham went up and shattered the record right behind me, but it was awesome to hold onto the record for a little bit for the Traxxas team," said Force.
It was a new career-best ET for Force, trumping her 3.871 second run from Topeka earlier this year.
"(My crew chiefs) Dan Hood and Ronnie Thompson have been incredible and it's pretty awesome what my Traxxas team has been able to accomplish. I'm really proud of them. It was really exciting for us to have (the record), even for a short period of time," said Force.
Force was in the No. 2 position going into the fourth and final qualifying session. The Traxxas Chevy Camaro SS team pushed the Funny Car hard, but didn't improve. Force posted a 3.879 second elapsed time at 327.03 mph, but they were bumped to the No. 3 starting spot for Sunday's eliminations by Capps.
"We went up on the second run trying to get that national ET record back. The sun came out, it got a little hotter and the car didn't perform as well as we had hoped, but it still managed to run a 3.87," said Force of her Q4 pass.
Force will have Jeff Diehl in the opening round on race day. It is only the second time she has matched up with Diehl in eliminations.
"I'm excited to go into race day tomorrow. We're going to have some cloud cover on race day so fans are going to see some fast race cars. I'm excited that we qualified in the No. 3 spot. We picked up a few bonus points throughout qualifying this weekend and we've definitely been on the right track to get a win this weekend. We have a good race car and a good shot at it. We're going to have to try our hardest to get past dad (John Force). He's taken us out the last two weekends in a row and we're going to crush his Western Swing dreams if we have to face him," said Force.
While the youngest Force had the quickest car in qualifying John Force has had the most dominant Funny Car on race day the past two races. The winner at Denver and Sonoma will roll into race day looking to make history as the only driver to repeat the sweep of the historic Western Swing. As the No. 10 qualifier, with a 3.893 second run, the winningest driver in NHRA history will have a tough route to his unprecedented 146th Funny Car win.
"You have to treat tomorrow like any other race day. We aren't where we want to be in qualifying. We wanted to be up at the top. We will be in good conditions tomorrow and we'll be able to put 3.80s on the board in the morning and maybe even second round. We have a tough competitor in Tommy Johnson Jr. in the Make-A-Wish Funny Car. At least my Chevrolets aren't all bunched up together. We could get three Camaros to the semi-finals," said Force who will once again be racing the Realtree PEAK Antifreeze & Coolant Camaro SS Funny Car.
In 2012 Force was the No. 10 qualifier and raced to the semi-finals before Courtney Force outran him on the way to her first career Funny car victory. In 2003 Force had wins in the first two legs of the Western Swing before losing in the semi-finals to Gary Scelzi who was driving a race car tuned by Mike Neff who now is tuning teammate Robert Hight's Auto Club Camaro.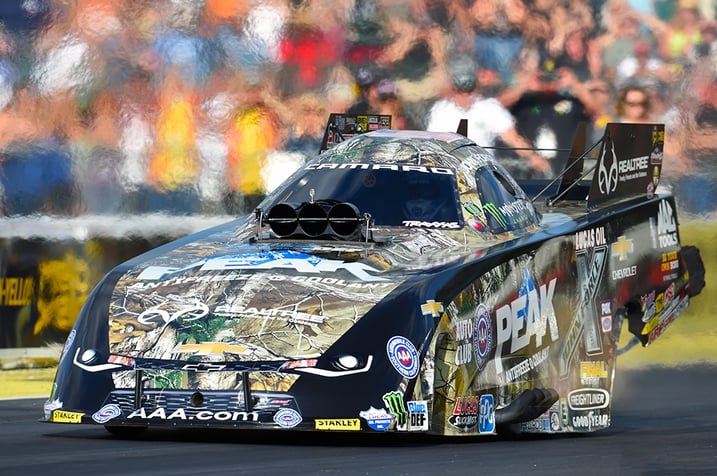 The last time Force won the Western Swing was 22 years ago to the day if he can turn on four win lights. He was a three-time Funny Car champion at the time and since then he has picked up thirteen more world championship trophies and won the Protect the Harvest NHRA Northwest Nationals five more time for a total of eight wins in ten final round appearances at Pacific Raceways. His last win here was 2014 when he was the No. 1 qualifier and he beat Jeff Diehl, Cruz Pedregon, Alexis DeJoria and Gary Densham.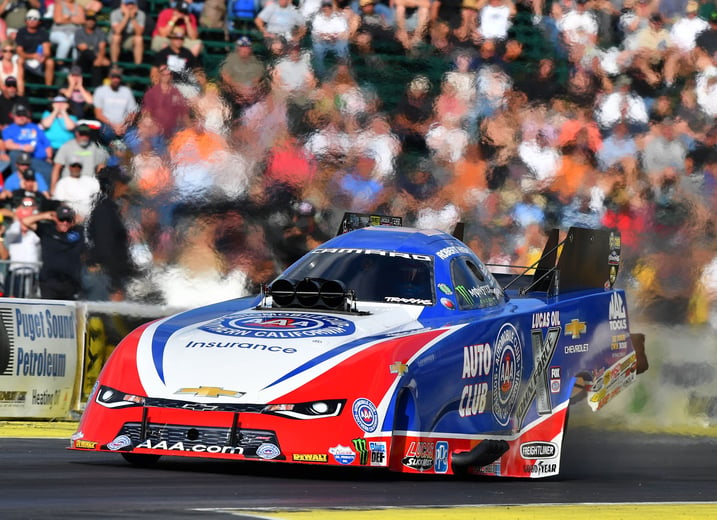 In the final session of Funny Car qualifying Robert Hight and the Auto Club Chevrolet Camaro SS Funny Car stepped up on the performance side running an impressive 3.894 seconds. Unfortunately for the 2005 Northwest Nationals finalist even that 3.8 second pass was not fast enough to secure Hight lane choice in the first round. Hight and his first round opponent Chad Head ran the exact same elapsed time but Head crossed the finish line with a faster speed and will get the 8th spot in qualifying.
"We are about three runs behind. That is what we were looking for in the first session. We have had some power issues with this Auto Club Camaro. I have the best team out here. Come race day we will be ready for whoever we have to race," said Hight from the top end after his final qualifying run.
Hight will be looking for his first win at Pacific Raceways and this is only the third time Hight has qualified in the bottom half of the field at the Protect the Harvest Northwest National. Last year Hight, the No. 4 qualifier, dropped a close race to Head. Earlier this season Hight went on to win the historic Gatornationals after defeating the second generation Funny Car driver in the semi-finals.
The Monster Energy Top Fuel dragster will start race day as the No. 6 qualifier squaring off with 2013 Top Fuel world champion Shawn Langdon. Brittany Force was the second quickest dragster of the second session last night and that elapsed time held up to keep her securely in the top half of a tough Top Fuel field. Today the team aggressively attacked the Pacific Raceways track and while they did not improve on their qualifying position they have valuable information for race day.
In the first session on Saturday Force's Monster Energy Top Fuel dragster launched hard and had an impressive run going until she hit the half-track mark when her dragster over-powered the track. Force crossed the finish line with a pedestrian elapsed time of 4.746 second. Before the last run crew chief Brian Husen gave the fans a glimpse at the performance he thought was out on the track.
"Right now we are setting it up close to what we ran the previous run. There is a chance for a low 3.70 run and we are going to take a shot at it," said Husen.
At the hit of the throttle both dragsters in the final pair Force and technical alliance teammate Steve Torrence went right into tire smoke and coasted across the finish line. Last season as the No. 4 qualifier Force raced to the quarter-finals before losing to Larry Dixon.
* * * *
NHRA ON TV
Sunday, Aug. 7, FOX will televise three hours of live finals coverage at 4 p.m. (ET).
* * * *
THE DRIVERS
JOHN FORCE, 67, Realtree PEAK Antifreeze & Coolant 2016 Chevrolet Camaro SS
Final Qualifying: 7th at 3.893, 328.06 mph
Bonus Qualifying Points: 0
First round opponent (W-L): Tommy Johnson Jr (30-9)
ROBERT HIGHT, 46, Auto Club 2016 Chevrolet Camaro SS
Final Qualifying: 9th at 3.894, 326.24 mph
Bonus Qualifying Points: 0
First round opponent (W-L): Chad Head (7-3)
COURTNEY FORCE, 28, Traxxas 2016 Chevrolet Camaro SS
Final Qualifying: 3rd at 3.855, 328.14 mph
Bonus Qualifying Points: +4 (2nd quickest of Q1 and Q3)
First round opponent (W-L): Jeff Diehl (1-0)
BRITTANY FORCE, 30, Monster Energy Top Fuel Dragster
Final Qualifying: 6th at 3.729, 325.06 mph
Bonus Qualifying Points: +2 (2nd quickest of Q2)
First round opponent (W-L): Shawn Langdon (3-5)
* * * *
RACE SCHEDULE:
Sunday, August 7
Final Eliminations 11 AM
****
FOLLOW JOHN FORCE RACING AT www.twitter.com/jfr_racing
****
Contacts:
Elon Werner Sarah Adams
John Force Racing, Inc. John Force Racing Inc.
214-244-1184 812-249-9823
Elon@johnforceracing.com Sarah@johnforceracing.com