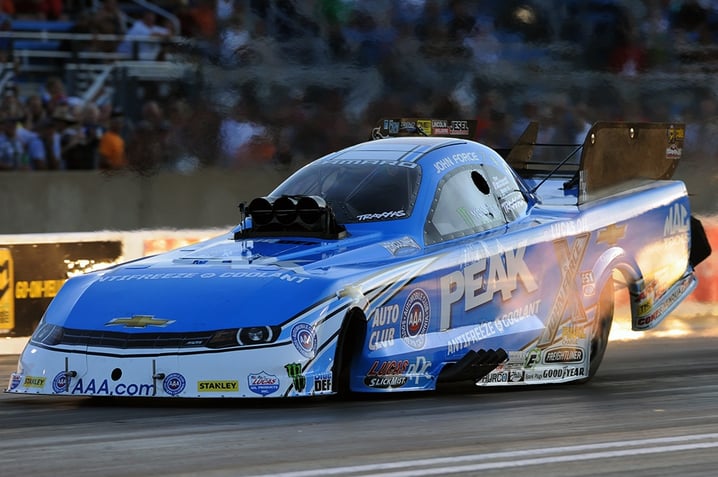 NORWALK, OH (August 11, 2016) --- On Saturday night, August 13th, history will be made at Summit Motorsports Park in Norwalk, Ohio. In addition to legendary NHRA 16-time Funny Car world champion John Force and 2009 NHRA Funny Car champion Robert Hight once again thrilling fans with their 10,000 hp Nitro Funny Cars, the great Bob Motz will make his last pass in his iconic jet truck.
Force and Hight racing their 320 mph Chevrolet Camaro SS Funny Cars, they will be joined by reigning NHRA Funny Car champion Del Worsham, two-time Funny Car world champion Cruz Pedregon, Tim Wilkerson, Bob Bode Jr, Dale Creasy Jr and Jack Wyatt to give fans a Nitro experience they will never soon forget.
Gates will open at 8 a.m. with a free autograph session in the Bud Chalet starting at 3:15 p.m. - 4:15 p.m. Fans will want to be in their seats for the pre-race ceremonies at 5:30 p.m. followed by the amazing feature show beginning at 7:00 p.m.
At the conclusion of the Kelly Services Night Under Fire the packed house will be treated to a $100,000 Fireworks Show that is estimated to last 15 minutes. The fireworks show is among the longstanding traditions at Summit Motorsports Park with fireworks ignited from multiple locations for improved impact, and in red, white, blue and other colors, they dance to carefully-choreographed patriotic music that is both inspired and inspiring.
In addition to a wide variety of seating locations at Summit Motorsports Park fans can become a John Force Winners Circle VIP. The John Force Winner's Circle is the premiere race fan hospitality package. JFWC members will sit in first-class starting line seats; have access to a private hospitality chalet which includes complimentary snacks, drinks and a sit down dinner; access to a private patio viewing area and private restrooms. Each patron will also receive a member's only event goodie bag filled with exclusive Night Under Fire Souvenirs.
Each John Force Winners Circle ticket just $199 (with seat back Force 1A Chair or Summit Club) or $189 (bench seat - Force 1A top tier). Reserved seating for the event ranges from $60-$40 with children tickets ranging from $35-$15. Call 419-668-5555 for more info or to reserve seats.