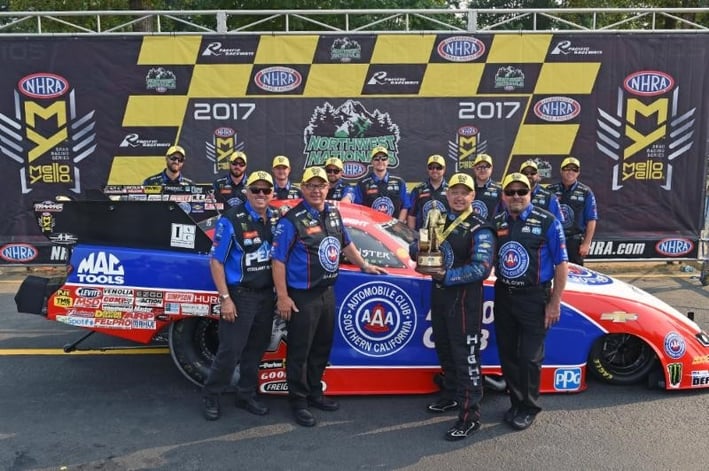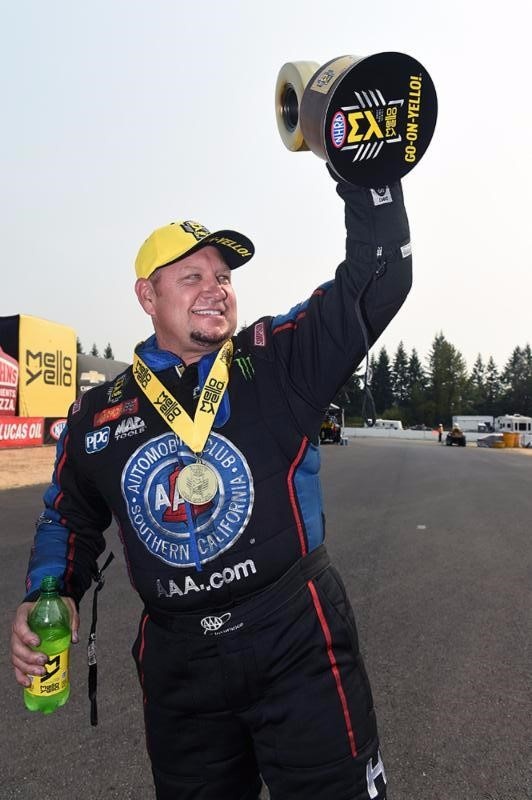 Photo credit: Gary Nastase and Auto Imagery
SEATTLE (Aug. 6) – Auto Club of Southern California Funny Car driver Robert Hight completed a near-perfect weekend, sweeping to the victory in the NHRA Northwest Nationals on Sunday at Pacific Raceways.

Hight qualified No. 1, was quickest in three of the four qualifying sessions and then was quickest in all four elimination rounds Sunday. He outran Tommy Johnson Jr. in the final round with a pass of 3.890 seconds at 328.62 mph that was low of race day.

With the victory, Hight earned his second win of the 2017 NHRA Mello Yello Drag Racing Series season – and second in the three-race Western Swing – the 39th of his career and first in Seattle. He now stands at 399 round wins, as well.

Plus, Hight's victory upped John Force Racing's Funny Car win total to 250 – the most of any team in NHRA history.

Finally, Hight clinched a spot in the Countdown to the Championship, the six-race stretch that concludes the season and determines the NHRA champs.

"This is a weekend that you dream about," Hight said. "These cars are hard to run; they're finicky, and lots of things can happen. We smoked the tires (last weekend) in Sonoma and weren't even close. (Crew chief) Jimmy Prock says, 'We are not going to do that again. We're going to race smarter, we're going to be better.'

"We ran 4-flat in the first (qualifying) run – soft. Right after that, all seven runs, we were low ET of every single session. As a driver, that gives you so much confidence. Just amazing that you can have that kind of dominating performance."

Hight started the day against No. 16 qualifier Jeff Diehl, but Hight's Chevrolet Camaro SS ripped off a pass of 3.897 seconds at 314.90 mph to cruise into the second round.

There, Hight matched up against JFR owner/teammate John Force, and it was a thrilling race. Both had identical .087-second reaction times, but Hight's pass was a tick quicker: 3.927 at 323.50 mph to Force's 3.978-second pass at 322.27 mph with the PEAK Coolant and Motor Oil Chevrolet.

In the semifinals, Hight had to run another JFR Chevy, the Advance Auto Parts Camaro of Courtney Force. Force made a solid pass, 3.939 at 325.69 mph, but Hight got off the line first and sped to the final with a 3.905-second run at 323.66 mph.

Hight faced Johnson for the second time in three races, both in the final. But Hight nearly stumbled on the starting line.

"In the final, my heart stopped," Hight said. "In the final round, you want to roll in there, stop and be ready. This car does not have a lot of tug on it. You let go of the brake, and this thing doesn't want to roll. It lit the light, blinked on, off – this is not what you want to do in the final. I let go of the brake again, and the Tree came down."

Johnson was off the line first and made a run of 3.978 seconds at 323.27 mph, but Hight ran him down with the best run of the day.

"When you can run 3.89 and stand on the gas somewhat on time, you're going to win these races when you have a car like this," Hight said.

Hight was making his second final-round appearance in Seattle and his first since falling to a teammate in 2005.

"I've never won here in Seattle," Hight said. "In 2005, my rookie year, Eric Medlen beat me in the final, and I've never been to another final. So this is pretty cool.

"And that trophy they give you here in Seattle with the Wally, that's pretty cool. It's got all the 29 previous winners; John Force eight times, that's pretty crazy. But on the front of it is Robert Hight. Good job by my guys. This is a lot of fun right now."

And it was JFR's 250th Funny Car victory. Hight, in fact, got the team's 200th Funny Car win at Topeka in 2011.

"It's a huge milestone," Hight said. "It wasn't that long ago when I got No. 200 for John. We were racing Mike Neff in Topeka, so one of us was going to get it, and I ended up edging Neff out and got the 200th win. It doesn't seem like it was that long ago, but we've amassed 50 more."

The next stop on the NHRA Mello Yello Drag Racing Series schedule is the NHRA Nationals at Brainerd International Raceway in Minnesota.

4-Second Reads:
· Best Qualifying Effort: 3.883 seconds/329.34 mph (Round 4, Qualified No. 1)
· Elimination Round 1 (Left Lane): 3.897 seconds/314.90 mph, def. No. 16 Jeff Diehl, 4.460 seconds/204.11 mph; another strong pass and third of weekend in 3.8-second range (only driver with one); vs. Diehl – now 8-1 all-time; 2-0 this season; 2-0 at Seattle
· Elimination Round 2 (Quarterfinals, Left Lane): 3.937 seconds/323.50 mph, def. No. 8 John Force, 3.978 seconds/322.27 mph; identical reaction times (.087 seconds) for the teammates, with Hight pulling away at 60 feet and every incremental thereafter; vs. J. Force – 21-21 all-time; 1-0 this season; 1-0 at Seattle
· Elimination Round 3 (Semifinals, Left Lane): 3.905 seconds/323.66 mph, def. No. 4 Courtney Force, 3.939 seconds/325.69 mph; got the jump at the light and pulled away for second finals appearance in three races; vs. C. Force – now 13-8 all-time; 3-0 this season; 1-0 at Seattle
· Elimination Round 4 (Finals, Left Lane): 3.890 seconds/328.62 mph, def. No. 3 Tommy Johnson Jr., 3.978 seconds/323.27 mph; slower reaction time but pulled ahead by 60-feet and steadily pulled away to defeat Johnson in finals for second time in three races; vs. Johnson – now 17-11 all-time; 3-2 this season; 1-0 at Seattle; 4-0 in final rounds
· Now 399-251 (650 rounds) all-time in elimination rounds in career (.614); only one round win away from 400
· Now 87-45 (132 rounds) all-time in elimination rounds after qualifying No. 1 (.659)
· Now 15-12 (27 rounds) all-time in elimination rounds at Pacific Raceways (.556)
· Now 26-14 (40 rounds) this season in elimination rounds (.650)
· Funny Car points standings: 1. Ron Capps 1,330; 2. Matt Hagan 1,172; 3. Robert Hight 1,164; 4. Jack Beckman 1,104; 5. Tommy Johnson Jr. 1,081; 6. Courtney Force 951; 7. John Force 877.