DENVER, CO (July 19, 2016) --- John Force might be hard to see at the Mopar Mile High NHRA Nationals but the 16-time Funny Car champion wants to continue to make a lot of noise on the mountain top. Force, the six-time Mile High NHRA Nationals winner, will be driving a new look Realtree PEAK Antifreeze & Coolant camouflage Chevrolet Camaro SS Funny Car this weekend. The one race partnership will highlight Force's All-American roots and his passion for building business relationships beyond the race track.
"PEAK has been a great partner with John Force Racing and bringing in Realtree is another huge deal for us and the NHRA. We'll be on FOX national TV on Sunday. What grows our sport is exposure," said 16-time NHRA Funny Car champion John Force. "We are going onto the FOX broadcast network for our Western Swing, and that is huge. For our sport, growth is very important and getting new fans is important. We love the bigger ratings we have seen on FS1, but to move up to what I call 'prime time' with FOX, where all of America can see NHRA drag racing, is very exciting. The positive growth for our sport and sponsors and fans has me ready to get in my hot rod. I would just say we've done good."
Force's team will be wearing Realtree camouflage uniform shirts and Force will also have a Realtree camouflage firesuit. In fact Force will have five firesuits this weekend as part of a PEAK promotion for later in 2016. Force will wear a different firesuit during every qualifying session and then a fifth firesuit on race day.
"I love coming to Bandimere Speedway because of the Bandimere family and all the fans. This is a great race track and we have had a lot of success here. I have won here and Robert has won here. Heck he beat me in the final a couple years ago. I have been the final round the last two years and I want to get that seventh win," said Force.
The past two seasons Force has been the No. 1 qualifier at the Mile High Nationals and came within one round of winning the race each year. Force's last win at Bandimere Speedway was against Matt Hagan in 2011. Since 2010 Force has been in four final rounds on the side of the mountain.
As the only Funny Car driver to ever sweep the Western Swing Force has established himself as the driver to beat again in 2016. After two days of testing in Indianapolis following the Route 66 Nationals Force is ready to make a run at his unprecedented 17th Mello Yello NHRA Funny Car championship.
Force has 21 career wins over the three Western swing races. The next closest active Funny Car competitor with multiple wins is Ron Capps with seven. Antron Brown and Doug Kalitta also have seven Western Swing wins in Top Fuel. Greg Anderson is the active leader in Pro stock with nine wins.

ROBERT HIGHT LOOKING FOR FOURTH WIN AT BANDIMERE SPEEDWAY
DENVER, CO (July 19, 2016) --- Robert Hight has won at least two NHRA national events every year of his professional career which started in 2005. No other driver has started their career as successfully. During that rookie campaign Hight picked up his second career win at the Mopar Mile High Nationals and also took over the points lead. This year Hight won't be able to grab the points lead with a Mile High Nationals win but he would be able to keep his multiple win streak alive. Entering the 37th annual Mile High NHRA Nationals Hight has career win No. 37 in the bank thanks to a dominating performance at the historic Gatornationals earlier this season.
"I would love to get a fourth win at the Mile High Nationals. This race is totally different than every race on the tour because we are almost 6,000 feet above sea level. I love racing here because you have to be on top of your game and I know these Auto Club crew guys and my crew chief Mike Neff will give me a great Camaro," said Hight, who currently sits No. 6 in the Mello Yello Funny Car point standings.
Two years ago Hight won his third Mile High Nationals "Wally" taking out team leader and boss John Force in an all John Force Racing final round. In 2010 it was Force again coming up on the losing end of a great race to Hight. Hight's rookie season he ran the table as the No. 1 qualifier taking out Jeff Arend, Tommy Johnson Jr., Gary Scelzi and finally Phil Burkart for his second career victory.
This year Hight has the Gatornationals win plus four additional semi-final finishes. The past two races have seen a resurgence of performance for Hight and the Auto Club of Southern California Chevrolet Camaro SS Funny Car team. Hight has raced to the semi-finals but at the end of both of those races the 2009 Funny Car champion felt they left something on the table.
"I don't want to take anything away from any other team out there but I think we had the race car that could have won the past two events. We are figuring some things out on this new 2016 Chevrolet Camaro SS Funny Car and Mike Neff has spent a lot of time working on a tune up that will take us through the end of the season," said Hight. "Denver is a different race but I know we will be set up for some good performance numbers. John Force is the only Funny Car driver to sweep the Western Swing and I would definitely like to add my name to that list."
The performance numbers Hight and the Auto Club team have been recording have been some of the most consistent in the category. The crewman turned Funny Car champion has also been lowering his career best elapsed time numbers throughout the season. His best elapsed time was a previously unthinkable 3.886 seconds at Norwalk and he has run in the 3.8s a number of other times this season. Overall the numbers the Funny Car category is recording have been nothing short of epic.
"The performance jump in the whole category has been amazing. We are running with the quickest cars in the category and we are getting quicker almost every race. It is exciting to drive this Camaro and I know it is exciting for the fans. It should make for some great highlights on FOX this weekend," added Hight.
This weekend's NHRA race will also be the first of three races in a row broadcast nationally live on FOX. Fans across the country will be able to see the exciting racing action from Bandimere Speedway live beginning at 3 p.m. ET.
COURTNEY FORCE UP FOR MILE HIGH NATIONALS CHALLENGE
DENVER, CO (July 19, 2016) --- One of the most exciting and complex races on the NHRA Mello Yello series circuit will kick off this weekend at Bandimere Speedway and Courtney Force is ready to score her ninth career Funny Car win with the Traxxas Chevrolet Camaro SS team by her side. The 37th annual Mopar Mile-High NHRA Nationals is the 14th of 24 races in 2016 and the 28-year old driver currently sits third in the NHRA Funny Car point standings. As an added bonus for the fans, Force will be sporting a fresh color scheme on her brand new 2016 Traxxas Chevy Camaro SS during the three Western Swing races.
"What a season it has been for the Fastest Name in Radio Control," said Force. "We've had probably the most consistent race car to date and that excites me as a driver. We've already picked up a win and looking for at least one more along the Western Swing. After the excitement we had over the new body and color scheme we ran in Chicago only, I am so thrilled to unveil yet another new paint scheme for the Western swing! I love being able to have something different and unique on the track that really represents the Traxxas brand. I hope the fans love this one as much as I do."
Bandimere Speedway holds the first of three back-to-back events that make up the Western Swing. This race, more than 5,800 feet up into the Rocky Mountains, is known for the altitude change. The conditions can have a huge effect on engine tune-ups, aerodynamics and race results.
"This is one of the trickiest race tracks on the circuit. It is a challenge for the crew chiefs, teams and drivers being that we are at such a high elevation. Since the air is so much thinner here compared to other tracks, it is a completely different set-up when tuning these race cars. The sound of the engine alone from a driver's standpoint is completely different from what we are used to hearing and it makes this track a unique one for us. I'm very excited to see what kind of numbers will be put down at this race track this year especially with how quick the cars in our category have been lately," said the 2012 Rookie of the Year.
In 2012, during Force's rookie season, she qualified in the top half of the field, beat Tim Wilkerson, Robert Hight and Ron Capps to advance to her second ever career final round. She was runner-up of the event. Two years later, Force qualified 7th again and beat Del Worsham before falling to teammate Robert Hight in the quarterfinals. She advanced to the final round at the very next event in Sonoma, becoming the winningest female Funny Car driver in history.
"I'm kicking off the Western Swing with an appearance for Traxxas at HobbyTown Westminster and hope a lot of fans come to join me! I love getting out to the hobby shops because they are the soul of the Traxxas' radio control business and I hope to get fans to come and check out all the awesome products HobbyTown carries. There's no better way to kick off your summer than with a Traxxas radio control car, truck, boat, etc.," added Force.
This weekend's NHRA race will also be the first of three races in a row broadcast nationally live on FOX. Fans across the country will be able to see the exciting racing action from Bandimere Speedway live beginning at 3 p.m. ET.
START OF WESTERN SWING HAS BRITTANY FORCE READY FOR CHALLENGE
DENVER, CO (July 18, 2016) --- This weekend's Mopar Mile High NHRA Nationals will start Brittany Force's fourth Western Swing experience. The driver of the Monster Energy Top Fuel dragster has never started the historic three race stretch with more confidence. So far this season Force has two wins, two No. 1 qualifiers and she is closing in on a career best round win mark. Heading into the 37th annual Mopar Mile High NHRA Nationals at picturesque Bandimere Speedway Force is looking to get back into the winner's circle.
"I love the Western Swing. We'll have three races in a row at great tracks all on the west coast. I feel really good about this Monster Energy team. We tested after Chicago and I think we will be ready for Denver," said Force.
The Mile High Nationals have been one of Brittany Force's most successful events in her young career. Last season she qualified No. 3 and raced to a semi-final finish. The previous year Force was runner-up to J.R. Todd after starting the day as the No. 9 qualifier. Force upset Khalid alBalooshi, Jenna Haddock and Bob Vandergriff Jr. before narrowing missing out on her first victory.
This season has seen Force stand in the winner's circle in Gainesville and then two weeks later in Charlotte. In addition to those two strong finishes she captured a runner-up finish in Phoenix. The fourth year pro led the Top Fuel point standings for four races and has been holding the No. 4 point position firmly in her grasp. She is less than a round out of third place in the Top Fuel standings.
"I am so proud of this whole Monster Energy team. Having Brian Husen as my crew chief and Alan Johnson as a consultant gives me a lot of confidence. We have been consistent in qualifying but we need to carry that consistency over into race day. This is a team effort I am pumped to be driving this Monster Energy Top Fuel dragster. I know we can have some fun on the Western Swing," added Force.
The addition of Husen and Johnson to the Monster Energy team along with Force's continued maturity as a driver has seen performance numbers jumps and round wins stack up over the first half of the season. Force has already won 20 rounds of racing and is only five round wins away from a new career high. Force also set the national elapsed time record at the Kansas Nationals with a blistering 3.676 second run that had he join a Force family tradition as national record holder.
"I think it is neat to be able to join my family with their list of accomplishments. The fact that we all now have set a national record at one time or another is cool," said Force after the record became official. "It is still pretty unbelievable to think about that record. It is exciting to set a record like that with this Monster Energy team. I have to thank Alan Johnson, Brian Husen and all my crew guys. That record is something we are all really proud of and we'll always be able to hang onto that memory."
Last year Force set the track speed record of 326.95 mph at the Mile High Nationals and this season she would like to add event winner to her list of accomplishments.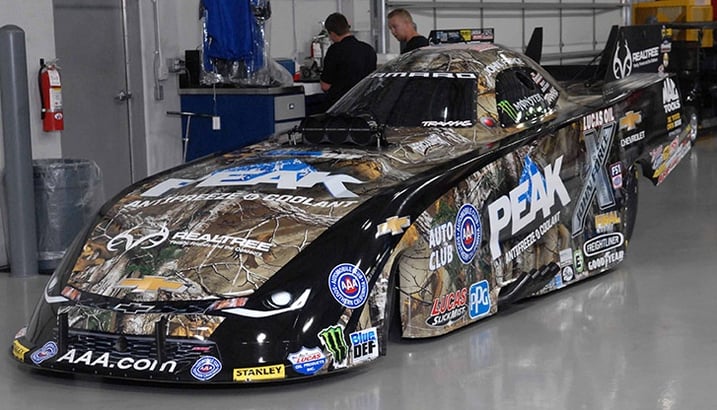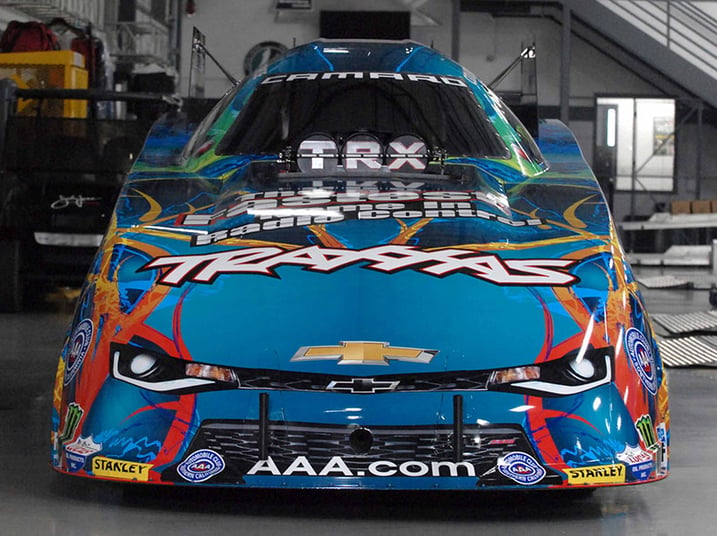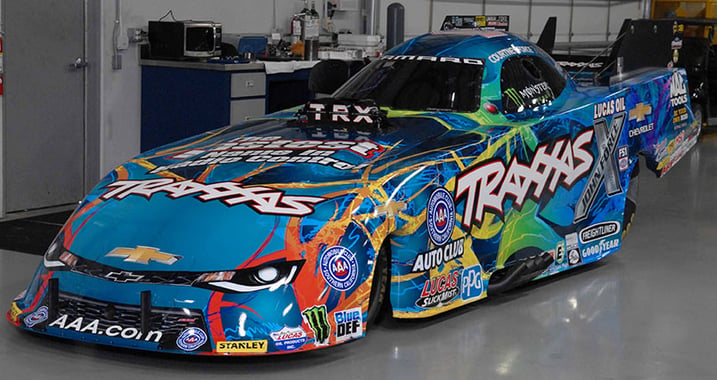 Read the original news story from John Force Racing website