Hurco Sponsors Machinist's Dirt Track Race Team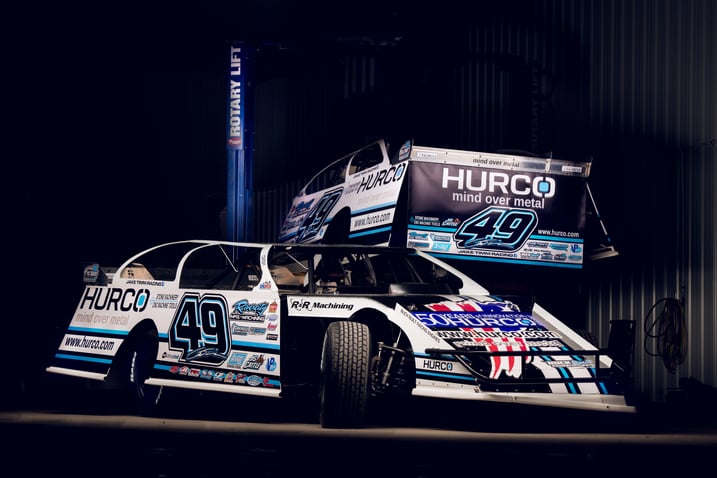 National Sponsorship from Hurco helps power Machinist-Owned Jake Timm Racing
(Winona, MN) A big sponsor, means big opportunity for local 21 year old, Jake Timm, as he will head out on the United States Modified Touring Series (USMTS) dirt track circuit thanks to national sponsor Hurco Companies, Inc. "I was competitive last year in this national circuit, but to have the commitment from Hurco means everything in 2018," said Timm. "I am excited to give them the exposure to fans that have a passion for dirt track racing and their sponsorship means a lot to me for a lot of different reasons."
Timm, a local machinist, is referring to the fact that many folks that race, attend and have a passion for the national dirt track scene are skilled workers that have a relationship to the sponsor that goes beyond logos and tag lines. "As I travel from track to track, I meet fans and other racers and they are mechanics, engineers, CNC and other skilled trades people. I know Hurco and I know I can engage fans on their brand, quality and product. It's like the perfect sponsorship for JTR," said Timm.
Hurco North America General Manager, Cory Miller said, "We have a lot of customers that are fans of racing, in one form or another; but in the case of dirt track racing – many of the guys on the track are our customers. Monday thru Friday they are running our machines, then Saturday night they are out on the track. This is certainly the case with JTR, and we believe that Hurco identifies with this crowd much more closely than any other machine tool builder."
Timm was 7th in point standing in the 2017 season, traveling to over 20 tracks throughout the country. Timm has a long history of being in the dirt and his father and mother, Bob and Paula Timm, have a long history in the dirt track racing scene and currently are partners in a national dirt track located in Fountain City, Wisconsin.
"It's changed so much in many ways since I pursued the national tour like Jake," said the senior Timm. "Sponsorships are critical and Hurco Companies, along with other national firms are realizing the power and attraction of dirt racing fans." Timm went on to explain that as the bloom fades a bit on the NASCAR scene dirt racing has gone the other way over the last ten years. Getting bigger, getting more competitive and driving sponsorships.
"A national firm can have a national presence for a lot less," said Timm. According to the USTMS research the fan base is typically hands on, passionate, educated and is looking for the racer engagement that is so accessible at the national dirt track level.
According, Todd Staley, President of the USMTS, he recognized the importance of national and larger regions sponsorship for the racer from a funding standpoint, but he also noted the power of sponsorship for the national and regional companies. "National sponsorship can be acquired at a fraction of the overall marketing budget for most companies," said Staley. "And those national sponsors, should also realize that a large percentage or racers and race fans are small-to-medium business owners themselves, and often are the wholesale buyers these national companies need."
Jake Timm Racing, (JTR) is based out of Winona, MN and will be racing in the United States Modified Touring Series in 2018. Learn more about sponsorship opportunities and to keep up with JTR this season following them on Facebook at Jake Timm Racing. To learn more about Hurco visit Hurco.com