Innovative 3D Provides Connectors For Hospital During Covid-19
Hurco customer, Innovative 3D Manufacturing, based out of Franklin, IN, specializes in metal additive manufacturing mostly with 3D metal printers for the aerospace, defense, and medical industries. Johnson Memorial Hospital uses Powered Air Purifying Respirators (PAPR) to help their health care workers remain protected from COVID-19. These units use small connectors that are not easily replaceable with today's current supply chain.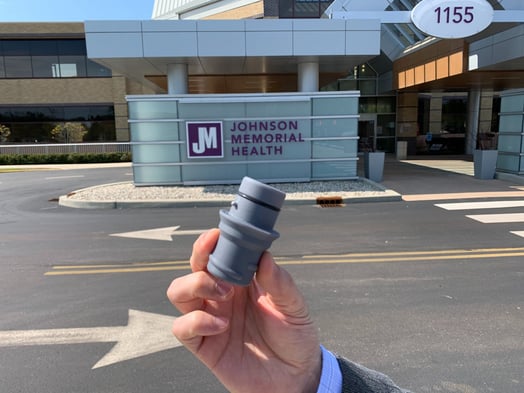 3D printed connector for Powered Air Purifying Respirators
William Mink, Johnson Memorial Health Quality Manager, explains why they wanted to use the PAPR systems instead of N-95 Masks: "We want to use the PAPRs because they provide our staff with the best protection possible. So, we really didn't want to even think about going down to the N-95 masks for those people who were working with positive COVID-19 patients."
By deciding not to use N-95 masks for their staff, Johnson Memorial needed new connectors to keep their older (PAPR) units operational, so they contacted Innovative 3D Manufacturing to help solve their problem. With Innovative 3D Manufacturing's previous experience, this was a project they could tackle fairly quickly.
"We're used to making jet engine parts and all kinds of crazy, wild stuff and implants and everything from a prototype standpoint," said co-owner of Innovative 3D Manufacturing Chris Beck. "So, to make some plastic fittings, which are really easy for us to do, it's nice to be able to offer that service and help them out really quick."
To get started, they had to reverse engineer the connectors supplied by Johnson Memorial. Then the Innovative 3D team plastic printed about 12 prototype connectors to make sure that the fitting was correct and sent them to the hospital within 24 hours to be tested. After the first batch of connectors was sent, Johnson Memorial came back to the guys at Innovative 3D with another problem: this time, on a different style of mask and filter pack. Again, the guys at the shop went back to the drawing board and reverse engineered the parts and they were able to make 36 new connectors to solve the hospital's issue.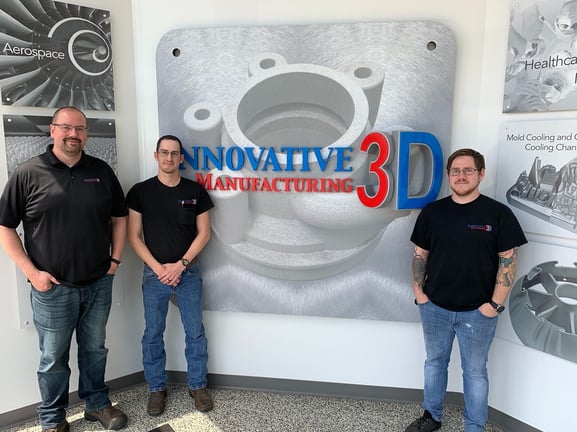 Chris Beck: Co-Owner, Brenden Fleener: Application Engineer, Taylor Johnson: Application Engineer
The quick turnaround of Innovative 3D's work helped Johnson Memorial Hospital in a time of need.
"It's said all the time, we're all in this together," said Johnson Memorial Health CEO & President Dr. David Dunkle. "This is a great example of someone from the local community stepping up to help a hospital in need. So, I can't express my gratitude enough."
"These have really saved us," said Mink. "They help us refit the tubing to make it so it'll fit to the older hoods. So, in effect, Innovative 3D Manufacturing has put 10 of these devices back into service."

"We've never felt more loved from the local community," Dunkle said. "I think sometimes we work in the hospital and you forget how much the community does depend on you, but also how much we depend on the community."
While Innovative 3D Manufacturing didn't use their Hurco VM20i CNC Mill for this project, this story exemplifies the ingenuity of Hurco customers who continuously find ways to solve problems for their customers. So many Hurco customers have stepped up during this time of crisis to help wherever and however they can. Whether they are doing fab work to help make ventilator units or 3d printing connectors, our customers are adaptable and continuously find ways to help their local communities whenever possible. It is an honor to be associated with such hard-working, generous, and dedicated manufacturing professionals who make a difference each and every day.
Innovative 3D Manufacturing Website