Easier 5-Axis Programming with ASR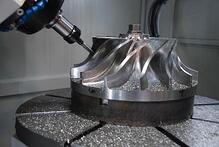 Hurco's patented ASR feature (Automatic Safe Repositioning) is a very powerful tool for 5-axis NC or CAM programmers. One of the biggest problems when posting 5-axis NC code is configuring the post to always output safe, reliable data to reposition the tool-tip without causing the machine to travel out of limits on rapid moves, and to display those annoying error codes that we all love to hate.
Put simply, ASR is a command buffer that happens internally within the control, and causes the machine to reposition automatically to a specified target point - all with the output of just one simple G-code. The post can easily be triggered to output the necessary G08.2 whenever a reposition of the tool-tip is necessary. The post-processor would simply output a line of NC code with the G08.2, followed by the desired XYZ position and necessary tool vector or rotary angle data…and the Hurco control will take over from there.
The ASR command causes the machine to find the most optimized path to the new target point designated, by creeping along the machine travel limits, without the operator or post having to designate these moves in the program code…and all without those annoying errors.​