Part & Tool Probing for High-Mix, Low Volume CNC Machining Environment
In today's CNC machining industry, it's all about quick setup and changeover between parts, especially in an environment where you run a high mix of low volumes. In this article, I want to discuss how part and tool probing can offer a real advantage for the shops that find themselves in this type of environment.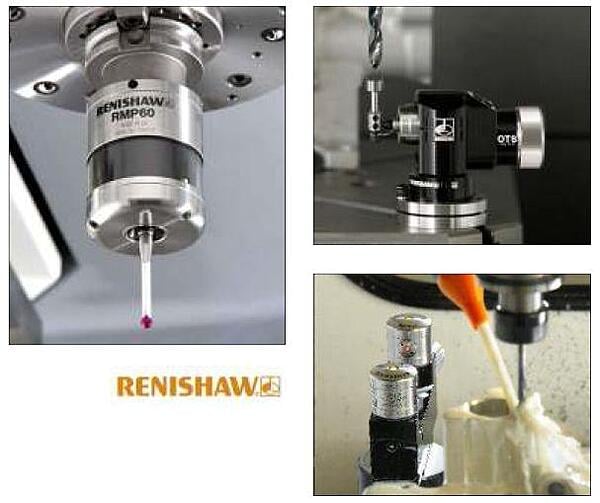 Although tool touch-off and setup isn't really considered a huge time killer, it can become quite time consuming if you are setting up a job with a larger number of features and thus a larger-than-usual number of tools. However, the addition of a tool touch or laser probe can help streamline this process tremendously. It can even help speed up the setup of jobs with fewer tools as well.
When setting up tools using a tool touch or laser probe, the operator can simply load the tool into the spindle, determine a reference gage length with a tape measure or pocket scale, and tell the control to probe the current tool. Depending on the cycles designated by the operator, the machine will automatically position the tool and probe it for length, diameter, corner radius or all of the above. The operator also has the option to probe the tool with the spindle running, which can be much more accurate than a manual process because any runout in the tool will be accounted for.
Part setup, on the other hand, can be time consuming and tedious. The addition of a spindle-mounted part probe can eliminate much of the extra time necessary to indicate or edge-find a part and will prove to be much more accurate as well.
Probing part features, such as a hole or rectangular pocket, cylindrical or rectangular boss, plane intersection, slot or web, or a single edge where the control will probe numerous points on each of these features and average the center or intersecting corner of each, can take a part setup from 30 minutes and produce results in as little as 2 minutes.
Also, an added bonus to incorporating a touch probe into your shop is the ability to inspect parts on the machine — a "poor man's" CMM if you will. The results of these measurements can be stored in a file on the machine that can be downloaded and printed. Although using the machine in this way would be tying up the spindle during the inspection process, it might be worth it depending on the need for such documentation.