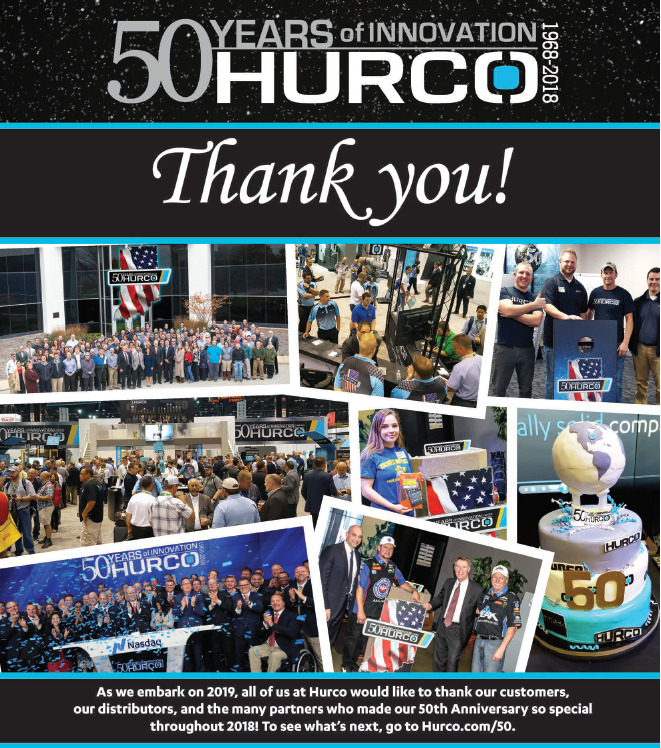 THANK YOU. Who's Who in our Latest Ad.
Above is our ad that is currently in manufacturing trade magazines throughout the US and Canada. After such an incredible year of well wishes and celebrations with so many people, both inside our industry and outside our industry, we felt the need to say a collective THANK YOU!
We had a difficult time selecting the pictures to use for the collage in the ad. Below is a behind-the-scenes glimpse at what each picture represents.
Who's Who (pictured left to right | top to bottom)
Group photo: Indianapolis has been home to Hurco since Gerald Roch and Edward Humston started the company in 1968. This photo was actually taken at the end of 2017 as we prepared to kick off our 50th year. While our international headquarters are in Indianapolis, Indiana, we have 11 divisions throughout the world. Inside scoop: the Indiana badge was photoshopped into the picture (we didn't design it until 3 months after this picture was taken). Side note: the photographer was impressed we could round up everyone and get the shot in less than 12 minutes (our control isn't the only thing that's efficient)! Click here to watch our History of Hurco Video.
IMTS Automation Quadrant: By far the most popular attraction in the South Hall at IMTS was the Hurco Automation Quadrant. Showcasing Industry 4.0 and the Industrial Internet of Things (IIot), automation is now within reach for job shops and the Hurco control makes the process painless. Click here for highlights.
Cornhole Winners at the 50th Anniversary Kickoff Party in Indianapolis: Over 400 people attended our kickoff event in March 2018. Since we're an Indiana company, many of our events celebrated our company's Hoosier heritage, with cornhole being one. Pictured are the winners of the Hurco 50th Anniversary Cornhole Set (Jordan Hill, an old friend and Chipmaker Challenge Contest finalist from MGS MFG in Wisconsin; Collen Keckeisen from MGS MFG in Wisconsin; Pat O'Riley, spouse of Hurco employee Brenda; and Hurco employee Matt Tinkle. Click here for pictures at the party. Click here for to watch the highlight video.
The Hurco 50th Anniversary After-Hours Booth Bash at IMTS 2018. It was a party!
Click here to see the pictures.
Click here to watch the highlight video.
Future Machinist: The best guest of the night at our 50th Anniversary Kickoff Event that was held from 1 pm-7 pm last March arrived shortly before the event ended. Rosalynn was a senior at a local high school, Ben Davis High School, where she was enrolled in the Area 31 Career Center. The Area 31 CNC Machining Program is equipped with a Hurco VM5i that is used to introduce students to CNC machining. After a long day at school and then work, she drove to Hurco to see the machine demos and learn more about her chosen profession from the machinists and engineers at Hurco. She is now a student at Vincennes University, another outstanding educational partner of Hurco. The future of machining is bright!
Nasdaq Closing Bell Ceremony: Hurco is a publicly traded company (Nasdaq ticker symbol: HURC). In June, the Hurco leadership team and special guests rang the closing bell to commemorate the company's 50th Anniversary. Nobody knew what to expect since it was the first time any of us had participated in a stock exchange event. The surprised looks on our faces are genuine since we didn't know confetti cannons would go off when our CEO rang the closing bell. (Inside Scoop: there's no bell. While they still call it the opening bell and the closing bell, it's a button. Our CEO signed the screen and hit the button to close the market). Click here to watch the highlight video.
50th Anniversary Kick-Off Party Special Guests: Pictured with Greg Volovic, President of Hurco (left) is Robert Hight, driver of NHRA team John Force Racing; Joe Hogsett, Mayor of Indianapolis; and the legendary John Force, owner of John Force Racing. Since we're based in Indianapolis, the racing capital of the world, motorsports is part of our DNA. We are the proud sponsor of Ed Carpenter Racing, John Force Racing, Innovators West, and Jake Timm Racing. We are so appreciative that our racing partners adjusted their busy schedules to help us celebrate at our 50th Anniversary events throughout 2018! Click here to listen to Robert Hight and John Force's radio interview (a sports radio talk show broadcasted live from our 50th Party in Indy). Click here to listen to Ed Carpenter's radio interview.
The CAKE: You can't have a party without cake! For our 50th Kickoff Event, we hired a local pastry chef who designed our special cake to showcase the global reach of Hurco and highlight the evolution of our logo throughout our 50 Years.
---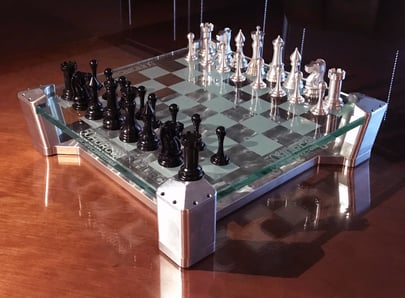 But the party isn't over yet. We saved the best for last! We have one last Special Edition Hurco 50th Anniversary item to give away. The CNC machining students at Vincennes University made this awesome chess set!