New Operators Find CNC Control Easy to Use
Since PDQ's inception, Hurco has been a part of the company's success story. While PDQ has many different CNC machines in the shop, the PDQ team realized that Hurco CNC machines solved a problem all shops lament: the shortage of skilled labor.
"At the end of the day, it is about throughput," said Ron Gronback, owner of PDQ, Inc. "Since the Hurco control has an intuitive and user-friendly interface, the operators are more self-reliant and comfortable programming parts. This leads to higher productivity. Our Hurco machining centers do not have the bottlenecks associated with offline programming," said Gronback.
In particular, Gronback likes the new generation of the Hurco control that was introduced in 2015. Called MAX5, the control is equipped with multiple ergonomic features designed to increase operator productivity and enhance usability.
"The new control layout screens are exceptional. Our MAX4 control was already highly user-friendly, but the MAX5 takes it to the next level," said Gronback. "In regards to the control's NC/Conversational Merge feature, the ability to use G-code programs in the same environment as conversational programming is extremely beneficial."
Read the entire article as seen in Manufacturing News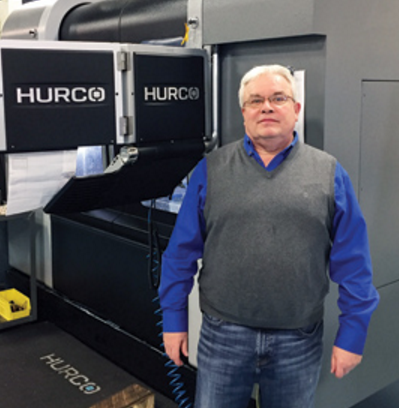 Ron Gronback, owner of PDQ, Inc.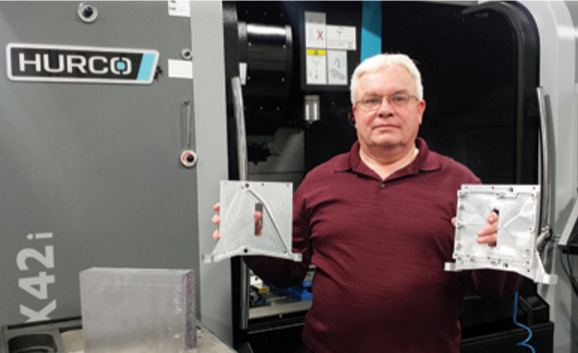 This part starts as a 15 lb., 2" thick block of aluminum, says Gronback, owner of PDQ. Finished weight is less than 1 lb.