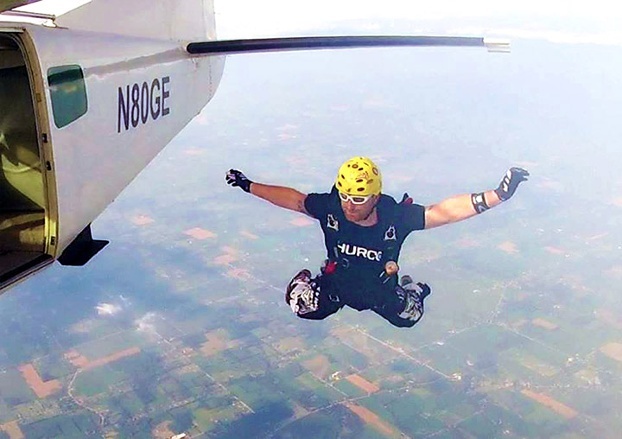 Chris Bohn didn't intend to be a Hurco model. It was a total stroke of luck...for Hurco anyway. Chris has been a CNC programmer for 15 years and ran Hurco machines at Hallmark Tool and Gage in Michigan for five years (hence, the Hurco shirt he is wearing for the jump).
The photo we've used for the Leap Year financing promotion was also the image we used for an advertising campaign a couple of years ago. Chris told me the back story: "For that 'Take the Leap' photo, I just happened to be wearing my Hurco shirt at a skydiving event, or Boogie as we call it, and there was a camera on the wing of the plane. I was scrolling through the exit photos and remarked that it looked like a Hurco ad. I sent the photo to Greg [the president of Hurco] and two months later I saw it on the back of Manufacturing News. I was blown away!"

Chris started jumping in 2010 and has logged about 900 jumps. He's Pro Rated (which means he can jump into stadiums and other venues), he's an FAA Senior Rigger (which means he can work on and build skydiving equipment), and he's been doing CRW (Canopy Relative Work) where several jumpers parachute together to create cool formations, for four years.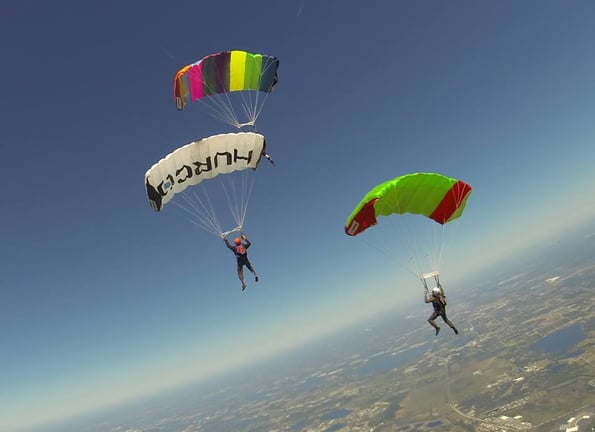 After the Hurco Take the Leap ad appeared in the trade magazines, Chris thought he could advertise the power of Hurco even better with a custom parachute. So, when you see a parachute floating to the ground, look up to see if it's Chris flying the Hurco colors. The odds will be better it's him if you're in the Pacific Northwest: Chris moved from Michigan to Washington where he does sales, service and applications for Rosco Precision Machinery (Hurco's distributor in Washington and Oregon).
P.S. If you're thinking about buying a CNC machine, check out the Take the Leap promo that we've extended for another month. Click this link to Request A Quote or learn more about the deal.